PROVIDENCE, R.I. [Brown University] —Growing up with an older sister who has cerebral palsy, William Jordan was never satisfied with the superficial, oversimplified explanations that people give to kids about why such things happen.
"There weren't enough complete answers," he said. "Parts of the story were being left out. I was being told the actions that led to the result, but not the how. She was deprived of oxygen. That's a cause, but that doesn't explain what oxygen deprivation during childbirth does to the child, or to brain cells."
Jordan has always wanted to know the "how" down to the molecular level. Ever since elementary school he's pursued that deep, probing degree of curiosity even though in crucial ways he's sometimes had to make his way on his own.
"I just read a lot as a child," Jordan said. "I would read books all the time. I particularly liked books about science and living things."
Now Jordan does his research in the Brown University lab of Erica Larschan, the Richard and Edna Salomon assistant professor of molecular biology, cell biology and biochemistry. The group definitely goes deep, discovering the fundamental mechanisms by which organisms compensate for the imbalance of X and Y chromosomes between males, who have one of each, and females who have two Xs. In the lab's model organism of the fruit fly, they've found that a complex of proteins finds particular genes on the male's X chromosome to overexpress, amplifying it to match the two Xs of females.
This past academic year was only Jordan's second in graduate school and first in the lab, but his acumen and potential have twice been recognized with competitive national awards. This spring he earned a NSF Graduate Research Fellowship for students doing basic research; this summer he won a prestigious Gilliam Fellowship for Advanced Study from the Howard Hughes Medical Institute, which recognizes not only his scientific ability but also capacity for leadership in advancing diversity in the life sciences. 
'It is a hard path'
Jordan is modest about both awards, but he doesn't deny they are meaningful. He is black, a racial identity that is acutely underrepresented in science, and a first-generation college student. He therefore has a desire to help other people who may face similar challenges to the ones he's overcome.
"I'm trying to help change that picture and serve as the inspiration for someone younger who might see my work and be inspired to be a scientist," he said. "Not many people are either inspired to be scientists, or they don't see the route to becoming a scientist. They don't have anyone they can relate to in the sciences, so it is a hard path."
Jordan didn't have much guidance on what to do in the process of applying to college. To be sure, growing up he had a goal to get there, but nobody in the family had yet achieved that.
From the time Jordan was a year old, his mother, who worked as a corrections officer, raised him and his two sisters alone. She didn't pursue higher education until she went to community college in her 40s. His oldest sister served in the military, and she is now going to school, too.
But when Jordan was finishing high school in South Boston, Virginia, he received an offer for a scholarship to a college in North Carolina and figured, by virtue of that offer, that that's where he'd be going. He didn't spend junior year visiting campuses or going on college tours.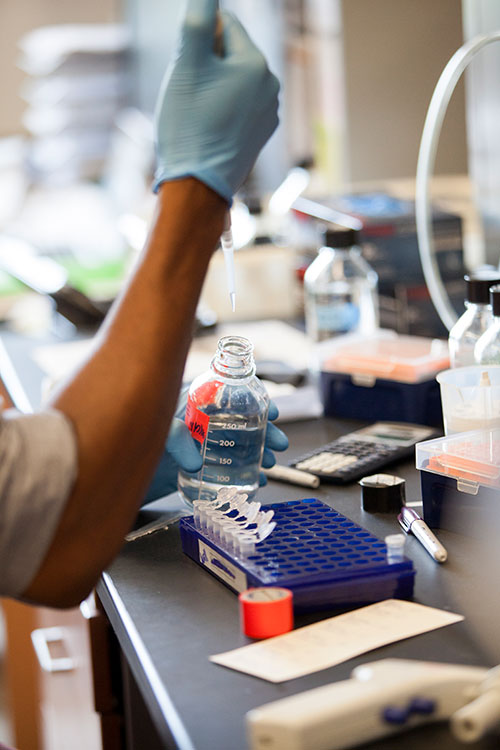 Eventually he realized that choice wasn't inevitable and just before the application deadline sought admission to Virginia Tech, where he ultimately earned his bachelor's degree in 2011.
It was not until Jordan had been at Virginia Tech that he came to realize there was more than just undergraduate study.
"That naïve process, just not having the experience, not really having anyone in my family who had gone through the process and who could guide me through the process, or anyone to turn to for advice, I could have easily fallen through the cracks," he said. "One or two mistakes and then I'm not sitting here today."
The Gilliam Fellowship will not only support him financially, with an award of $46,000, which includes a stipend, a training allowance and an institutional allowance a year for three years, but also he'll attend annual meetings and join a network of other fellows and mentors who can share the experience of advancing in the sciences from an underrepresented background. The fellowship will even provide mentoring to Larschan to enhance her skills as an advisor.
The overall lack of diversity in the sciences becomes particularly evident, Jordan said, when he travels to conferences.
"When you are in your lab you don't really think about it because you just focus on other things, but once you get out there in the scientific community, you realize there is an absence of minorities and women in science at the top level," he said.
Finding his way in science
Jordan never did research in high school, but he began to join labs at Virginia Tech. He participated in multiple projects as an undergraduate, learning what he liked and didn't like as he explored dual interests in biology and psychology. It was an exercise in trial and error. He decidedly did not enjoy assisting on a psychology project in junior year where the task was to sit in a closet-sized room annotating video to catalog facial expressions, eye movements and other non-verbal cues.
He finally discovered his passion for bioinformatics while doing biochemical research at a Washington, D.C., science, engineering and technology company. He came to realize that he wanted to learn more about computational biology techniques. True to his probing curiosity, he didn't just want to apply computation — he wanted to understand what makes the algorithms work. The best graduate curriculum he could find was Brown's functional genomics track.
After completing a few rotations through different labs, he decided that Larschan's group presented him with a good opportunity to both learn and apply computational techniques, while still validating them by doing benchtop or "wet lab" biology. The work also offers interesting questions that at their heart explain how separate genders can exist. Males cannot live without these mechanisms, which is why the key protein complex involved is called "male-specific lethal."
From recognition to results
Jordan said he's in a good place at Brown, not only because the work is interesting but also because he's enjoying life outside the lab. He loves to go to local art museums and to get outdoors — running, cycling and kayaking. He also plays in basketball and volleyball leagues both at Brown and in Providence.
"For this summer, biking, art and kayaking have been my main go-tos," he said.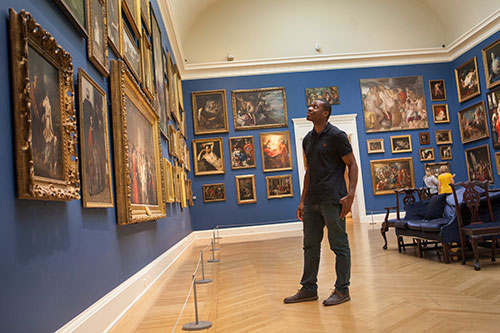 As he enters his third year of study, he's eager to begin delivering on the potential he's been recognized for. The goal for this year is to get lab results that he can publish.
One of the first things he'll do as part of the Gilliam Fellowship is attend an annual meeting later this month where he'll not only meet with colleagues and mentors, but also present a poster about his work. He's therefore been laboring in the lab to test the ability of different sites along the X-chromosome to recruit male-specific lethal complex so that it can accomplish the enhanced expression of genes there.
It's findings, not fellowships, that Jordan says he wants the most.
"I still feel like I haven't done anything," he said. "Ultimately as a scientist I'm measured by my research. What I'm focused on is progressing my research forward and getting published as a first author."
Mom is already plenty proud, Jordan said. She asks, "Why aren't you as excited as I am?"
He did all that reading in his childhood and found his way to Brown to make discoveries. He's come this far because he wants to go further, driven by a deep curiosity, a passion for complete understanding and a desire to make a difference.