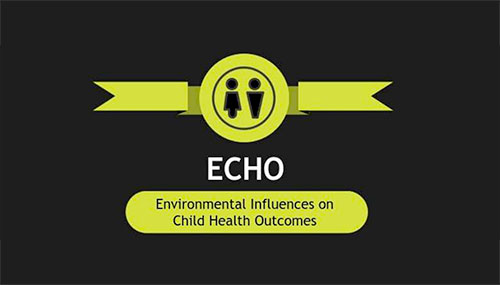 PROVIDENCE, R.I. [Brown University] —With grants awarded this week, researchers in the Brown University School of Public Health and the Warren Alpert Medical School are taking part in three new projects of the National Institutes of Health's Environmental Influences on Child Health Outcomes (ECHO) consortium.
In two cases, Brown researchers will help to enroll and study children to determine the early environmental origins of specific child health difficulties. Over the next seven years, the ECHO consortium hopes to include 50,000 children from diverse racial, geographic and socioeconomic backgrounds nationwide.
In total, the ECHO awards in this fiscal year alone are $157 million nationwide, with millions of dollars coming to support the work at Brown and its affiliated hospitals over the up to seven-year life of the projects.
Neurodevelopment in preterm babies
One project, awarded to Women & Infants Hospital with Brown as a sub-awardee along with partners as far away as Hawaii, is titled "Environmental Influences of Neurodevelopmental Outcome in Infants Born Very Preterm." The principal investigator is Dr. Barry Lester, professor of psychiatry and human behavior, professor of pediatrics, and director of the Center for the Study of Children at Risk.
The $4.9 million initial award, which could expand further over a full seven-year term, will enhance work underway through an existing study — the Neonatal Neurobehavior and Outcomes in Very Preterm Infants (NOVI) study. That effort is investigating how early detection of neurobehavior can identify which infants are most likely to suffer later developmental impairment and advance interventions to combat those developmental deficits.
"ECHO will enable us to study the development of these infants in the broader environmental [context] in which they develop, including a range of exposures from air pollution and chemicals in our neighborhoods to societal factors such as stress and parenting," Lester said in a Care New England press release. "At the same time, NOVI will contribute a unique population of very low birthweight infants to the pooled ECHO sample and study how the effects of the kind and timing of early exposures can be detected amongst these diverse populations. This is a win-win study, with children and their families as the ultimate winners."
Exposures and the child brain
In a second ECHO project, Joe Braun, assistant professor of epidemiology, is a main participant on a study of how environmental exposures affect childhood brain development. The study is led by brain imaging expert and former Brown School of Engineering Assistant Professor Sean Deoni, now a faculty member at the University of Colorado at Denver who remains an adjunct professor at Brown. The study will enroll more than 1,100 children from the Rhode Island area and Denver, who will be followed from as young as 22 weeks of gestation to 12 years of age, Deoni said. Over the seven-year life of the grant, Brown could receive as much as $10 million.
"The work here at Brown will help us understand how early life environmental factors affect children's cognitive and behavioral development, as well as brain structure, organization and function," Braun said. "We are taking a comprehensive approach by examining multiple risk factors, including child nutrition and obesity, sleep habits, air pollution and toxic metals. This work will be very exciting since we will be able to link changes in children's behavior and ability to learn with changes in their brain's development."
The study also involves Dr. Viren D'Sa, Memorial Hospital's pediatrician-in-chief, director of the New England Pediatric Institute of Neurodevelopment and associate professor of pediatrics in the Alpert Medical School.
"By understanding how and when this diverse array of influences impact brain growth and ultimately affect childhood outcomes such as their performance in school or their chance of developing a medical, developmental or behavioral disorder, we hope to identify predictors of such outcomes and learn how interventions can be optimized for a particular child to maximize their individual potential," D'Sa told Care New England.
Clinical trials
Also receiving an ECHO award is pediatrics department chair Dr. Phyllis Dennery, the Sylvia Kay Hassenfeld Professor of Pediatrics and professor of molecular biology, cell biology and biochemistry. The grant award of $1.87 million over four years will go to Rhode Island Hospital, where Dennery is also pediatrician in chief. Her co-investigators are Dr. Abbott Laptook, professor of pediatrics, and Thomas Chun, associate professor of emergency medicine and of pediatrics.
In the project, they will lead Rhode Island's participation in an IDeA States Pediatric Clinical Trials Network. The goal of the network, according to the NIH, is to provide medically underserved and rural populations with access to state-of-the-art clinical trials, apply findings from relevant pediatric cohort studies to children in Institutional Development Award (IDeA) state locations, including Rhode Island, and build pediatric research capacity at a national level. Funding will also support professional development of faculty pediatricians and their support teams in the conduct of clinical trials research.
ECHO studies will focus on four outcomes: upper and lower airway; obesity; pre, peri and postnatal health; and neurodevelopment.
"We know that pediatric health issues can impact a child for the rest of his or her life," said Dennery in a hospital system press release. "But, we also know that early intervention can drastically improve the course of a child's long-term health and even avoid negative outcomes altogether. So, better understanding of how maternal and environmental influences impact diseases such as autism, obesity and asthma amongst others, will be very important to the health of Rhode Island children and children across the country."