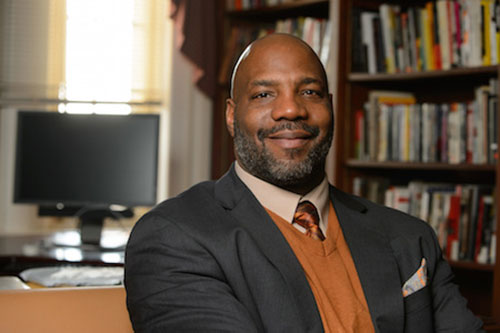 PROVIDENCE, R.I. [Brown University] — Jelani Cobb, staff writer for the New Yorker and journalism professor at Columbia University, will deliver a presentation at Brown on Oct. 11 titled "A Note from the Margin: The Unsafe Spaces of Democracy" in an event that kicks off a yearlong series focused on University values.
Sponsored by the Offices of the President and Provost and titled "Reaffirming University Values: Campus Dialogue and Discourse," the series will explore the continued cultivation of an environment in which community members can discuss conflicting values and controversial issues in constructive, engaging ways, said Provost Richard M. Locke. 
"Through this project, we hope to offer our community the tools we need to better engage in productive conversations about charged issues," Locke said. "Our goal is not to prioritize any particular topic or viewpoint, but to foster a pluralistic environment where multiple viewpoints can exist and be heard, ultimately leading to a more meaningful understanding of the complex issues we face. This particular project aims to address the ways in which we talk across difference."
The series emerged after discussions with faculty members in disciplines ranging from philosophy and political science to religious studies, American studies and economics. The result is a program of lectures, panel discussions and workshops that draw on the use of dialogue to frame campus conversations, build community and encourage effective speaking and listening.
Nancy Khalek, an associate professor of religious studies who worked with Locke and fellow faculty members to develop the series, said that broad engagement in activism by members of the University community can lead to impasse at times, a challenge not unique to Brown.
"It seemed necessary to start thinking carefully about how to help students, faculty and staff navigate the potential conflicts that are bound to arise," Khalek said. "We may not always find a middle ground that suits everyone on all contentious issues, but the point is to learn how to walk respectfully and ethically on many different grounds, without resorting to vilifying or dehumanizing those with whom we disagree.
"Most importantly, it seemed that we needed to structure some dialogue about the notion of dialogue itself — the benefits of learning how to hear and live with people who don't share our commitments is a fundamental part of living in a pluralistic society."
Cobb's presentation takes place on Tuesday, Oct. 11, at 4 p.m. in the Martinos Auditorium at the Granoff Center for the Creative Arts. The writer and journalist, who joined the Columbia School of Journalism faculty in 2016, writes frequently about race, politics, history and culture. He has contributed to The New Yorker since 2012 and became a staff writer in 2015. He is the author of "The Substance of Hope: Barack Obama and the Paradox of Progress" as well as "To the Break of Dawn: A Freestyle on the Hip Hop Aesthetic." His articles and essays have appeared in the Washington Post, The New Republic, Essence, Vibe, The Progressive and TheRoot.com. 
"As both a prolific historian and journalist, Jelani Cobb brings a nuanced understanding of what it means to engage in constructive discourse as opposed to polarized debate," Locke said. "I am enthusiastic about welcoming him to Brown to launch what I hope will be a year in which we, as a community, engage in productive dialogue that advances our knowledge and deepens our understanding of the intellectual diversity at Brown."
Other speakers scheduled to visit Brown during the series include Robert C. Post, a law professor at Yale University, who will give a talk titled "Freedom of Speech in the University" on Nov. 14; Joshua Cohen, editor of The Boston Review and senior fellow in law, philosophy and political science at the University of California-Berkeley and Danielle Allen, professor of government and director of the Edmond J. Safra Center for Ethics at Harvard University, who together will discuss "Open and Inclusive Inquiry: Where Do We Go From Here?" on Dec. 7; and Geoffrey Stone, law professor at University of Chicago, who will give a talk titled "Free Speech on Campus" on Feb. 3, 2017. 
Beyond the series of public lectures, Locke said the Reaffirming University Values initiative will convene smaller workshops with the goal of building community by engaging in dialogue and sharing and listening to one another's personal stories. 
Marshall Ganz — senior lecturer in public policy at Harvard's Kennedy School of Government — will facilitate a one-day workshop on personal narrative and community values for students, faculty and staff on Oct. 28. And Brown history and religion professor Andre Willis and the Division of Campus Life will collaborate on a dinner series that brings together 12 to15 students each week.