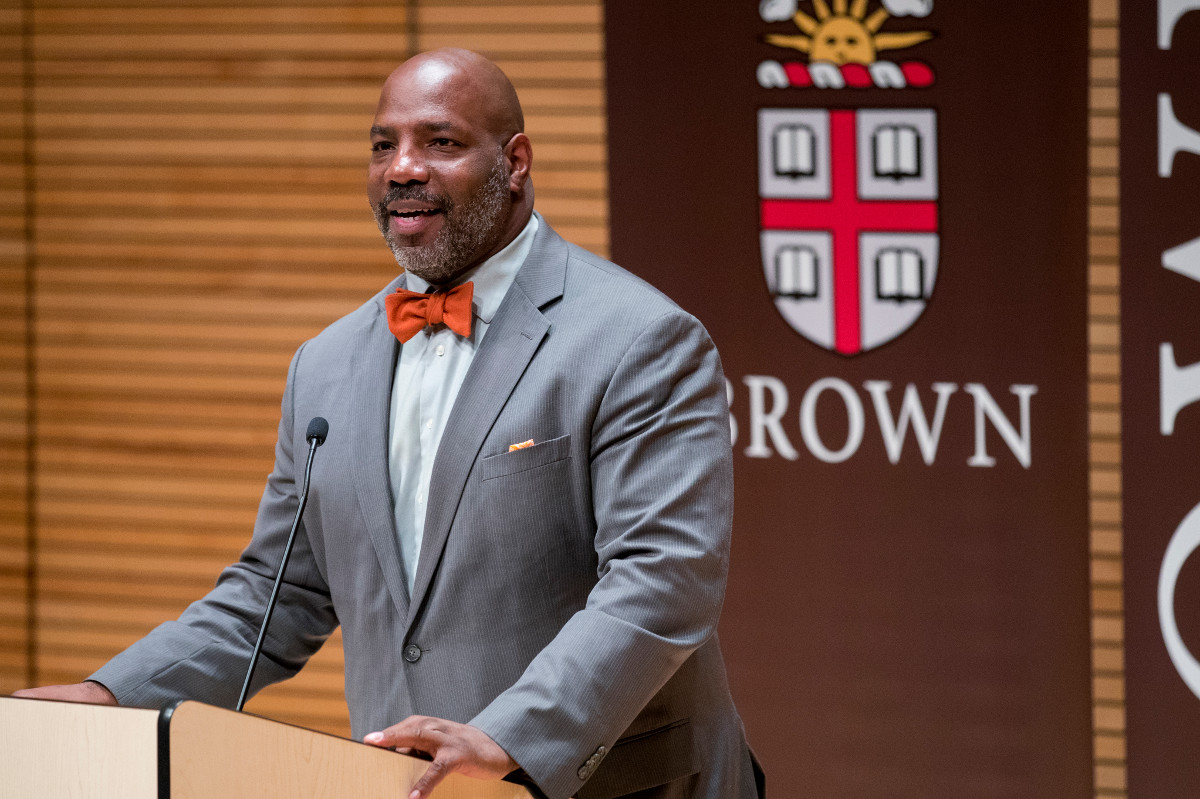 PROVIDENCE, R.I. [Brown University] — To journalist and historian Jelani Cobb, our collective democratic values don't exist in absolute terms, but rather in the context of other values — and the tension that this interplay of values creates is what is provoking spirited discussions of free speech playing out across the country.
Cobb, who has gained acclaim for his New Yorker writings about race, politics, history and culture, made that argument on Tuesday, Oct. 11, as he launched Brown's yearlong "Reaffirming University Values: Campus Dialogue and Discourse" series with a lecture titled "A Note from the Margin: The Unsafe Spaces of Democracy."
"When we talk about … the values of universities and of higher education, we typically talk about the support of open inquiry, of rigorous intellectual analysis, of dialogue across differing opinions, of the open pursuit of questioning what we believe we know, and these are foundational to universities," Cobb said. "But universities are not removed from the values of society."
And for exactly that reason — because they lie within the context of society more broadly — Cobb said these values inform how people from different backgrounds understand how they should function, often to the detriment of those who have historically been marginalized. In a hierarchical society, freedoms are often employed to take away other freedoms, he said, and concerns about one principle are often used as a means of deflecting concerns about another.
VIDEO: "A Note from the Margin: The Unsafe Spaces of Democracy"
He cited the example of how the Fifth Amendment right to due process was used to justify slavery — the argument being that the federal government couldn't take away someone's property without recompense. A more contemporary example, he said, is the invocation of the First Amendment right to religious freedom to justify discrimination against members of LGBTQ communities.
Similarly, he said that in espousing the essential value of free speech, we must also be mindful of the injury that unchecked speech can cause — and the very real inequities that it can inform.
"We have boundaries around free speech," Cobb said, noting libel laws and other examples. "We have a concept that language in itself can be injurious in certain contexts, but we are reluctant to extend those boundaries in particular social circumstances."
He offered an example: "It is one thing to make crass, sexist commentary; it is another thing to fail to recognize that this commentary contributes to a climate in which women are raped and then made to feel accountable for the wrongs that have been perpetrated against them."
The solution? Not to eradicate or curtail these freedoms, Cobb argued, but to "understand as a kind of democratic maturity that we don't all have the same relationship to the Constitution — that these relationships are relative."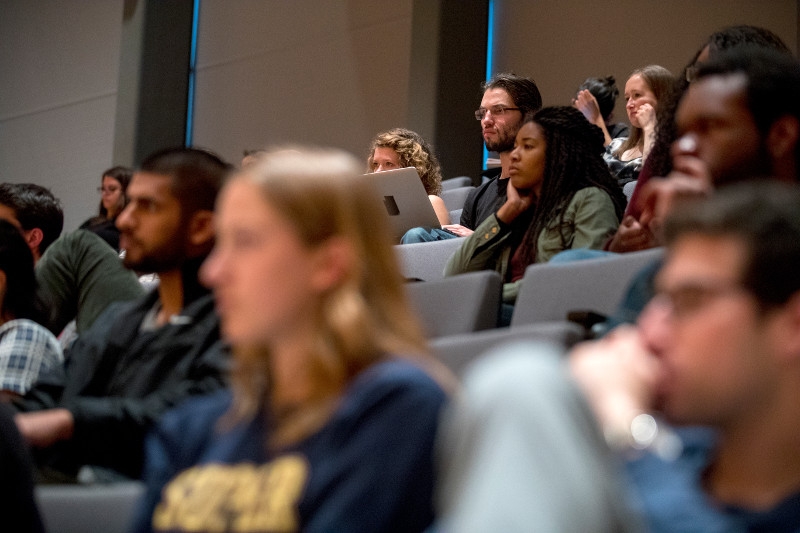 Despite the essential need to be mindful of this, Cobb challenged the audience to exist in circumstances that fall short of being a democracy in order to reach the goal of democracy — rather than shielding themselves from injury via "safe spaces."
"This is a difficult charge, and it's not fair," Cobb said, "But it is the same challenge that generations prior to us have confronted."
The visit to Brown by Cobb, who joined Columbia University's School of Journalism in 2016, marked the first event in the Reaffirming University Values series, sponsored by the Offices of the President and Provost. Events in the series will explore the continued cultivation of an environment in which community members can discuss conflicting values and controversial issues in constructive, engaging ways.
The next public lecture in the series will take place on Monday, Nov. 14 when Robert C. Post, a law professor at Yale University, presents on "Freedom of Speech in the University."