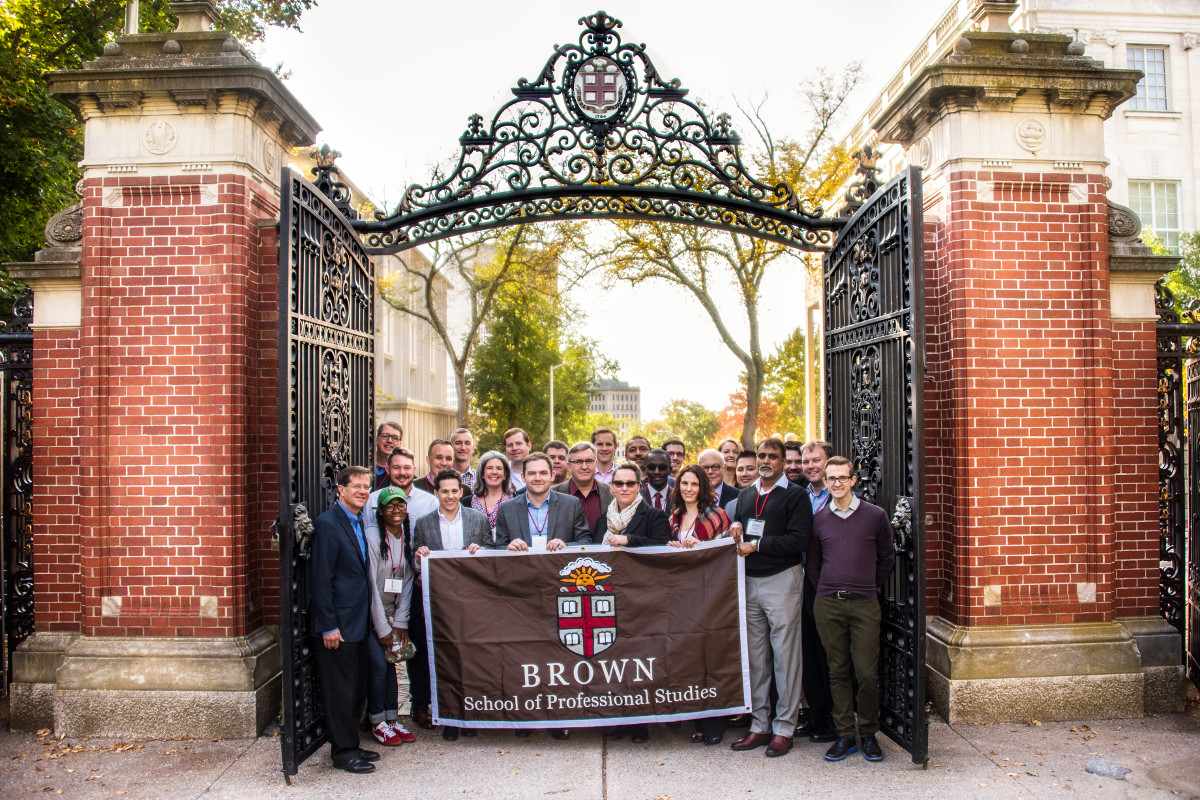 PROVIDENCE, R.I. [Brown University] — Hailing from 16 states across the country and sectors that range from financial services and law to health care, government and education, 28 new students arrived at Brown this week as the University welcomed its first cohort of Executive Master in Cybersecurity students.
On Sunday, Oct. 16, the Van Wickle Gates opened as the students processed through the gates and across the Front Green during the inaugural convocation ceremony for the School of Professional Studies program, which aims to produce security leaders with a deep understanding of the technological, legal, policy and people issues surrounding cybersecurity in the 21st century.
Alan Usas, the program's director, said the diversity of students' professional experiences is a strength of the new program. Class of 2018 members come to Brown with an average 17 years of professional experience, and the cohort includes a current U.S. Marine, marketing professionals, practicing attorneys, security officers, consultants, investors, health care workers and more.
"With unique education and experience, every student is an important contributor to the cohort," Usas said. "Not only do the students act as valuable resources for peers, but they become trusted members of a lifelong professional network that forms. We have a very strong group entering the program, and we are prepared to graduate visionary and strategic leaders to meet the global, technical, human and policy challenges of cybersecurity."
Coursework for the 16-month program began this week, and a range of other opportunities for students — from a lecture on voting insecurity, to a conversation with Facebook's head of global policy development, to a discussion with U.S. Rep. James Langevin of Rhode Island, a cybersecurity leader in Congress — complemented work in the classroom.
Less than a week after its start, student Katie Jenkins, director of information security at Liberty Mutual Insurance, said the program is inspiring her to think differently.
"I appreciate the mental space that this program is giving me from the day-to-day experience of my work," Jenkins said. "The diverse perspectives from faculty and students are already influencing the way I think about my own security operation."
The executive master's launch comes in the context of a demand for cybersecurity efforts across the globe. A report by Enterprise Strategy Group found that 46 percent of organizations claim to have a shortage of employees with cybersecurity skills, and nearly two-thirds of cybersecurity experts struggle to define a career path.
Building on Brown's distinctive multidisciplinary approach, the Executive Master in Cybersecurity will prepare students to be confident and visionary leaders with insight into successful cybersecurity strategies, organizers say. Jenkins plans to translate ideas from the program into direct action in her professional life.
"This program will be critical in my organization's effort to select new technologies and processes that address both current and evolving threats that we face and account for the human factors of adoption," she said.
The new degree is one of four executive master's programs offered via Brown's School of Professional Studies and targeted to executives and professionals. The others include health care leadership, science and technology leadership and the IE Brown executive MBA.