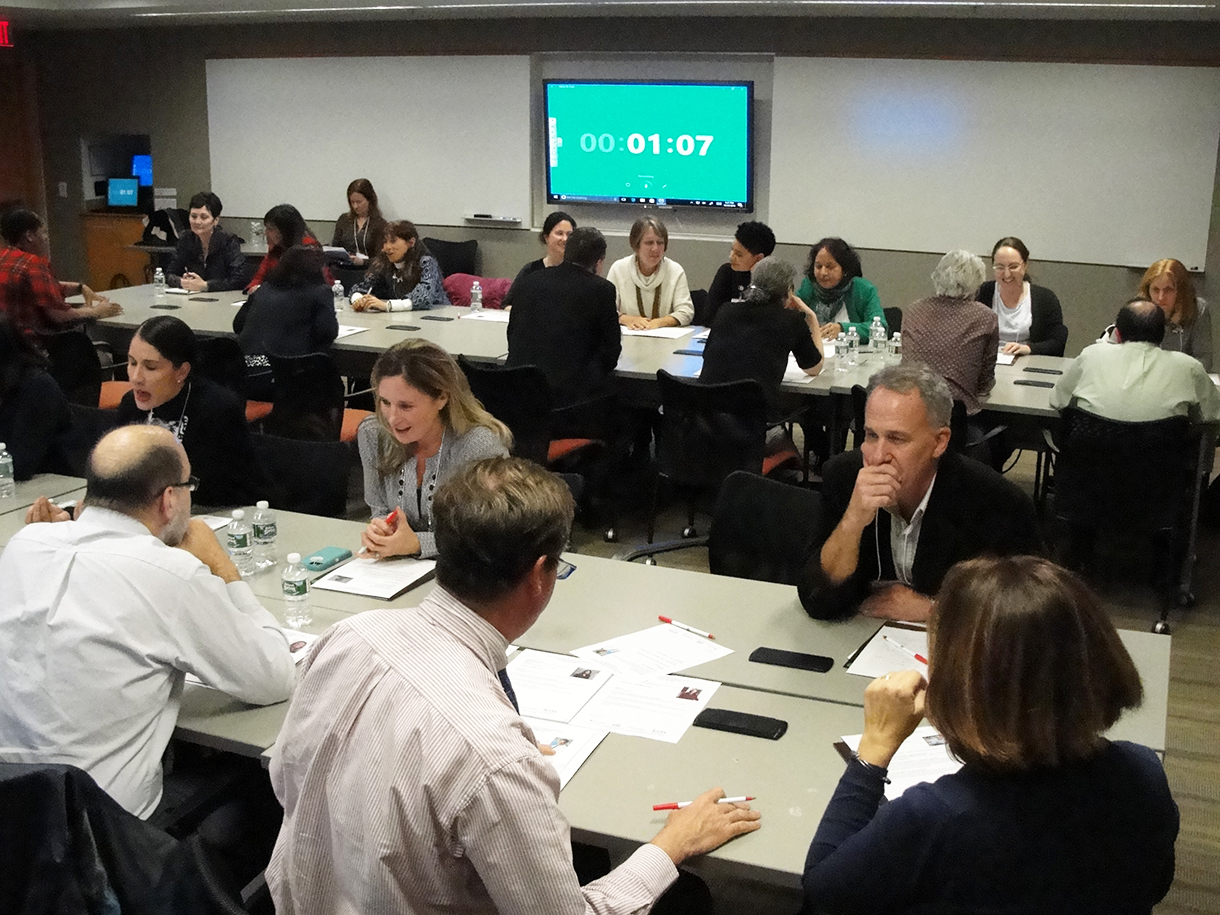 PROVIDENCE, R.I. [Brown University] — At an unconventional evening event at the Alpert Medical School on Oct. 25, two dozen researchers from Brown, its affiliated hospitals and the Rhode Island Department of Health engaged in well over 100 conversations about health disparities in just a single hour.
How? Speed networking.
As half the group sat on one side of the room's two long tables, partners across from them shifted one seat to their right every five minutes to start a new conversation. Twelve times during the hour, there were about a dozen new opportunities to exchange ideas, make connections and sow the seeds of potential collaborations.
"Big and complicated challenges like health disparities require not just being multidisciplinary, but reaching out beyond the default network of collaborators and colleagues," said Dr. David Savitz, vice president for research whose office (OVPR) convened the speed networking experiment. "But it's not part of the daily routine to bump into each other and cross paths, so we're messing with the routine."
The event's purpose was not merely to get people talking, however. It's also the first step in a Brown-initiated mechanism for awarding research seed grants of up to $50,000 supported not only by OVPR, but also the University Medicine Foundation, the Center for AIDS Research and the Rhode Island Center to Advance Translational Science. Teams inspired by the speed networking can apply by developing and submitting proposals by January 2017, and awards will be made in March 2017.
Ideas abound
The researchers appeared to have no trouble diving right into conversation. It didn't take long, for instance, for the momentary pairings to find unifying themes to build upon.
When Theresa Shireman, professor of health services, policy and practice, rotated in front of Alexandria Macmadu, a senior research assistant in the Center for Prisoner Health and Human Rights at the Miriam Hospital, they readily began comparing notes on how women leaving prison can often struggle to reconnect with health care, including Medicaid coverage. Shireman could speak to what she's seen in Kansas, while Macmadu offered observations from Rhode Island.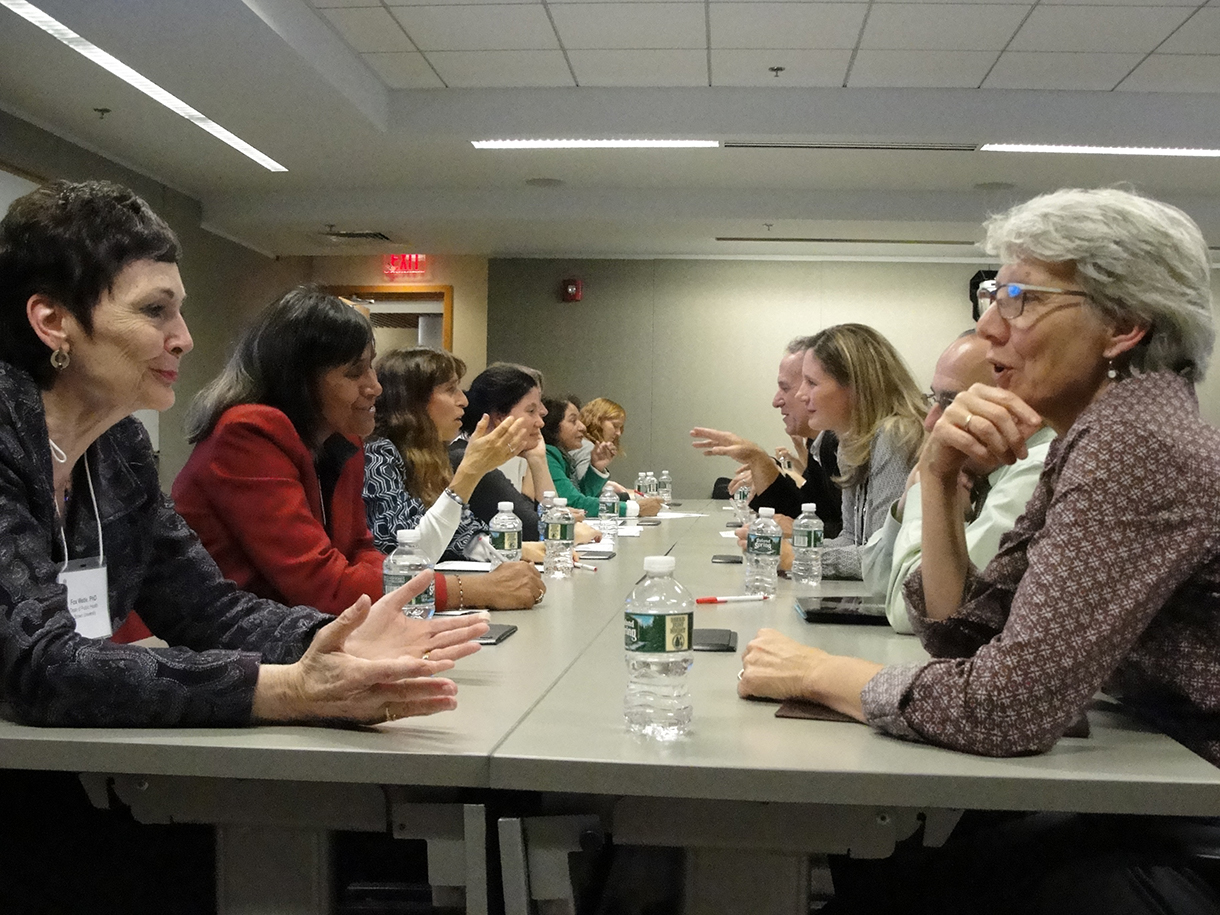 Not much later Chanelle Howe, assistant professor of epidemiology, paired up with Dr. Tim Flanigan, professor of medicine and a member of the Division of Infectious Diseases at the Miriam Hospital. Their conversation gravitated toward HIV-related studies around the country. When Howe expressed her interest in studying how some vulnerable people exhibit "resilience," the ability to thrive despite facing challenges, Flanigan suggested a study population that he thought might be a good source of data.
Flanigan also ended up in the midst of a tripartite speed networking session when Daniel Smith, Royce Family Professor of Teaching Excellence and chair of anthropology, rotated in along with Abigail Harrison, research assistant professor of behavioral and social sciences. All three have abiding interests in Africa, and so they embarked on a discussion of health disparities from a decidedly global perspective.
In remarks after the sessions were over, Terrie Fox Wetle, dean of the School of Public Health, praised her colleagues for focusing on a serious problem, albeit via the frenetic format.
"In public health, health disparities are a key focus of what we do, so the fact that so many of you are looking at ways to direct your work in this way is very gratifying," she said. "This was great fun. I loved learning about your research."
The outcomes in terms of specific research proposals are yet to come, Savitz said, but the speed networking experiment might endure.
"This is not the only topic that might benefit from this type of gathering," he said. "If this works well we're going to have some more of these."