PROVIDENCE, R.I. [Brown University] — Brown University seeks to make a transformative impact in advancing human health by training the next generation of leaders in medicine and science and by bringing together researchers, clinicians and other scholars from across the University to turn scientific discoveries into medical breakthroughs.
A new $27 million gift to Brown from The Warren Alpert Foundation will help realize this vision. It will provide crucial financial support for efforts aimed at not only catalyzing biomedical discoveries, but also ensuring that those advances produce tangible health benefits through new modes of diagnosis, treatment and prevention.
The gift will establish an endowment for Brown's program for training M.D./Ph.D. students pursuing careers as "physician-scientists," more than tripling funding for the program, and will create the first endowed professorship in the Brown Institute for Translational Science.
"The Warren Alpert Medical School has earned an international reputation for its student-focused approach to medical education, and with this generous gift, The Warren Alpert Foundation is investing in people and programs at Brown that can make a profound impact on the future of health care," said Brown University President Christina Paxson. "Brown is proud this year to mark our 10th year of continued partnership with the Warren Alpert Foundation and family in advancing scientific discovery and medical education."
In 2007, a $100 million gift from the foundation named the Warren Alpert Medical School of Brown University. That investment continues to provide financial support for medical students, faculty members and research programs and played a major role in helping the school construct its flagship building at 222 Richmond St. in Providence, which celebrated its fifth anniversary this past summer.
"This relationship with Brown has evolved beyond our greatest expectations," said Bevin Kaplan, director and vice president of The Warren Alpert Foundation. "In the beginning, it was hard to see beyond the impact of the physicality of the new space that our gift afforded. Now we have the privilege of seeing how the gift has also affected the quality of the student experience at the Warren Alpert Medical School, the recruitment of dynamic faculty and the far-reaching potential for current research."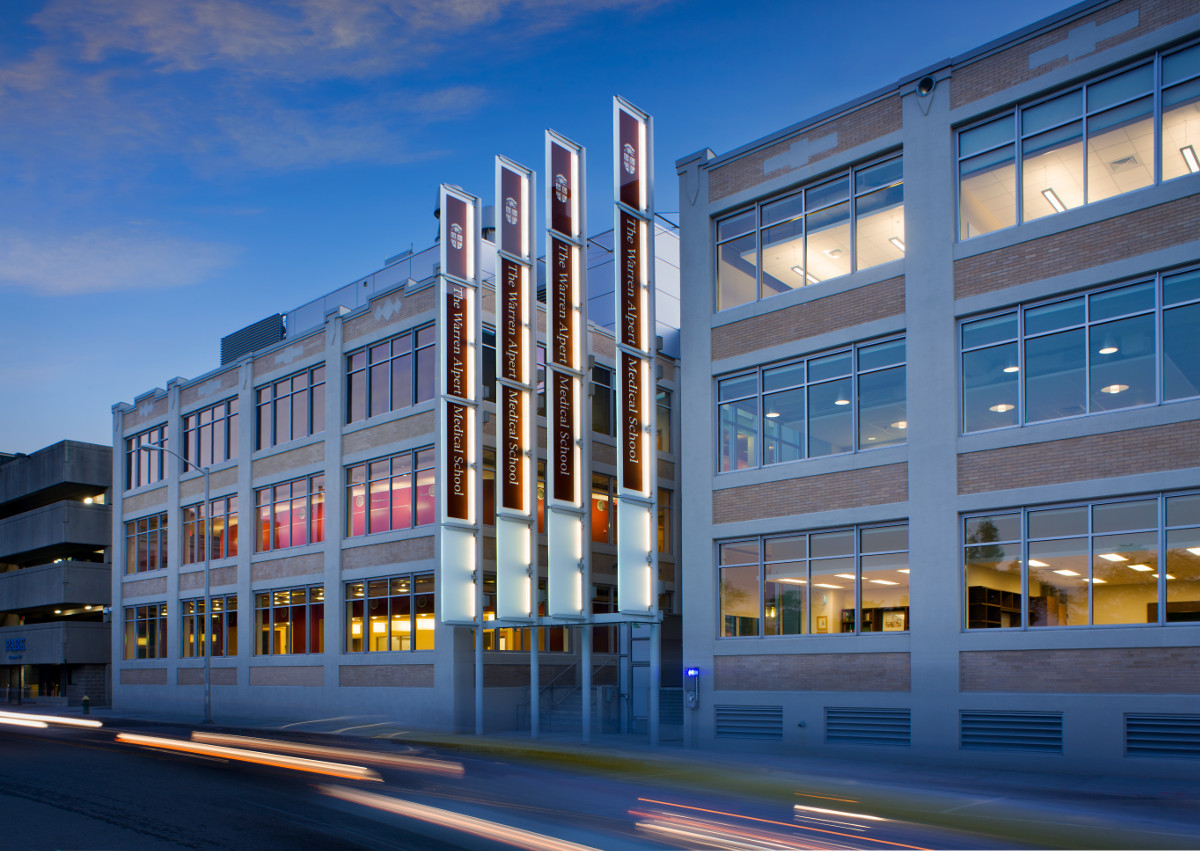 Pivotal programs
The investment from The Warren Alpert Foundation aligns with Brown's commitment to confront complex issues by working across boundaries that have traditionally defined academic fields of study. The gift will bolster efforts to bring researchers from different fields together to decipher disease and improve population health, one of the seven integrative scholarship themes outlined in the University's Building on Distinction strategic plan. The gift comes as part of Brown's $3 billion BrownTogether comprehensive campaign, launched in October 2015 to support the goals of the strategic plan.
Of the total gift, $22 million will establish the endowed Warren Alpert Physician-Scientist M.D./Ph.D. and Advanced Training Program, offering more students the opportunity to pursue a joint M.D./Ph.D. degree with tuition assistance and research stipends.
Dr. Jack A. Elias, Brown's dean of medicine and biologic sciences and the Frank L. Day Professor of Biology, said that a thriving M.D./Ph.D. program is an essential component for medical schools focused on translational science and that the foundation's gift will advance the University's vision to become a world-class center of innovation in biology and medicine.
"M.D./Ph.D. physician researchers see patients in the clinic, understand the challenges of the diseases they study and transfer those insights to work in their labs," Elias said. "These scholars are integral in the research continuum and a critical ingredient for any school to truly excel in translational research. This gift from The Warren Alpert Foundation will allow us to grow Brown's M.D./Ph.D. program in a way that has never been possible before, which will have a tremendous impact on our overall success in improving human health."
Kaplan agreed that an exceptional M.D./Ph.D. program is a hallmark for first-rate medical schools.
"There is no such thing as being a major player with the most elite medical schools without a strong M.D./Ph.D. program," she said.
Dr. Allan Tunkel, associate dean for medical education, said that tuition assistance is particularly beneficial for M.D./Ph.D. students and will allow Brown to attract exceptional students who have the passion for combining research with clinical medicine. For years, Brown students have wanted more opportunities to engage in this extraordinary level of scholarship, he said.
Bolstering translational science
The gift's additional $5 million will establish the Warren Alpert Professorship as the first endowed professorship in the Brown Institute for Translational Science (BITS). Established in fall 2015, BITS organizes researchers into integrated teams with a full continuum of expertise — from basic science to medicine to population health and policy — to make breakthroughs on specific diseases and other pressing medical challenges in society.
The new professorship will enable the institute to recruit and support a new faculty member with in-demand expertise integral in translating scientific discoveries into applicable solutions for health issues, a key factor in the institute's plans to assemble fully integrated teams that can attack medical problems from multiple directions.
As teams at the institute for translational science work to turn basic science findings into treatments for real patients, they can also identify new and important unresolved questions in medicine and population health and make them research priorities in the lab. Already, researchers have discovered that rogue elements of DNA may play a significant role in undermining health in aging, and they have found, through animal studies, that an already-approved HIV drug may reduce that harm.
"Translating scientific discoveries into clinical solutions has been consistent with the ethos of our foundation from its inception," Kaplan said. "Warren Alpert was a businessman who craved tangible, hard results. In this way, supporting the Brown Institute for Translational Science is natural for us, with its emphasis on real-world application."
Supporting student aspirations
Among the students currently undertaking the dual-degree endeavor is Courtney Johnson, a fourth-year medical student who earned her Ph.D. in pathobiology in 2015 after coming to Brown in 2008 from Tougaloo College in Mississippi.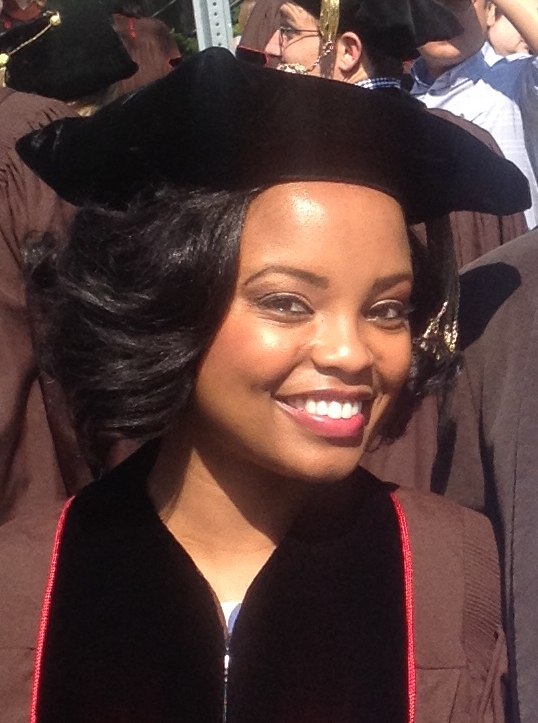 At first, Johnson said, she planned to pursue an M.D. exclusively, though she had enjoyed research as an undergraduate. But especially after talking with other M.D./Ph.D. students at Brown, she realized she wanted to continue research even as she also earned a medical degree. Better to get doctoral research training while in school, she reasoned, than to try to come back to it after medical school or even later.
In her research with Professor of Surgery Jonathan Reichner, Johnson studied the molecular mechanisms that determine how cells respond to fungal infections. Now, as she finishes medical school, she plans to pursue a residency in dermatology. Then she wants to combine her research training and clinical experience in an academic medical setting to tackle the problem of health disparities. A number of disorders in dermatology that particularly affect minority communities remain understudied, she said.
"I have the opportunity to not only take care of these patients in the clinic and see what the real issues are," she said, "but I can also take those questions and concerns back into the laboratory to study them better and to come up with a way to help. That's what I'd like to do in the future — I'd like to use these two degrees to work simultaneously."
With The Warren Alpert Foundation's new gift to Brown, more students will have the opportunity to become fully equipped to address complex biomedical problems. Named for the late philanthropist and entrepreneur Warren Alpert, the foundation supports innovative individuals and organizations dedicated to understanding and curing disease through groundbreaking research, scholarship and service.