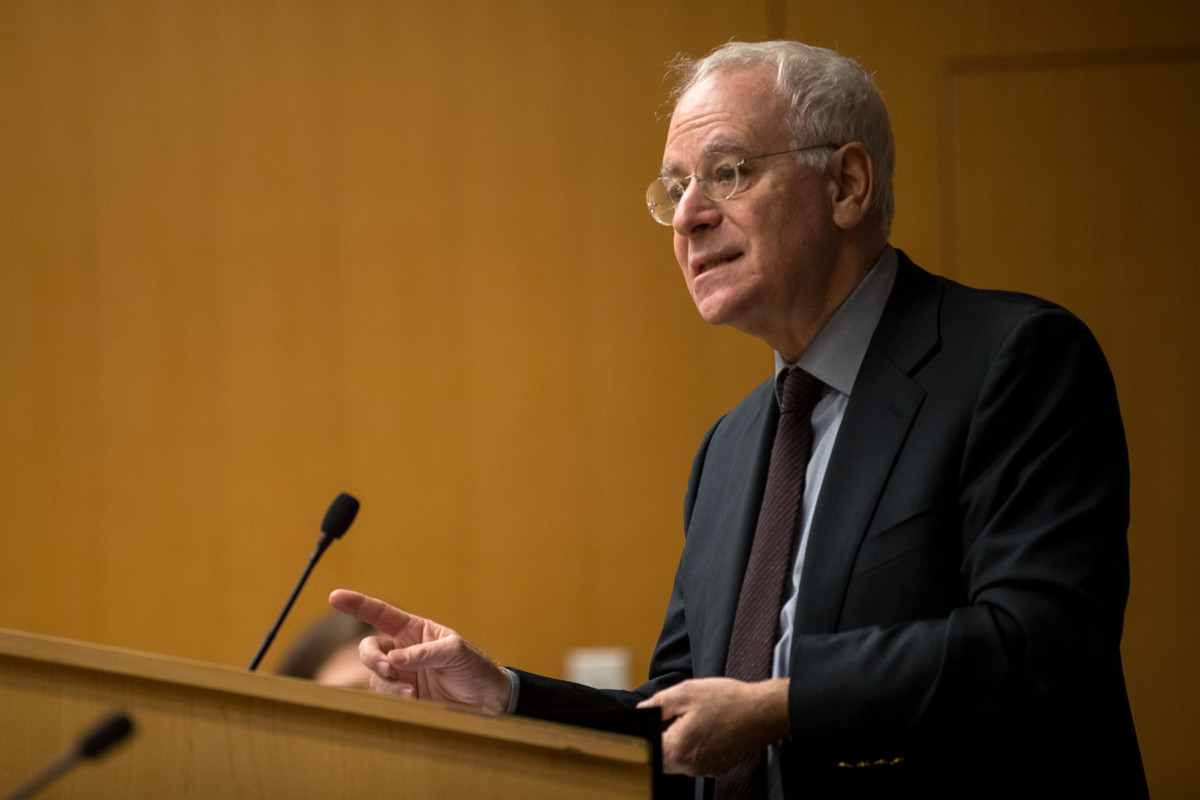 PROVIDENCE, R.I. [Brown University] — In accordance with society's understanding of higher education's mission of research and teaching, speech must be regulated at universities — and that regulation of speech is in fact fundamentally necessary for achieving the purpose of a university, argued Robert C. Post in a lecture at Brown University titled "Freedom of Speech in the University."
Post, a renowned legal scholar and dean of Yale Law School, spoke on Monday, Nov. 14, in the Watson Institute for International and Public Affairs as part of Brown's "Reaffirming University Values: Campus Dialogue and Discourse" series, co-sponsored by the offices of the president and provost.
"There are different kinds of freedoms that are related to the two different kinds of missions of a modern university — research on the one hand, teaching on the other," he said. "But in either case, these freedoms are conceptually distinct from the kind of freedom of speech that derives from the political arena, where all are equal and all have to exist for the end of self-governance. The university is not about self-governance. The university is about the attainment of education and the attainment of knowledge."
VIDEO: "Freedom of Speech in the University"
To frame his argument, Post first defined three basic rules governing freedom of speech as outlined in the First Amendment to the U.S. Constitution and defined by the Supreme Court: first, the state can't tell a speaker that they have to speak about any particular content; second, there are no true or false opinions and all ideas are equal; and third, the state cannot compel a person to speak.
He then defined the mission of most universities as being primarily two things — research, or the discovery and advancement of knowledge; and teaching, the conveying of knowledge. In order to advance these two goals, he said, universities cannot and should not follow these three basic rules of freedom of speech.
Research, Post said, is ultimately based in the notion that not everyone has equal knowledge of a given topic and that expert knowledge is created through disciplinary study. "When we are talking about university research and expanding knowledge, it is resting on a disciplinary hierarchy, which is exactly opposite of the democratic equality on which freedom of speech rests," he said.
Therefore, in order to perform research and to advance it, he said, universities must discriminate on content, make judgments that some ideas are better than others and compel professors and researchers to speak in order to communicate their knowledge. Though these actions further the mission of a university, he said, they violate the rules of the First Amendment.
Similarly, he said, a classroom is a place in which professors must choose specific content types to teach, ignoring others; judge the quality of student ideas; compel students to speak about what they've learned; and regulate speech so that the environmental is a respectful and productive one. 
"Any teacher knows that students who are threatened or assaulted don't listen," he said. "They don't learn. So you have to create the conditions under which learning is possible, and you have to regulate the speech in order to advance that goal." Again, he said, these requirements of good teaching and learning necessarily violate the rules of the First Amendment.
Post went on to differentiate between freedom of speech and academic freedom, which he argued is crucial to the mission of universities, quoting the 1915 Declaration of Principles on Academic Freedom and Academic Tenure by the American Association of University Professors: "Academic freedom upholds not the absolute freedom of utterance of the individual scholar, but the absolute freedom of thought, of inquiry, of discussion and of teaching, of the academic profession."
He argued that academic dissent is absolutely necessary, but that people must first be literate within the academic discipline in which they are voicing dissent — and then dissent in a way that is intelligible to people who already know the discipline.
"Disciplines are committed to progress, which means they must have dissent, but unlike classic principles of freedom of speech, they don't have only dissent — they have dissent that is constantly evaluated by the rules already existing within the community of knowledge that constitutes the disciplines," he said. "Disciplines that do not encourage internal criticism risk atrophy and death. But disciplines that do not evaluate according to standards of competence risk disintegration and incoherence. That's the paradox that any discipline lives in. That's the paradox that the university lives in."
Post's presentation in the Reaffirming University Values series followed an Oct. 11 lecture by journalist and historian Jelani Cobb. Events in the series will explore the continued cultivation of an environment in which community members can discuss conflicting values and controversial issues in constructive, engaging ways.
The next public event in the series will take place on Dec. 7 with a conversation titled "Open and Inclusive Inquiry: Where Do We Go From Here?" featuring Joshua Cohen, editor of the Boston Review and senior fellow in law, philosophy and political science at the University of California-Berkeley; and Danielle Allen, professor of government and director of the Edmond J. Safra Center for Ethics at Harvard University.