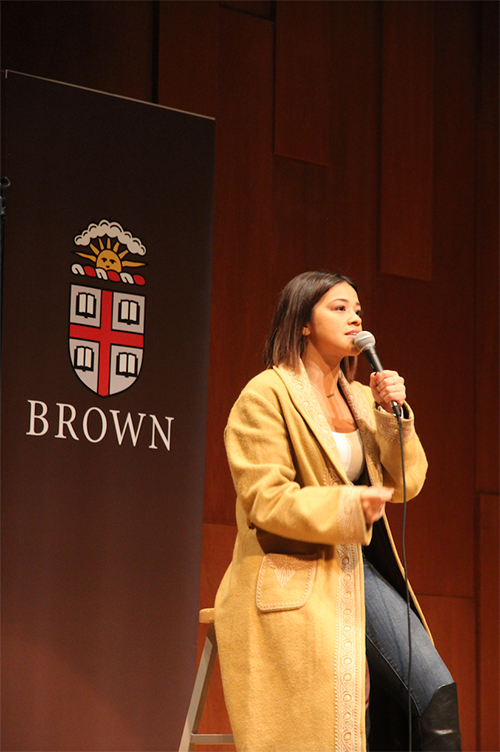 PROVIDENCE, R.I. [Brown University] — On a blustery November night in New England as far removed as possible from the palm trees that sprawl the set of "Jane the Virgin," television star Gina Rodriguez cast her comedic approach aside to deliver a Brown Lecture Board talk to students that touched on body positivity, leaping into the unknown and maintaining a strong sense of self-appreciation.
A Chicago, Ill., native and an aspiring entertainer since her childhood years, Rodriguez is perhaps best known for her role as Jane Villanueva on the CW network comedy/drama. Her portrayal of a young woman who is accidentally inseminated earned her a Golden Globe win in 2015 and a second recent nomination for Best Actress in a Television Series.
Much of her fame and success, she told a room packed with Brown students on Monday, Nov. 21, can be whittled down to a phrase her father etched into her head at an early age: "Today is a great day. I can and I will."
Repeating those words every day in front of a mirror, Rodriguez thought of her routine as a silly habit she'd picked up. But after arriving at New York University to study drama, she was diagnosed with thyroid disease, a condition often marked by tiredness and weight gain. She felt like she was cursed, she said.
"I already have all these things against me," Rodriguez said she thought at the time. "I'm broke, I'm brown, I don't look like ladies in the movies, and I just wanted to be a leading lady."
But she called upon her father's advice, she said, which resonated with her more then than ever.
Since then, Rodriguez has landed roles in major films and television shows, including stints on "Law & Order," "Army Wives" and, of course, "Jane the Virgin." She's also set to star in the upcoming sci-fi thriller, "Annihilation," alongside Natalie Portman, Oscar Isaac and Tessa Thompson, among others.
However, her enthusiasm for the role that embraced her heritage is unmatched. Rodriguez who is of Puerto Rican descent, told Vanity Fair she fell in love with her "Jane the Virgin" character because she was "positive and uplifting and funny and brave, and she gets to be a Latina."
During a question and answer discussion with students, the 32-year-old actress said that barriers to success are often self-imposed.
"I used to think there was this entity that was telling me: 'Oh, you're Puerto Rican, you can't pass,'" she said. "The truth is that that was all in my mind. All those boxes — all those borders and walls that people put up — those are imaginary."
Rodriguez said she tackles self-doubt by acknowledging that her success is well-deserved, given the hard work and study she has devoted to her acting. That statement drew parallels to an earlier comment on her medical condition, which she said started a journey into self-love and awareness that has continued even today.
"I'm the one who is going to decide what affects me and what doesn't," she said. "I'm the one who is going to decide whether I give up or not. And I decided not to."
Rodriguez told students that upon accepting the invitation from the Brown Lecture Board, she was uncertain what advice she might give to students, because she didn't profess to hold any great wisdom beyond her own experiences.
"I can only give you my truth, because I don't know anything about Japanese cinema" or any other niche with the exception of art and love, she told the exuberant crowd of students, who cheered throughout and snapped their fingers at every opportunity.
Above all, Rodriguez urged students to be the 'heroes' in their own stories, maintain a strong sense of self-awareness and avoid fear of failure. She voiced her worry about a trip she'll be taking to Thailand to author a book, which reaffirms a view she lives by and encourages others to do the same.
"I'm going on this journey that scares the s*** out of me," Rodriguez said. "I could fail. The book could suck. I could not write a damn thing in a month. I can disappoint. I can let down. But I'm going to try, because I'd rather fail than not try at all."