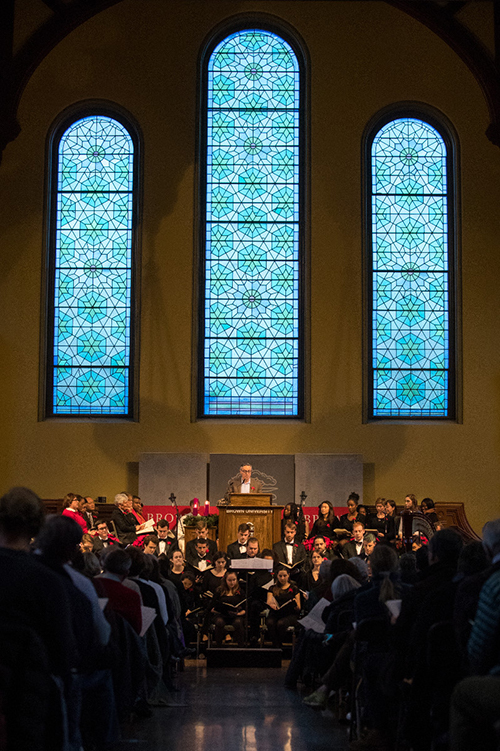 PROVIDENCE, R.I. [Brown University] —  Candlelight and song filled Sayles Hall on the evening of Sunday, Dec. 4, as a capacity crowd from the Brown community and beyond joined together to celebrate the 100th annual service of Lessons and Carols. The anniversary was marked by the premiere of two new musical pieces — "Joseph's Sunrise" by Brown alumnus Jesse Antin and "Sidus ex claro" by American composer James Woodman.
The service — based on one given at Truro Cathedral in Cornwall, England, during the late 19th century and made world-famous through the broadcasts and recordings of Cambridge's King's College Choir during the mid-20th century — comprises a series of biblical lessons on Israel's story of exile, God's judgment and promise to the people of Israel, and Christ's birth. Choral music and congregational hymns supplement the Biblical text and readings. 
Brown's Lessons and Carols service, sponsored by the Office of the Chaplains and Religious Life, has often included additional unique elements throughout the years: poetry by the late C.D. Wright, a longtime Brown faculty member, and former Rhode Island Poet Laureate Rick Benjamin, storytelling by Brown alumna Valerie Tutson and — this year — a passage from the Quran about Jesus read by Adnan Adrian Wood-Smith, associate chaplain of the University for the Muslim community. University President Christina Paxson also shared reflections on the event's milestone anniversary.
Also notable this year: the cover of the event program, which featured a photo of a Syrian refugee holding her child, next to an image of the Van Wickle Gates, was created to highlight the plight faced by refugees worldwide, said University Chaplain Reverend Janet Cooper Nelson.
"The combination of images on the 100th anniversary program cover — a Syrian woman refugee and her children next to the ironwork expression of Brown's motto, 'In Deo Speramus,' on the Van Wickle Gates — expresses Brown's commitment to continue to focus our moral gaze beyond the Gates while finding insight and resilience in the depths of our diverse sacred traditions," she said.
This year's service featured performances from several Brown musical groups including the Brown Jabberwocks, Brown University Chorus and Harmonizing Grace Gospel Choir. Various leaders in the Brown community recited the seven lessons. The audience joined in to sing several Christmas carols including the traditional candlelit rendition of "Silent Night" at the end of the evening. Each year, an offering is collected at the Lessons and Carols service to benefit a local nonprofit. This year's recipient was Crossroads Rhode Island, an organization that supports homeless or at-risk individuals and families in Rhode Island. Watch the full service here.