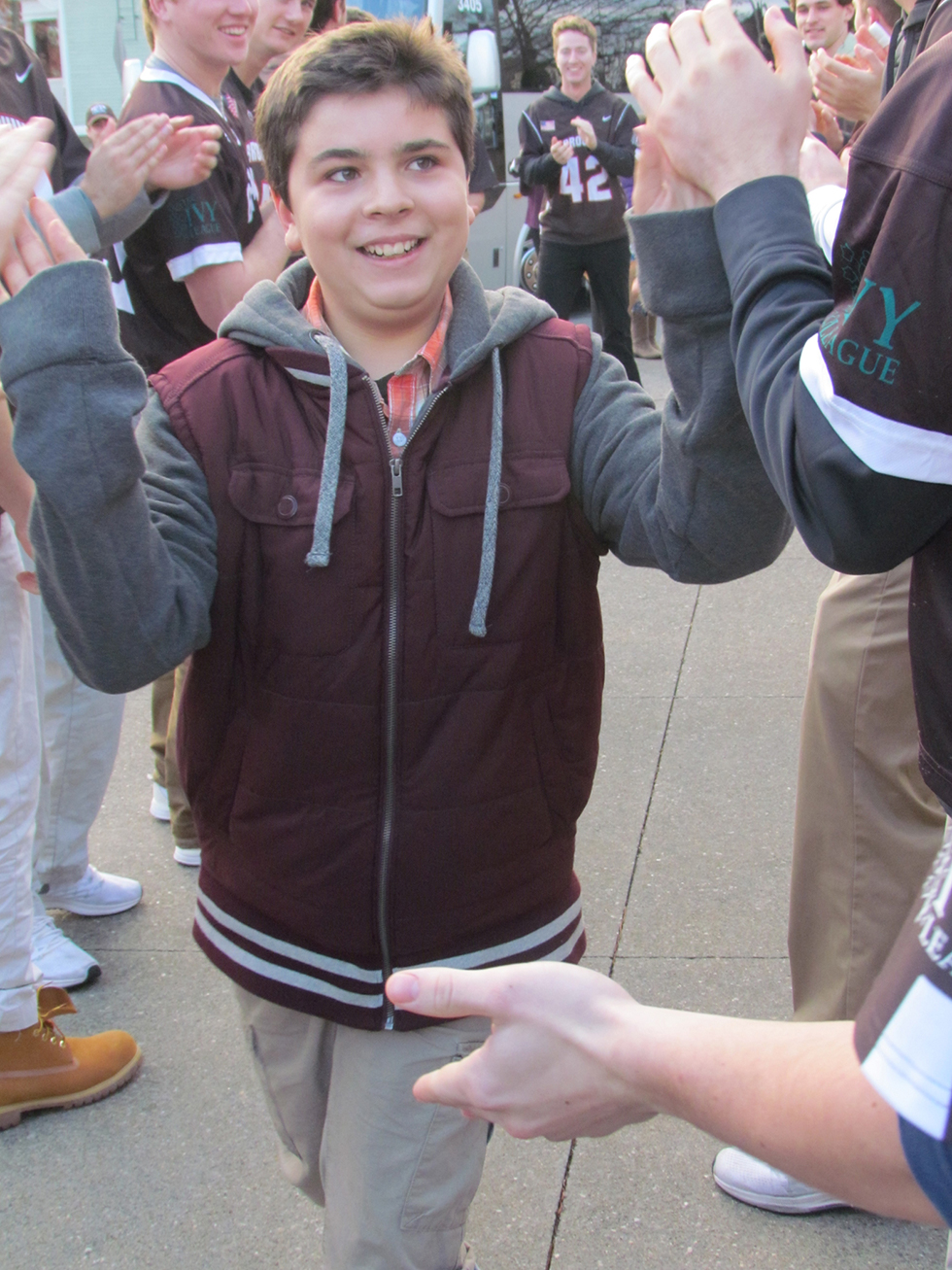 PROVIDENCE, R.I. [Brown University] — In a signing ceremony at Pizzitola Sports Center on Wednesday, Dec. 7, the Brown University men's lacrosse team welcomed its newest recruit as 12-year-old Cranston, R.I., native Nicholas Cioe inked his signature on a letter of intent to play for the Bears.
The connection between Cioe, who has both mitochondrial disease and a type of cerebral palsy, and Brown lacrosse was arranged through the nonprofit Team Impact. He was joined by his parents, Laura and Kevin, and his new teammates, as he became the youngest signed player to ever set foot in the locker room, where the ceremony took place.
The excitement was palpable.
"Nicholas is as tough as can be, and we're so proud to have him as a member of our team," said Alphonse Lucchese, of Sudbury, Mass., a Brown senior and attackman.
The day started at the Western Hills Middle School in Cranston, when Nick and his parents were picked up by several members of the Brown lacrosse team. The bus arrived at the Pizzitola Sports Center in the afternoon, where head coach Mike Daly and Bruno, the Brown mascot, greeted Cioe upon arrival.
Lucchese helped to connect the lacrosse team with Team Impact, a nonprofit that works to improve quality of life for children facing life-threatening and chronic illnesses via team-based support networks.
"Nicholas brings such incredible energy and enthusiasm every single day he visits campus and spends time with our team," Lucchese said. "Most days he comes straight from physical therapy, but this is something you wouldn't even notice watching Nicholas because of the genuine excitement and positivity he carries every day."
Cioe joins a roster of more than three dozen players on a team that fell just two victories short of an NCAA national championship last spring. Daly noted that Cioe has been attending team events for more than a month and that even before signing his letter of intent, he felt like a member of the team.
"This is about as special a day as we can have," Daly said at the ceremony. "Working with Team Impact is far more important than anything we're doing with our lacrosse team. Team Impact is what I envision as our job, and I welcome Nicholas to the Brown community."