PROVIDENCE, R.I. [Brown University] — After a six-year journey to prepare for a space adventure, a team of Brown students is now just one year away from seeing an out-of-this-world dream become a reality.
Since 2011, the student-led Brown Space Engineering group has been busy designing, building and testing a small satellite — a CubeSat — they hoped to someday put into orbit. In 2014, NASA agreed to provide space on a rocket for the 4-inch cube, and now the team has been given its launch window. In the second quarter of 2018, the Brown satellite, dubbed EQUiSat, will fly aboard a resupply mission bound for the International Space Station, where ISS astronauts will deploy it into orbit 250 miles above the Earth.
The satellite's mission is largely educational, says Hunter M. Ray, a junior engineering student and EQUiSat project manager. The idea is for EQUiSat to be a visible ambassador for space and space technology, showing people that the final frontier is within their reach. High-powered LED beacons will flash brightly enough to be seen with the naked eye from the ground as the satellite streaks across the night sky. A transmitter will relay telemetry and other data on amateur radio frequencies. And opportunities to see and hear EQUiSat will be combined with public outreach programs including space science curriculum modules for elementary, middle and high school students.
"If you had asked someone in the industry 20 or 30 years ago if undergrads could build a satellite, they would have said you're crazy," Ray said. "But here we are. We want to show people that space is right there — that it's accessible and you can interact with it."
Student-led project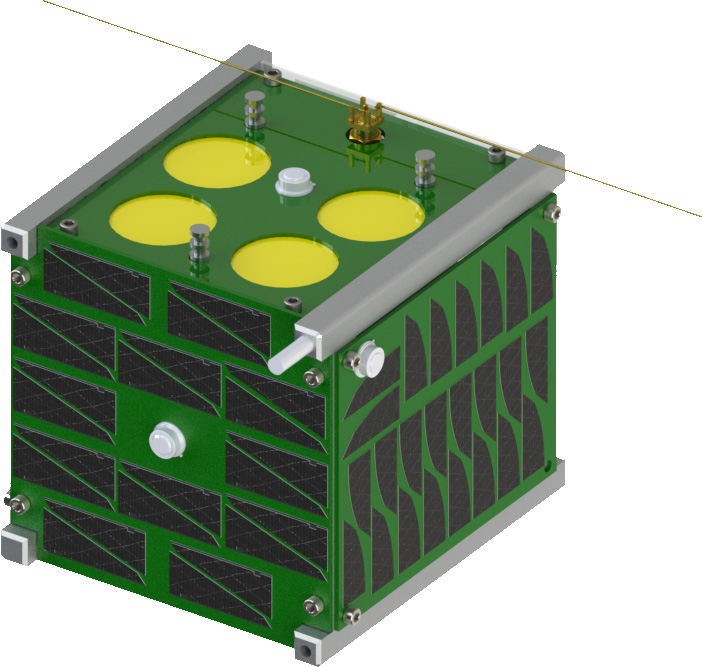 The launch is part of NASA's CubeSat Launch Initiative, which aims to give universities, nonprofits and other organizations an affordable pathway to space. The program also offers young engineers and developers a chance to get hands-on experience with space technology.
The EQUiSat team was formed in 2011 by a handful of students taking an aerospace engineering class taught by Rick Fleeter, an adjunct professor of engineering who founded a private satellite company before coming to Brown. The team's ranks have since swelled to over 40 members. Many are engineering concentrators, but the group also includes students from physics, computer science and environmental science, as well as industrial design students from RISD and a high school student from the Met High School in Providence. Last year, the group changed its name from the Brown CubeSat team to Brown Space Engineering in the hope of expanding its focus and drawing more students. While Fleeter continues to oversee the group, the project is fully owned by the students.
"It's 100 percent student-run," Ray said. "If we don't turn something in or if we mess something up, it's our responsibility."
Ray, who had long been interested in aerospace technology, joined the team as a first-year student and started working on the solar array. He said he was drawn to the idea of working on something that would eventually go to space, but he admits to being a little overwhelmed by the complexity of the project.
"I was completely lost at first, but I learned to ask a lot of questions and use the resources around me, whether it's been professors, other students, or even Google," Ray said. "Over the past three years, it's been a constant process of breaking down these large, seemingly impenetrable problems into a series of smaller hurdles that can be approached from a better angle."