PROVIDENCE, R.I. [Brown University] — At its 249th Commencement on Sunday, May 28, Brown University will confer honorary doctorates on six candidates who have achieved great distinction in a variety of fields. The candidates include:
Honorary degrees are awarded by the Board of Fellows of the Brown Corporation and are conferred by the University president — in English and in Latin — during Commencement exercises on the College Green. Recipients receive prominent recognition at the ceremony but do not serve as the Commencement speaker — since its earliest days, Brown has reserved that honor for members of the graduating class.
Daveed Diggs will deliver the Baccalaureate address to the Class of 2017 on Saturday afternoon in the Meeting House of the First Baptist Church in America. With that space reserved for members of the graduating class, the Baccalaureate address will be presented on video screens for family and friends on the College Green, in Sayles Hall and in the Salomon Center for Teaching.
Further details on all Commencement Forums will be posted in the coming weeks at www.brown.edu/about/commencement.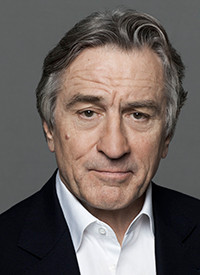 Robert De Niro
Actor, director and producer
Doctor of Fine Arts
One of the country's greatest actors, Robert De Niro is celebrated for the intensity he brings to each performance. He won his first Academy Award for best supporting actor for "The Godfather: Part II" in 1974. Six years later, he received the Oscar for best actor for his performance in "Raging Bull." He has also earned nominations for his work in "Taxi Driver," "The Deer Hunter," "Awakenings," "Cape Fear" and "Silver Linings Playbook."
Earlier in his career he was honored by the New York Film Critics Circle for his performance in "Bang the Drum Slowly" and by the National Society of Film Critics for "Mean Streets."
In 2009, De Niro received the Kennedy Center Honors and the Stanley Kubrick Britannia Award for Excellence in Film. In 2011, he served as jury president of the Cannes Film Festival and was honored with the Cecil B. DeMille Award at the Golden Globe Awards. De Niro is co-founder of the Tribeca Film Festival and Tribeca Enterprises, a diversified global media company based in New York City. He received the Presidential Medal of Freedom in 2016.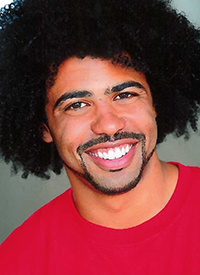 Daveed Diggs
Performer, rapper and writer
Doctor of Fine Arts
Daveed Diggs burst onto the New York theatre scene with his Tony-winning performance in the dual roles of Thomas Jefferson and Marquis de Lafayette in Lin-Manuel Miranda's Broadway sensation "Hamilton." For these roles, Diggs also earned a Lucille Lortel Award for best supporting actor and honors from the Drama League Awards. Diggs has also played a recurring role on NBC's "Law & Order: SVU" and on the Netflix series "The Get Down" created by Baz Luhrmann.
He is currently guest starring on ABC's "Blackish" and will appear in HBO's mockumentary "Tour de Pharmacy" alongside Andy Samberg and Will Forte. Diggs will make his feature debut in "Wonder" opposite Julia Roberts and Jacob Tremblay. He will also guest star in the new season of "Unbreakable Kimmy Schmidt" on Netflix. Currently, he is producing a comedy pilot for ABC. Diggs earned a bachelor's degree from Brown in 2004 with a theatre arts concentration.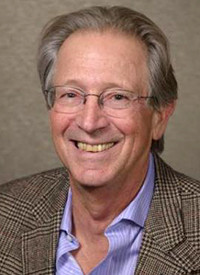 Donald C. Hood
Teacher, educational leader and expert on visual science
Doctor of Humane Letters
Donald C. Hood is the James F. Bender Professor of Psychology and Professor of Ophthalmic Science (in Ophthalmology) at Columbia University and has been a member of the Columbia faculty since 1969, serving as vice president for the arts and sciences from 1982 to 1987. He teaches courses on the relationship between the brain and behavior and conducts research on the biological bases of vision and diseases of the retina and optic nerve.
He is a graduate of Harpur College of the State University of New York at Binghamton. He earned a master of science degree and a Ph.D. from Brown.
Hood serves on the editorial boards of three professional journals and is editor-in-chief elect of the Journal of Investigative Ophthalmology and Visual Science. He was elected a fellow of the American Academy of Arts and Sciences in 2013. He joined the Corporation of Brown University in 2001 and has been a senior fellow since 2010 and secretary of the Corporation since 2008.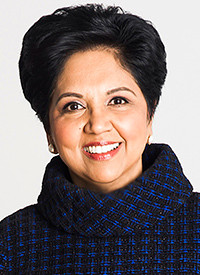 Indra K. Nooyi
Influential businesswoman and leader
Doctor of Humane Letters
Indra K. Nooyi is the chairman and CEO of PepsiCo, the second-largest food and beverage company in the world. She is the chief architect of PepsiCo's Performance with Purpose philosophy, which promotes making healthier products, practicing sustainability and supporting the people who live and work in our communities. Within its more than $63 billion global food and beverage portfolio, PepsiCo has 22 brands that generate more than $1 billion each in annual retail sales. PepsiCo's main businesses include Quaker, Tropicana, Gatorade, Frito-Lay and Pepsi-Cola.
 
Nooyi received a bachelor's degree from Madras Christian College, an M.B.A. from the Indian Institute of Management Calcutta and a master's degree in public and private management from Yale University.
 
Nooyi serves as a member of the boards of the U.S.-China Business Council, the U.S.-India Business Council, the Consumer Goods Forum, Catalyst, Lincoln Center for the Performing Arts, Tsinghua University and the World Economic Forum. She has been ranked the most powerful woman in business by Fortune magazine.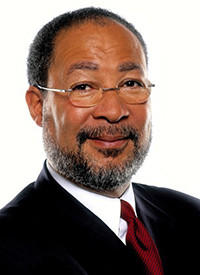 Richard D. Parsons
Business executive and civic leader
Doctor of Humane Letters
Richard Parsons is senior advisor at Providence Equity Partners, a leading private equity investment firm. He was formerly chairman of Citigroup and chairman and CEO of Time Warner. Before joining Time Warner, Parsons was chairman and CEO of Dime Bancorp and the managing partner of the New York law firm Patterson Belknap Webb & Tyler. 
He has held various positions in state and federal government, serving as counsel for Nelson Rockefeller and as a senior White House aide under President Gerald Ford. He completed his undergraduate work at the University of Hawaii and earned his J.D. from Albany Law School.
In 2008, Parsons was part of Barack Obama's economic transition team and later served as a member of the President's Council on Jobs and Competitiveness. More recently, he served as the chairman of Governor Andrew Cuomo's New NY Education Reform Commission. He is chairman of the Rockefeller Foundation, the Apollo Theater Foundation and the Jazz Foundation of America, and serves on the boards for Teach for America and the Commission on Presidential Debates.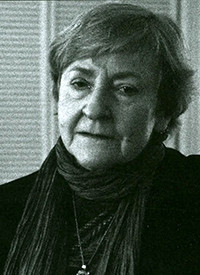 Rosmarie Waldrop
Poet, translator and small press publisher
Doctor of Letters
Rosmarie Waldrop was born in Germany and immigrated to the U.S. in 1958. The linguistic displacement from German to English helped make her into a translator and gave her a sense of writing as an exploration of what happens between words, sentences, people and cultures.
After receiving an M.A. and Ph.D. in comparative literature from the University of Michigan, she taught at Wesleyan University and, as a visitor, at Tufts University and Brown. She then devoted herself to writing, translating and running the small press Burning Deck with her husband, Keith Waldrop.
She has written more than three dozen books of poetry, fiction and criticism and translated more than 20 books from French and German. Her honors include fellowships from the National Endowment for the Arts and the Howard Foundation; a Lila Wallace-Reader's Digest Writers' Award; the Rhode Island Governor's and Pell awards; PEN and Harold Morton Landon translation awards; and a medal from the French government for her contribution to French literature. In April, she received the Los Angeles Times Book Prize in poetry for "Gap Gardening: Selected Poems."