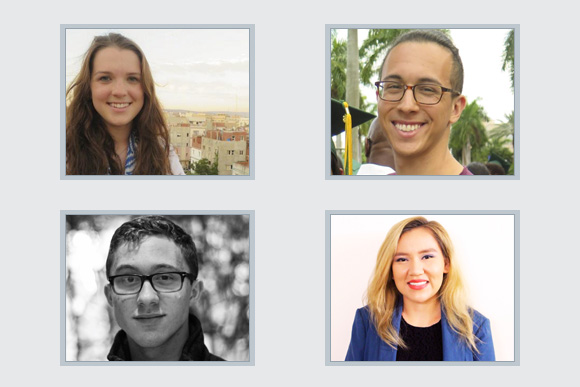 PROVIDENCE, R.I. [Brown University] — Three Brown undergraduates and one recent graduate have been awarded highly competitive awards to pursue graduate work and research in the United States and abroad.
Junior Evan Coleman has been awarded a Barry Goldwater Scholarship; senior Blake Mandell has earned a Yenching Scholarship; Class of 2016 graduate Katherine Pollock has received a James C. Gaither Junior fellowship; and junior Kara Roanhorse has been awarded a Beinecke Scholarship.
"Brown is thrilled to have representation within these prestigious fellowship cohorts," said Linda Dunleavy, the University's associate dean of the College for fellowships. "The winners of these awards represent a group of students who are motivated to impact the world as problem solvers and leaders in several key areas including indigenous rights, particle physics, international peace, and innovation and technology."
Evan Coleman
Coleman is a physics concentrator from California who focuses on astronomy and particle physics. Last summer, he conducted research at the European Organization for Nuclear Research (CERN) in Geneva through Brown's Undergraduate Teaching and Research Award (UTRA) program; the summer prior, he worked at Fermilab in Chicago, a high-energy particle physics research lab. Coleman serves as a mentor with Brown's New Scientist Collective, plays intramural water polo and is a classical guitarist. 
The Barry Goldwater Scholarship provides scholarships for sophomores and juniors who intend to pursue graduate research and careers in the natural sciences, mathematics and engineering with the goal of helping to ensure that the U.S. produces the number of professionals needed in these critical fields.
Coleman intends to pursue a Ph.D. in physics after graduation.
Blake Mandell
Graduating in May with a double concentration in mathematics and contemplative studies, Mandell began his studies as a mechanical engineering student at Northwestern University. He took a year off to intern at Lendsquare, where he simultaneously founded his own startup, a personal storage corollary to Airbnb called Stash. Upon transferring to Brown, he created two independent studies that examined various aspects of learning, which, combined with his meditation practice, resulted in a focused interest in China. The first study explored the cultural underpinnings of Eastern and Western societies, while the second involved a project around translational neuroscience that examined the clinical and biological effects of qigong. 
The Yenching Academy provides a scholarship that covers tuition and fees for postgraduate study at Peking University's campus, as well as travel and living expenses. The Academy offers a residential program "aimed at creating a community of enthusiastic, globally oriented young innovators in the heart of China's top university."
As a Yenching Scholar, Mandell will study economics and management. 
Katherine Pollock
Pollock graduated from Brown in 2016 with a concentration in Middle East studies. She is currently a presidential intern at the American University in Cairo and an editorial intern with the Cairo Review of Global Affairs. While at Brown, she was the editor-in-chief of the Brown Journal of World Affairs, a student-led international relations academic journal. She has been a youth counselor with Seeds of Peace in Maine and a volunteer with Musicians without Borders in both the Palestinian Territories and Rwanda. 
The James C. Gaither Junior Fellow Program is administered by the Carnegie Endowment for International Peace, a nonprofit dedicated to advancing cooperation between nations and promoting active international engagement by the United States. Through research, publishing, convening, and on occasion, creating new institutions and international networks, Endowment associates work to shape new policy approaches to the economic, political, and technological forces driving global change. Carnegie Junior Fellows work as research assistants to the Endowment's senior associates.
As a Gathier Junior Fellow, Pollock will support the Carnegie Endowment's Middle East program.
Kara Roanhorse
Roanhorse is pursuing a dual degree in public policy and ethnic studies. She has been a vocal advocate on campus and beyond in support of the self-determination of indigenous peoples such as the Dine (Navajo) community in which she was raised. Roanhorse is a Mellon Mays Undergraduate Fellow, as well the recipient of a Udall Scholarship, one of only 15 awarded for tribal public policy.
She was deeply involved in the grassroots advocacy campaign to rename Columbus Day as "Indigenous People's Day" at Brown, as well as efforts to organize the first Brown-sponsored student outreach program to Native high school students. Roanhorse served as a policy assistant for the White House Initiative on American Indian and Alaskan Native Education; she participated in both the Native American Political Leadership Program and the Brown in Washington, D.C., program.
The Beinecke Scholarship Program provides scholarships for the future graduate education of college juniors. The program seeks to encourage and enable highly motivated students "to be courageous in the selection of a graduate course of study in the arts, humanities and social sciences."
Roanhorse plans to pursue a Ph.D. in American studies.