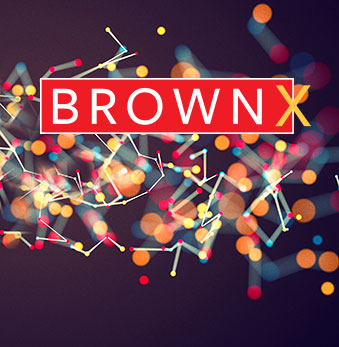 PROVIDENCE, R.I. [Brown University] — With courses on topics ranging from the intersection of art and medicine to mass surveillance to the ethics of memory, Brown University will launch an online learning initiative to bring its distinctive approach to teaching and learning to new audiences across the globe, beginning in July.
BrownX will be launched in partnership with edX — a nonprofit online learning destination founded in 2012 that has partnered with more than 100 of the world's leading universities and cultural institutions to bring massive open online courses (MOOCs) to more than 11 million people.
The first BrownX courses offered on edX.org will begin in July and will be three-week, no-cost, not-for-credit offerings.
"This new partnership will bring the best of Brown to a global community," said Provost Richard M. Locke. "BrownX will showcase the expertise of our accomplished faculty, expose new audiences to our collaborative, cross-disciplinary approach to research and teaching and offer learners access to knowledge that inspires progress, shapes policy and improves the world."
Brown joins a list of edX partners that includes a number of its Ivy League peers, other global universities and nonprofits and international organizations including the Smithsonian, the International Monetary Fund and Amnesty International, among many others.
"We are honored to welcome Brown University, an institution with a commitment to digital education initiatives, to edX," said Anant Agarwal, CEO of edX and a professor at the Massachusetts Institute of Technology. "Through this partnership, Brown will offer innovative and interdisciplinary courses to the edX global community, furthering our shared mission to increase access to high-quality education for everyone, everywhere."
The launch of BrownX adds to a set of digital education initiatives overseen by the University's Steering Committee for Digital Teaching and Learning. Course development teams in Brown's School of Professional Studies (SPS) will manage the implementation of BrownX, working with faculty and other colleagues from across the University to develop and deliver a range of course formats and subjects on the new platform.
Committee co-chair Karen Sibley, vice president for strategic initiatives and SPS dean, said that edX offers an opportunity to improve access to education on a global scale for a wide variety of learners.
"BrownX students will range from accomplished professionals to college and high school students to curious lifelong learners," Sibley said. "We look forward to engaging with alumni, parents and other members of the extended Brown community and expect to welcome new learners with no previous connection to the University."
In the initiative's early stages, all BrownX courses will be no-cost and not-for-credit, though students who complete each course can attain a verification certificate for a small fee. The web-based courses are available to anyone with an internet connection. They are interactive, mobile-friendly and will be structured in modules that are not constrained by the structure of an academic semester, Sibley said.
Ravit Reichman, an associate professor of English at Brown, will teach "The Ethics of Memory," a course to run from July 11 to July 31 and open for enrollment today. Students will explore how personal and collective memories evolve over time and why memory and memorializing matter.
Reichman said the work by edX to deliver content from universities to learners across the world inspired
her interest. "I am drawn to the democratizing impulse of edX and love the idea of open-access intellectual communities where learning takes shape in new ways," she noted.
Beginning on July 18 and also open for enrollment today, Professor of Humanistic Medicine Dr. Fred Schiffman will teach a three-week course titled "Artful Medicine: Art's Power to Enrich Patient Care" in which students will explore how the medical community can harness the power of art and empathy in their clinical work.
Two additional courses will run this fall on edX.org.
Professor of English James Egan will teach "Fantastic Places, Unhuman Humans," which explores what grotesque, monstrous and alien creatures found in literature across many centuries reveal about the different ways humans have imagined what it means to be human in the first place.
Timothy Edgar — a senior fellow at Brown's Watson Institute for International and Public Affairs and an academic director and faculty member in the University's Executive Master's in Cybersecurity program — will teach a course about mass surveillance and security with the curriculum derived in part from his upcoming book, "Beyond Snowden: Privacy, Mass Surveillance and the Struggle to Reform the NSA."
In addition to launching the four initial courses for 2017, Sibley said the University will look to build a growing portfolio of courses in the years to come.
Full course descriptions and registration information for the Ethics of Memory and Artful Medicine courses are available at www.brown.edu/brownx.