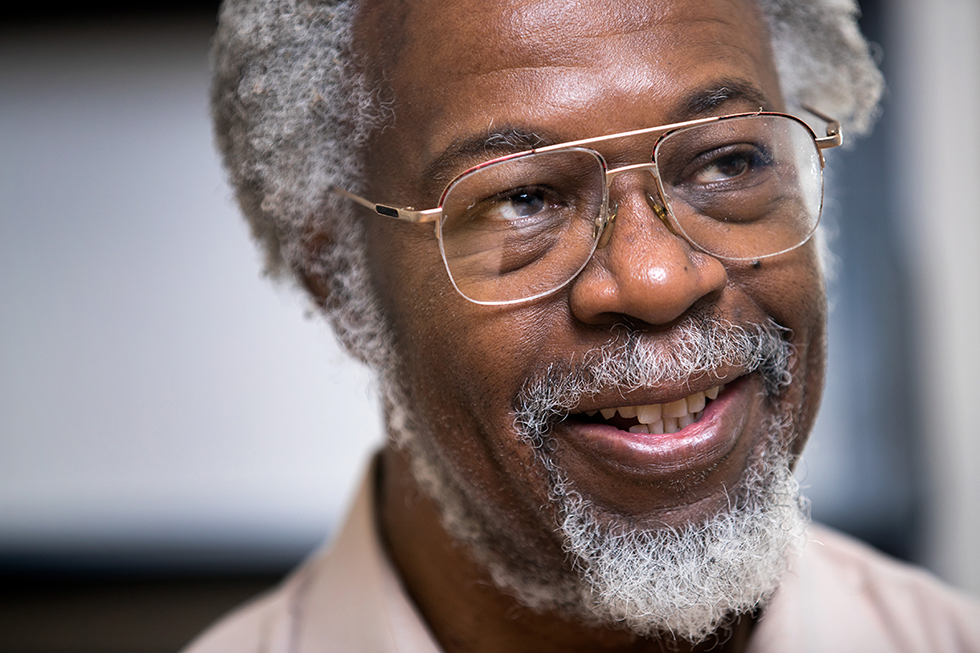 PROVIDENCE, R.I. [Brown University] — Just over a year ago, Brown University launched into the work of activating an ambitious, far-reaching plan to create a more diverse and inclusive academic community. Among the plan's chief priorities was a multifaceted effort to double the number of faculty members from historically underrepresented groups by 2022.
Two initiatives related to that effort — the Presidential Diversity Postdoctoral Fellowship Program and the Provost's Visiting Professors Program — are in full swing, each representing a distinct element in a broader strategy to boost faculty diversity. The first aims to widen the pipeline of young scholars from diverse backgrounds who will compete for tenure-track positions at Brown and elsewhere in the future. The other focuses more immediately on the present by attracting distinguished senior scholars from historically underrepresented groups to Brown for temporary appointments.
And both are already producing results.
"Diversity is a cornerstone of academic excellence," Brown President Christina Paxson said. "Through a set of distinctive and purposeful programs, we are seeing success at increasing faculty diversity at all levels — from the most recent recipients of Ph.D.s to academics who are at the peak of their careers as educators and scholars."
Liza Cariaga-Lo, the University's vice president for academic development, diversity and inclusion, said that cultivating a more diverse faculty is essential to the creation of an academic community that embodies the social and intellectual diversity of the world and offers students and scholars the highest level of academic excellence.
"These programs are already helping us to meet the goals set out in our diversity and action plan by addressing faculty hiring at multiple points in the academic career pipeline," she said.
Developing young scholars
In 2015 — a semester before the debut of the full Pathways to Diversity and Inclusion action plan — Brown launched the Presidential Diversity Postdoctoral Fellowship Program to support the development of early career scholars who add intellectual diversity to the campus.
From the start of the first cohort of six fellows, Cariaga-Lo said, the program's specific emphasis has been recruiting scholars from historically underrepresented groups who might eventually compete for tenure-track faculty positions at the University. During their time at Brown, each fellow spends two semesters teaching a course of their own design and another two semesters wholly devoted to their research. With each new cohort, the University will bring in up to six new scholars, she noted.
Yalidy Matos, a fellow in international and public affairs and race and ethnicity in America, researches the intersection of race, ethnicity and immigration, paying particular attention to the different ways in which race and implicit racial attitudes affect Americans' policy opinions. Matos says that Brown's fellowship program appealed to her given its emphasis on both teaching and research and because the multi-faceted nature of her work — which touches on areas of study ranging from psychology and geography to political science and history — fits well into Brown's interdisciplinary culture.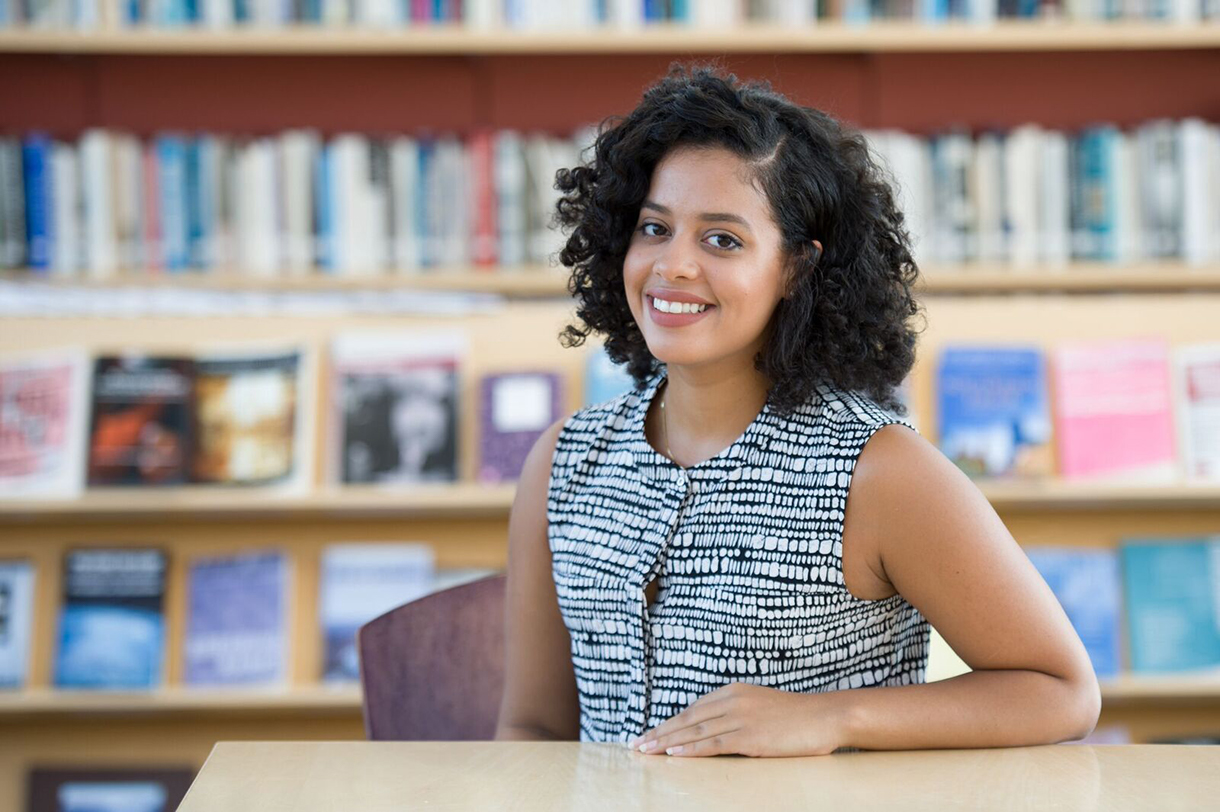 "It was important for me to be in a place where I could gain many different perspectives from a variety of departments but also where there was an understanding that each of these parts belong in the more holistic story I am trying to tell about the inherent racialization of immigration in the United States," she said.
Matos says her research is informed largely by her own experience as an immigrant who moved from the Dominican Republic to the United States at age 7.
"My research interests come from having this very intersectional life — being a woman, being a person of color, being a woman of color, being an immigrant — and what that means for me," she said. "It's part of how I think about understanding the world, but also how I live the world."
Brown's fellowship program has supported both her research and her lived experience and has enabled her to share them with younger scholars through teaching — perhaps the most important reason to have a post-doc program focused on diversity, Matos said.
"College is a space where students are growing and becoming who they are going to become," she noted, "so it's important to have these kinds of institutional post-docs as a way to further the process of diversifying the faculty and the curriculum, giving students a broader sense of experience and knowledge. Programs like this help to institutionalize a diverse knowledge that, for some of us, comes from both personal and professional motivations."
The program has also helped propel Matos to her next destination in academia, she said. Next fall, she ventures to New Jersey to start a tenure-track assistant professor role in political science and in the Latino and Caribbean studies department at Rutgers University.
While Matos departs Brown, two other scholars from the first cohort of fellows will remain at Brown to begin faculty positions: Kevin Escudero and Adrienne Keene, both of whom will stay on as assistant professors of American studies and ethnic studies. The three other post-docs have accepted tenure-track positions at Columbia University, the University of Texas at Austin and George Washington University.
Cariaga-Lo said playing a role in propelling young scholars from underrepresented groups into faculty positions speaks to the program's intent both at Brown and beyond.
"We hope that we have given them all an opportunity to thrive and be supported as they prepare for positions here or elsewhere," Cariaga-Lo said, "and we are glad to know that their scholarship in a number of important areas will serve to diversify the Brown campus and the academy more broadly."
Attracting accomplished researchers
While the Presidential Diversity Postdoctoral Fellowship Program offers opportunities for emerging scholars, the Provost's Visiting Professors Program is designed to bring to Brown those who are already highly accomplished. All come from historically underrepresented groups for periods ranging from six to 24 months.
For the current 2016-17 academic year, Brown welcomed the first cohort of visitors: renowned physicists Sylvester James Gates Jr. and John A. Johnson, and accomplished epidemiologist Ronald Aubert.
The aim is to broaden the excellence of Brown faculty while helping to build a critical mass of diverse voices in the University's academic community, said Provost Richard M. Locke.
"We were very pleased to draw such exceptional scholars to Brown as part of this program," Locke said. "I know our students and faculty benefited greatly from their interactions with the first cohort of visitors, and we hope to see that continue as the program moves forward."
Gates, a theoretical physicist at the University of Maryland, is a recipient of the National Medal of Science and a member of the National Academy of Sciences. He also served a member of the President's Council of Advisors on Science and Technology during the Obama administration.
He says several factors made him want to be a part of the visiting professors program at Brown.
"Brown has long had a reputation for its flexibility in educating undergraduates and for having fantastic students, and I wanted to be involved with that," he said. "But the other thing is that Brown is making some historic efforts at being more inclusive, and that also is something that fascinated me."
Gates says when he thinks about the value of programs like this, he's reminded of something a female colleague once said to him.
"She said it really matters when a young woman sees someone who looks like her at the blackboard," Gates recalled. "It provides real encouragement for people from groups who have been traditionally locked out of some of these positions."
Chris Rose, a professor of engineering and associate dean of the faculty for special initiatives, helps oversee the program. He said it has been gratifying to see the first cohort engaging with students and fellow faculty members throughout campus.
"We're not the first university to have this type of program, but we wanted to structure ours differently," Rose said. "From the beginning, we aimed for a program that was outward-facing, where visitors weren't cloistered within a single academic department, but instead were making connections across campus. To do that, we need to bring people to campus who not only have great depth in their interests, but great breadth as well."
Aubert, chief science officer for a health care consulting firm and an adjunct associate professor at the University of North Carolina, has a dual visiting appointment in the Brown University School of Public Health and with the University's Center for the Study of Race and Ethnicity in America (CSREA). So in addition to teaching and mentoring students in public health, he also gave informal talks with students and faculty at CSREA on issues of race and ethnicity as they relate to the prevalence of Type 2 diabetes in the U.S. He'll continue his work over he summer, developing campus-wide programming on issues of public health and race.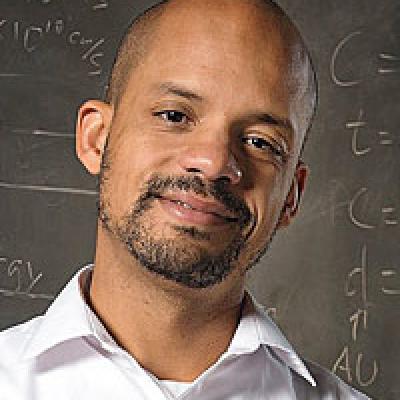 Johnson, a professor at the Harvard-Smithsonian Center for Astrophysics, had a dual visiting appointment in physics and with CSREA. As he continued his work as a leader in the search for planets outside of our solar system, he also convened weekly discussions on race, social power and how racism shapes scholarly endeavors and higher education. 
Gates co-taught a physics class, gave a colloquium on science-based public policy at the Watson Institute for International and Public Affairs and served as co-director of Brown's Presidential Scholars Program, which provides research opportunities and support for low-and-middle-income undergraduates.
Amid all that, Gates still had time to continue his research, which he said benefitted from the collaborative ethos he found at Brown.
"What I'm working on is a strange combination of physics, mathematics, computer science and even a bit of evolutionary biology," Gates said. "There's a real spirit of interdisciplinarity here that enabled my work."
Rose says he looks forward to the program's continued success, along with the suite of related programs aimed at creating a more diverse academic community at Brown.
"There's a constant drumbeat of these kinds of programs at Brown growing out of the Diversity and Inclusion Action Plan, along with the institutional will to see them through," Rose said. "In terms of making meaningful progress in diversity and inclusion, I think Brown is the place to watch."
[Editor's Note: In late May 2017, shortly after publication of this story, Sylvester James Gates Jr. agreed to become a permanent member of Brown's faculty.]