PROVIDENCE, R.I. [Brown University] — Amid all of the abundant and exuberant dancing, singing, smiles and hugs of Commencement and Reunion Weekend 2017, a celebrating community also embraced Brown University's traditions of intellectual independence and social conscience. This year's three-day event, from May 26 to 28, was a time not only for taking pride, but also for taking seriously one's newfound role in history.
In her Commencement remarks to the Class of 2017 at the Meeting House of the First Baptist Church in America, University President Christina Paxson evoked Rhode Island's colonial charter in 1663, which described a "lively experiment" of unprecedented religious tolerance. She contrasted that with a state of current affairs scarred by deep divides that she said were laid bare during last year's elections.
"These divides are reverberating around the world," Paxson said. "They are threatening democratic institutions, and creating anxiety, even despair, among those left behind by globalization and rapidly changing technologies. And they are alienating those vulnerable to injustices because of their race, ethnicity, religious beliefs, gender other identities."
Paxson urged the weekend's 1,561 bachelor's degree recipients to counter that concerning trend by engaging in civic life with compassion and the "courage of your informed convictions."
"I believe that the most consequential thing you can do as new college graduates is, in ways small and ambitious, to bridge these divides," she said. "This takes courage — but it's courage that I know all of you possess."
Renowned actor Robert De Niro, one of six honorary degree recipients, voiced a similar sentiment at the University Ceremony — which celebrates both undergraduate and graduate students — on the College Green. He decried what he sees as the country's current state, which he put "in movie terms," and called upon graduates to repair it.
"When you started school, the country was an inspiring, uplifting drama," he said. "You are graduating into a tragic, dumbass comedy. My advice is to lock the Van Wickle Gates and stay here. But if you do leave, work for the change. Work to stop the insanity. Start now so the Class of 2018 will graduate into a better world."
Student orators speak
While remarks from luminaries like De Niro lit up College Hill at points, a defining characteristic of every Brown graduation is that the featured speakers are students themselves. This year's pair of student orators, chosen from the bachelor's degree recipients to speak at the University Ceremony, struck notes of social responsibility, service, humility and depth of thought as they also acknowledged the festivity of the weekend.
Adriel Barrios-Anderson, a neuroscience and science and society concentrator and an accomplished violinist, asked students and their loved ones to consider the value of exploring life's silent moments, like rests in music or poignant seconds while a grieving person gathers the courage to speak. Such moments provide important learning experiences that can too easily be overlooked, he noted.
"One of the most noble and worthwhile aims of scholarship is to uncover the unknown: those silent phenomena that pervade our world," said Barrios-Anderson, a Houston native and the son of Panamanian immigrants. "Brown has encouraged us to seek lessons in silence: to ask questions, challenge assumptions and broaden our perspectives with the hope that in so doing, we can build a more just and healthful world."
Fellow orator Viet Nguyen, an education concentrator and president of the Undergraduate Council of Students, called upon his fellow graduates to avoid being seduced by the affectations of academic elitism, as he initially was when he struggled to feel like he truly belonged at Brown. A first-generation student and son of Vietnamese immigrants from Mountain View, Calif., Nguyen is co-founder of [email protected], and executive director of 1vyG, an organization that strengthens the first-generation college student network.
"We have worked hard," he said. "We have accomplished. But an Ivy League education, how many academic scholars we can quote, whether we've read Marx or coded Tetris does not make us inherently any better or any more deserving than anyone else… Today, as we obtain our degrees, remember that we should not be celebrating how the degree differentiates us from the rest of the world. We should be celebrating the responsibility that it provides us to ensure that others have the same opportunities that we had at Brown."
VIDEO: University Commencement Ceremony on Sunday, May 28, 2017
On stage shortly afterward, honorary degree recipient Richard D. Parsons, a lawyer, former White House aide and former CEO of Citigroup and Time Warner, reinforced the importance of educational opportunity with a personal reflection. He spoke of his time as counsel to former Vice President and New York Governor Nelson Rockefeller. Parsons' maternal grandfather had been the head groundskeeper of the Rockefeller estate, but Parsons had become Rockefeller's lawyer.
"This gentleman who had been my grandfather had all these qualities of leadership, intelligence, diplomacy, kindness, compassion and thoughtfulness," Parsons said. "Somehow the arc of his career topped out in his day as being the head groundskeeper. What was so different? Was I that much more talented? Was I that much more gifted? Or was it something else. And it was something else."
That something, Parsons said, was that the laws of the country had changed to broaden opportunities and that Parsons had been able to get an education.
Procession and reflection
Hours earlier, Nguyen was one of four senior class marshals to lead the undergraduates out through the Van Wickle Gates and down College Hill to the sloping grounds of the Meeting House. They followed legions of alumni from as far back as 1942 as well as the University's graduating medical and graduate students. Many were eager to head into the world to make their impact.
Amid the procession, wearing a mortarboard skillfully decorated with a caffeine molecule diagrammed in shimmering gold paint, was Gregory Lowry, a chemistry and anthropology concentrator from McKees Rocks, Pennsylvania. On campus he served as a tutor and earned the chemistry department's award for leadership and service. After graduation, he's joining Teach for America and will teach science in Tulsa, Oklahoma.
"Service to others is part of what it means to be human, as cliché as that may sound," Lowry said. "Growing up, my family always taught me that we are supposed to help other people — my mom is a nurse and my dad a paramedic, so I was raised knowing how much you can change a life in a matter of moments."
Reflecting on the moment of Commencement, he acknowledged the mixed emotions widely shared by his peers: "While I'm sad to think of all the 'lasts' and goodbyes, it's also exciting to know that there's this whole world of possibilities just around the corner."
During the procession, different students turn different corners. After passing through the gates, master's, doctoral and medical students each split off from the undergraduates, for example, to gather at Commencement ceremonies that honored hundreds of students who have pursued advanced study before they rejoin the undergraduates at the University Ceremony. At these ceremonies, too, student speakers blended celebration and congratulation with calls to their peers to create a better world.
In her address at the doctoral ceremony on Ruth J. Simmons Quadrangle, Alexandria Volkening challenged her peers to use their community-supported voices to talk about difficult subjects and amplify the voices of those who are underrepresented.
"There have been many people who have been there behind and beside us… and this degree is also theirs," said Volkening, who earned a Ph.D. in applied math. "We have this special opportunity to have a voice because they have amplified ours."
Ceremony and celebrity
In addition to De Niro and Parsons, the University bestowed honorary degrees upon four other candidates who have achieved great distinction in a variety of fields: Daveed Diggs, Donald C. Hood, Indra K. Nooyi and Rosmarie Waldrop.
Diggs, a Brown Class of 2004 alumnus best known for his Tony-winning performance in the Broadway hit "Hamilton," delivered the address at Saturday's Baccalaureate ceremony. The annual celebratory ceremony for graduating seniors, which weaves in prayers, texts, dances and songs that represent the many spiritual and secular traditions within the University community.
In his remarks, titled "Daveed Diggs Says Some Things," he spoke about self-doubt, success and the deep political divisions that characterize American civic life. "Our world desperately needs you now," Diggs implored. "We need your new ideas because our old ones have made a big mess of things.
Two other honorary degree recipients, De Niro and celebrated poet Waldrop, presented at two of 18 Commencement forums on Saturday. These lectures, discussions and performances cover the most pressing issues of the day and are given by faculty, alumni and guests who are nationally recognized authorities in their fields. Forum topics included a presentation on how the Center for the Study of Slavery and Justice has worked to share its scholarly resources with the public, a performance and discussion on the legacy of American dance and a discussion on the latest scientific findings that could aid a human expedition to Mars.
Waldrop read from her award-winning book "Gap Gardening: Selected Poems" at a forum held in McCormack Theater. Her work explores the idea of "betweenness" — the truth and beauty to be found between people, languages and cultures as well as between words and sentences. Her work has drawn international praise, including this year's Los Angeles Times Book Prize for poetry.
A capacity audience in the Friedman Auditorium heard planetary scientist Maria Zuber describe the myriad challenges that must be tackled in order to send the first humans to Mars. Zuber, a Brown alumna, parent and Corporation member, is no stranger to firsts. She became the first female chair of an academic department at MIT and the first woman to lead a planetary science mission for NASA — the 2011 GRAIL mission to the Moon.
The challenges involved in getting people to Mars and sustaining them once they get there are so great, Zuber says, that it's unlikely any one single nation can deal with them alone. That presents an opportunity for the world to unite around a shared goal.
"Wouldn't it be wonderful the world got together and did something grand like this?" she asked. If that global effort were to happen, humans would get to Mars "for sure in a couple of decades." In fact, she said, the first person to walk on Mars may well be alive today, "and they might be in this room."
Another guest on campus over the weekend surprised family and friends of the University's sociology graduates on Sunday. Oprah Winfrey dropped in on the sociology department's diploma ceremony to honor Brown graduate Nomvula Mbambo, an alumna of the Oprah Winfrey Leadership Academy for Girls in South Africa.
"Ms. Winfrey, thank you for your dedication to education and to your abiding concern for the well-being of young people — both someone here today and throughout the world," said Professor of Sociology Michael White in acknowledging Winfrey's presence at the ceremony.
A community celebration
The Baccalaureate ceremony and forums on Saturday were part of a day filled with pre-Commencement gatherings, as student groups and organizations from across campus hosted their own ceremonies and celebrations. These included — among many others — the Latinx Commencement dinner, the ONYX Rites of Passage celebration dinner for graduating black students, a Brown Outdoor Leadership Training student-alumni reception, a Brown TBGALA (Transgender, Bisexual, Gay, and Lesbian Alumni) reception and senior concerts for several of Brown's performance groups.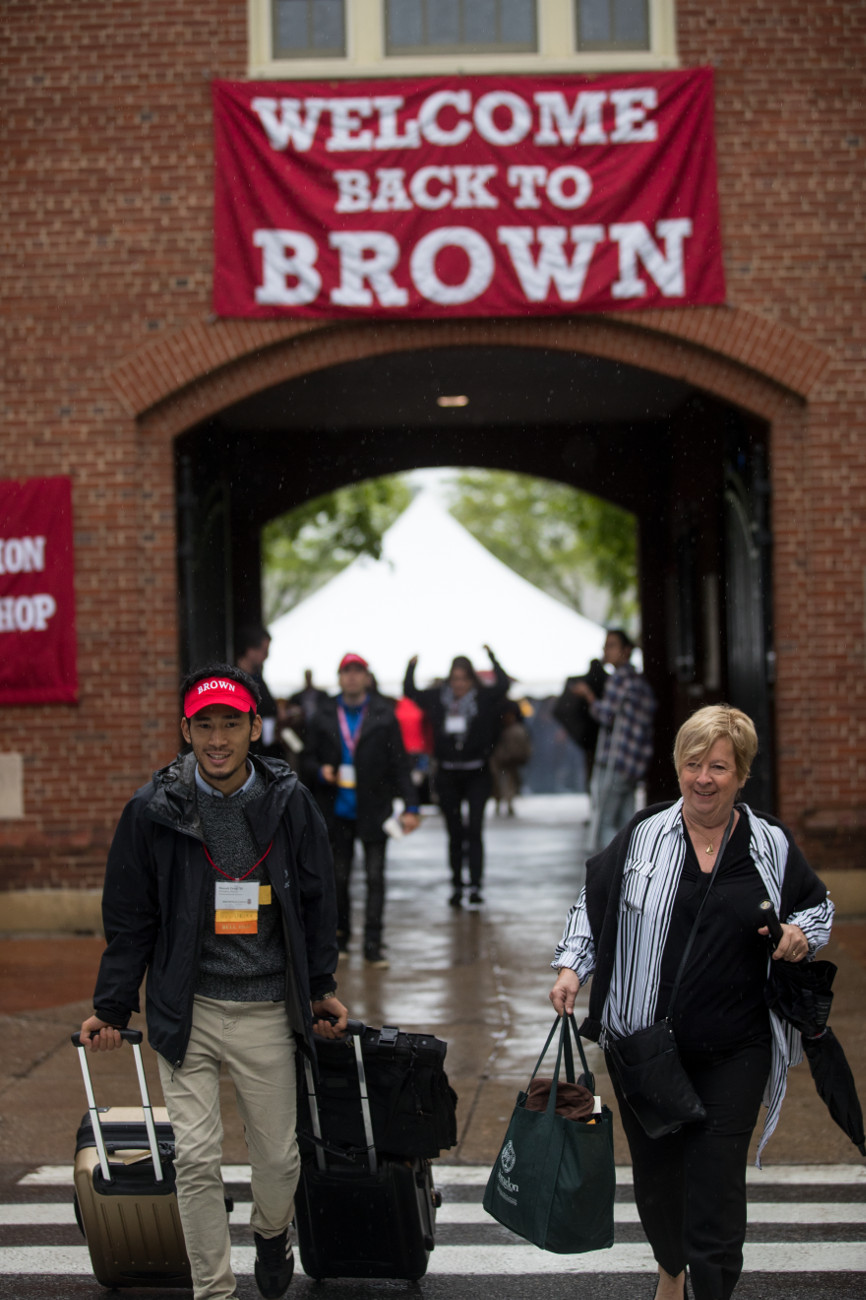 Saturday was also marked by a Graduating Veterans Recognition and Commissioning Ceremony as well as a memorial honoring those who died in the September 11 attacks and the combat that has followed.
In addition to the graduates and their families who joined together on campus this weekend, alumni from across the globe journeyed to campus to celebrate Reunion. The festivities included the annual Campus Dance on Friday, Field Day on Saturday, dinners and gatherings for specific classes, lectures, panels, performances and open houses — all culminating in the Commencement procession where graduates from years past welcomed the Class of 2017 to the Brown alumni community as they made their way to the First Baptist Church for the College Ceremony. 
Chantel Whittle, a Class of 2012 alumna, has returned for Reunion every year since she graduated. "I come back for this procession," she said. "These kids have so much fear and anxiety [about their futures] ... and as soon as you get through the gates, you feel this overwhelming love and support. You get a sense of relief. We pay it forward every time we come back."
The concluding events of the weekend are the school and departmental ceremonies in which students receive their individual diplomas. After the University Ceremony on the College Green, students and loved ones disperse to dozens of buildings and tents across campus.
Public health students didn't have to go far. A quad away, on the Ruth J. Simmons Quadrangle, Terrie Fox Wetle presided over her last Commencement as the school's first dean. She urged students to safeguard health, starting with their own. As she praised the graduating students for their hard work, she reinforced the gratitude expressed often during the weekend.
"I also would like to take a moment to recognize members of the support networks for each student," she said. "You have provided love, encouragement and sustenance during this sometimes arduous journey. You are the mothers and fathers, husbands and wives, partners and friends, and the chosen families of these future leaders."
And then thousands of students headed off into the future, mindful of their ability and responsibility to affect it.