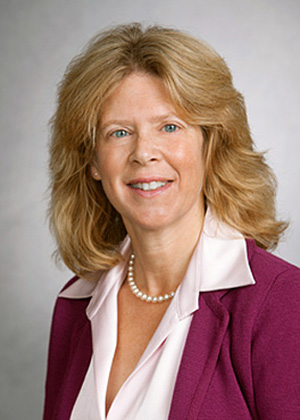 PROVIDENCE, R.I. [Brown University] — The next dean of the Brown University School of Public Health will be Bess Marcus, a leading scholar in health behavior changes and the first senior associate dean for public health at the University of California San Diego School of Medicine.
Marcus will begin her tenure as dean effective Nov. 1, 2017, succeeding Terrie Fox Wetle, who became the school's inaugural dean in 2013.
Brown University President Christina Paxson announced her appointment in a June 14 email to the Brown community. Marcus brings to the deanship a commitment to rigorous research, innovative education and engagement with the greater community, which is critical for advancing the School of Public Health's mission, Paxson said.
"Bess Marcus is not only an accomplished public health scholar and teacher in her own right, but also brings a remarkable track record of promoting public health research and education as a senior leader at UCSD," Paxson said. "Her collaborative leadership style and strong commitment to advancing high-impact research will be instrumental in inspiring students and faculty to confront the wide array of complex public health challenges that face society."
A clinical health psychologist and expert in health promotion, Marcus served as a professor of community health and psychiatry and human behavior at Brown before leaving for UCSD in 2011. After serving as chair of the Department of Family Medicine and Public Health at the UCSD School of Medicine for six years and the school's senior associate dean for public health — a position in which she founded and directed the UCSD Institute for Public Health — for three, she said she is excited to return to Brown and build on the momentum the School of Public Health has generated since it was founded in 2013.
"I'm excited and honored by the opportunity to return to Brown to lead the School of Public Health at such a critical time, given all of the local, national and global health challenges facing us, from obesity to climate change to so much more," Marcus said. "One of the factors that's so exciting is the richness of the University itself — addressing important, complex issues related to population health is a central part of Brown's mission."
Marcus said she looks forward to capitalizing on the energy that has infused the School of Public Health community in its early years.
"Brown is such a collaborative, inclusive academic community with deep connections to partners in the greater community," she added. "There couldn't be a better place to launch new and innovative public health initiatives and degree programs."
Marcus will lead the School of Public Health as it continues to build its national influence in reshaping health care and safeguarding vulnerable populations. Initially a department of Brown's Warren Alpert Medical School, the School of Public Health became fully accredited by the Council on Education for Public Health in 2016.
With more than 200 faculty and 275 undergraduate and graduate students, doctoral and master's enrollment at the school has more than doubled over the past decade, while the undergraduate ranks have swelled by 75 percent. The School of Public Health is home to 12 nationally renowned research centers and receives over $50 million in annual external research funding.
In her role as dean, Marcus will provide strategic direction, leadership and administrative oversight for all aspects of the School of Public Health, promoting its mission of academic excellence in education, research and civic engagement. Reporting directly to the University's provost, she will oversee the school's four academic departments, research centers, doctoral and master's programs and its undergraduate concentration.
After Wetle announced her intent to step down as dean following the 2016-17 academic year, Paxson led a search committee of Brown faculty members and public health students to identify her successor. The committee held open forums on campus, consulted with the school's advisory board members and engaged with senior leaders from Brown and key off-campus partners, including the Rhode Island Department of Health.
Marcus stood out as a leader who can build on the School of Public Health's core strengths while launching new initiatives that elevate its work in public health, Provost Richard M. Locke said.
"Bess has an impressive record of supporting student and faculty research and outreach aimed at sharply reducing death and disability associated with chronic and infectious diseases and increasing life expectancy," Locke said. "This mix of high-quality work and engagement is exactly what Brown is known for, making Bess a great fit for the School of Public Health."
Bess Marcus
Marcus has published more than 250 papers on the role of exercise in health and how to motivate people to maintain healthy behaviors such as physical activity and smoking cessation. She first arrived at Brown as a postdoctoral scholar in 1988 after earning her master's degree and Ph.D. in clinical psychology at Auburn University. After five years as an assistant professor, she became an associate professor of psychiatry and human behavior in 1995 and then a full professor in 2000. In 2004, she became director of the Centers for Behavioral and Preventive Medicine at the Miriam Hospital, an affiliated hospital partner for Brown.
In 2007, Marcus joined the faculty of Brown's Department of Community Health and remained on the faculty when the department became the School of Public Health in 2013.
When the opportunity arose in 2011 for Marcus to become chair of the Department of Family Medicine and Public Health at the University of California San Diego, she remained an adjunct professor at Brown to facilitate ongoing collaborations with Brown researchers. UCSD appointed Marcus as the School of Medicine's inaugural senior associate dean in 2014.
In that role, she created the Institute for Public Health, promoted public health research and education activities across campus and supervised the medical school's public health degree offerings. She oversaw the establishment of a bachelor of science in public health, the first undergraduate degree offered by the School of Medicine, a doctoral degree program in biostatistics and a master of public health program that will launch soon.
Throughout her career, Marcus has supervised, mentored and advised scores of students and taught hundreds more. She has served as principal investigator or co-investigator on a wide range of National Institutes of Health grants on physical activity behavior. She has regularly participated in panels for the American Heart Association, American College of Sports Medicine, Centers for Disease Control and Prevention, and National Institutes of Health, which have created recommendations and guidelines on the quantity and intensity of physical activity necessary for health benefits. Marcus served on the executive committee for the Development of a National Strategic Plan for Physical Activity and on the board of directors for the National Physical Activity Plan Alliance.
In addition to her master's and doctoral degrees from Auburn, Marcus holds a bachelor of arts in psychology from Washington University in St. Louis.