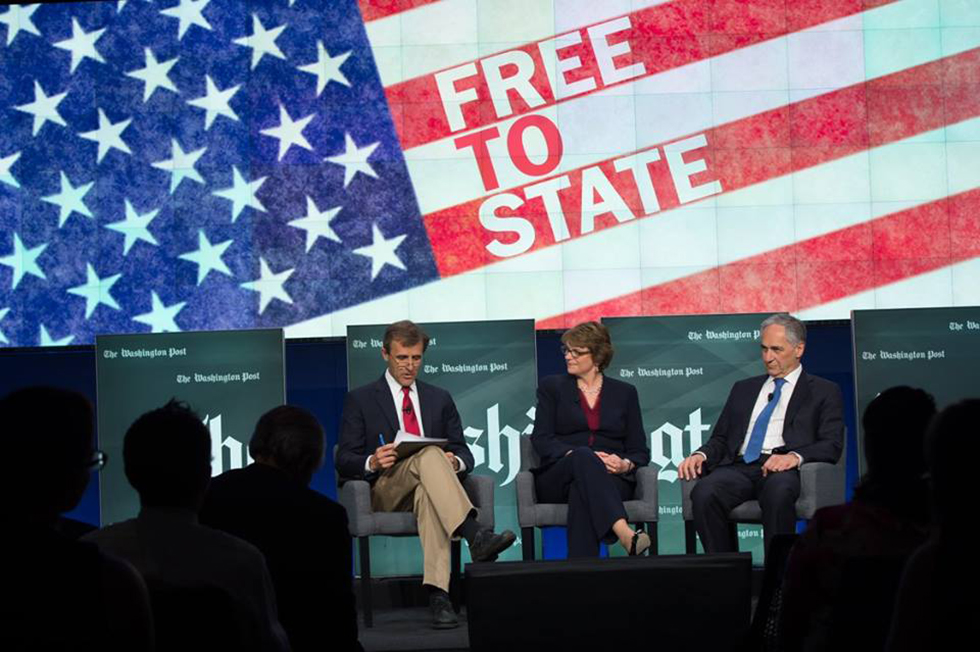 WASHINGTON, D.C. [Brown University] — Brown University President Christina Paxson asserted Tuesday that the state of freedom of expression on college and university campuses is a concern, and that higher education institutions must act to protect the free expression of ideas.
Speaking on a panel during a forum on free speech broadcast live by the Washington Post, Paxson said students entering college don't appreciate the value of freedom of expression because they haven't learned it yet. She noted the importance of explaining to students not only that they should not restrict expression, but why.
"There is really good polling data that shows that students, much more than in the past, will say that they think that it's OK for universities to restrict expression on campus — that it's OK not to invite controversial speakers," Paxson said.
She asserted that this is a serious issue. Brown and most universities have very strong policies to protect academic freedom to address this.
"This includes freedom of expression, which is central to what we do," she said. "You can't advance knowledge if you don't have an environment in which people can express and debate ideas, so we have to pay attention to this."
Paxson shared the stage with University of Chicago President Robert Zimmer to discuss higher education's role in the charged national discussion on free speech issues in a session titled "Setting the Agenda: The First Amendment on College Campuses." The session was moderated by Washington Post higher education reporter Nick Anderson.
Hosted at the Washington Post's headquarters, the livestreamed session was one of four panels during a Washington Post forum titled "Free to State: A New Era for the First Amendment." The event brought together journalists, scholars, university and business leaders, and advocates to explore the evolution of First Amendment rights in principle and practice and its impact on modern democracy in America.
In their conversation, Paxson and Zimmer both asserted their shared belief that universities must be places where members of the community are confronted and challenged by opposing viewpoints.
"We have to support and honor the fact that our students and our faculty, they don't take the status quo for granted," Paxson said. "They are pushing boundaries. That's their job. But we also have to make sure that they do that in the context where they listen to other viewpoints."
Zimmer said that the education that universities should be aspiring to provide demands an environment where everyone is mutually challenging each other.
"It's simply impossible to have an education where students are gaining the types of skills they need in terms of understanding arguments, being able to advocate, and many other skills … it's impossible to do that in an environment where one is not open to ongoing challenge, to argumentation, discourse and debate," Zimmer said.
Within this context, the two presidents spoke about a number of issues, including so-called trigger warnings and safe spaces, disruptive protest and educating students to understand the importance of academic freedom.
Regarding trigger warnings and safe spaces, both university presidents agreed that the terms carry so many definitions they have essentially lost their meaning. Zimmer explained that the term "trigger warning" used to apply to communicating with individuals with post-traumatic stress disorder; Paxson shared that most faculty say they don't use trigger warnings, but these faculty also say they will give students advance notice of disturbing material, such as for a lesson on the Holocaust.
"Our view on trigger warnings," Paxson said, "is we give a lot of discretion to faculty to teach the classes the way they think is most appropriate that's going to educate the students best."
Zimmer echoed this sentiment, saying that universities must not make policies that govern how faculty approach trigger warnings.
When asked by Anderson whether or not university students today are afraid of uncomfortable ideas and demanding protections like trigger warnings and safe spaces, Paxson said she doesn't see that at Brown.
"When I look at Brown students, I don't see students who are asking for protection. I just don't," she said. "I see students who are very concerned about a set of issues in the world around them. They are concerned about racism, they are concerned about equity, they are concerned about politics. They are not shying away from hard issues … I don't see students asking for protection because they're scared or they feel frail or fragile."
Anderson asked both presidents about instances in recent years where campus protests have sought to interrupt or cancel campus speakers with whom protesters disagreed. He specifically cited the 2013 lecture at Brown by New York City Police Commissioner Raymond Kelly that was interrupted, and ultimately ended, by students and members of the community external to Brown who opposed his policing policies. Anderson asked Paxson what Brown had learned from the incident.
Paxson said that while the students' behavior was in clear violation of Brown's policies, which do not allow protest that infringes on the rights of others, the episode taught her an important lesson: that students can't be simply expected to understand the nuanced value of academic freedom; they must be taught it as part of their university education.
"I realized that this core value of academic freedom, which I had always taken for granted, our students coming in don't understand it, they don't appreciate it. And why should they? They haven't learned it," Paxson said. "And so from that point on, I started talking and writing much more regularly about why it is so essential, not just to a democracy, but also to a successful university."
In concluding a discussion on protests and disruption on campuses, Paxson argued that it is imperative to foster an environment where all members of the campus community can feel respected in expressing their views — and where any member of the campus community can invite individuals from beyond campus to come to express a full range of diverging views.
"There is this concern that campuses are becoming these battlegrounds for these alt-left and alt-right groups," Paxson said. "Every situation, you have to look at on its own merits, and you have to think about, 'How can I keep my students safe,' while maintaining this central idea that allowing people to speak is important."
She concluded, "If you let outside groups shut things down, you're going to have a lot of things shut down."
Other segments in the Tuesday afternoon forum focused on freedom of religion, free speech in the digital age, and issues raised by provocative or very offensive speech. In addition to Paxson and Zimmer, panels featured a variety of thought leaders and influencers, including First Amendment expert Floyd Abrams, conservative columnist Ann Coulter, playwright Wajahat Ali, and Ross LaJeunesse, Google's global head of free expression and international relations, among others.
The full segment featuring Paxson and Zimmer can be viewed here.