PROVIDENCE, R.I. [Brown University] — Bagpipes played. Family members beamed. Faculty cheered. And 2,729 new Brown undergraduate, graduate and medical students processed through the Van Wickle Gates for the first time, marking the official start to the academic year at the University's 254th annual Convocation on Tuesday, Sept. 5.
On the College Green, students joined others from the Brown community, and speakers urged all present to tackle society's most pressing challenges and confront its thorniest issues by listening, empathizing with and learning from those whose views differ radically from their own.
Just weeks removed from violence in Charlottesville, Virginia, and on a day on which the Trump administration announced an end to the Deferred Action for Childhood Arrivals program, Brown President Christina Paxson acknowledged the country's current political and cultural tensions and the onslaught of issues that are emotionally charged, politically divisive and technically complex. She exhorted students to use their time at Brown to look beyond themselves in order to create solutions and amplify their impact, even if doing so causes discomfort.
"In your time at Brown, you will, I hope, confront, encounter and seek out people whose ideas challenge the comfortable framework each of us constructs to deal with the world on a daily basis," she said. "And you will, I also hope, confront, encounter and seek out issues that you cannot solve or remedy by yourself. This is a good thing. Your time at Brown will be enriched when you collaborate with colleagues, both faculty and students, whose knowledge, skills and life experiences complement your own."
Paxson emphasized that at Brown, collaboration extends far beyond simply working side by side in classrooms and laboratories.
"You'll also need to listen to and empathize with people who are very different from you — whose experiences, values and worldviews are not the same as yours," she said. "This may be even harder to master than the material in your classes."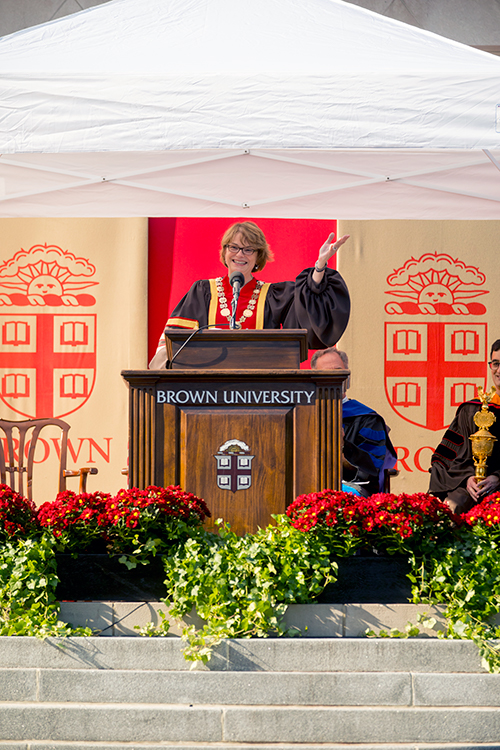 Referencing her personal anger at last month's violent expressions of white supremacy and neo-Nazism on and near the University of Virginia campus in Charlottesville, Paxson emphasized the essential importance of listening in an increasingly contentious, polarized world. She described Brown as a place where community members choose serious and substantive discussion — and sometimes heated debate — over inflammatory rhetoric. And she encouraged new students to follow in this path.
"It is my experience that when people know they have been heard, respected and understood, they are more likely to find common ground and accept the possibility that just maybe… someone else has something to teach them," she said.
This notion, Paxson said, was well illustrated by a peaceful demonstration at the foot of the Van Wickle Gates that coincided with the Convocation procession, marked by a steady drumbeat and a chorus of chants from those gathered.
The group convened to express their views on Brown's conversations with the Pokanoket tribe over University-owned land in Bristol, R.I., that has great spiritual and cultural significance to Native and Indigenous tribes throughout the region. The Pokanokets established an encampment at the site on Sunday, Aug. 20, and the University and the tribe continue to discuss a path forward that would ensure conservation, preservation and sustainable access to the land for Native tribes with ties to the property.
In her remarks to new students, Paxson said that the interactions demonstrate the value of listening and engaging in a respectful manner and making decisions based on a thorough knowledge of the issues.
"I can say that through a thoughtful process of talking and listening — and more talking and more listening — I am optimistic that we are close to a resolution that will recognize the historical and cultural significance of this land to the Native and Indigenous peoples of the region," she said. "Brown is committed to an inclusive solution that respects the cultural histories of multiple tribes, and this is part of our broader dedication to listening and understanding.
"This is a core aspect of what we value at Brown," Paxson told incoming students, "and I hope it will inform your path during your years here."
Keynote remarks by Daniel Jordan Smith, chair of Brown's anthropology department, delivered insights from an in-demand course he teaches titled, "So You Want to Change the World?" Applying a lesson from his own field of study, Smith encouraged students to "make the strange familiar and the familiar strange" to effect change.
Smith, who is also director of the Africa Initiative at Brown's Watson Institute for International and Public Affairs, argued that the "malicious constructions" of "us and them" are often at the root of many of the world's problems — and that in order to reject this kind of ethnocentrism, students must work hard to understand the social and cultural context of others.
"Making the strange familiar and familiar strange are linked endeavors," he said. "Curiosity about others inevitably leads us to ask questions about ourselves. Similarly, introspection and collective scrutiny of our own society and culture help us be more understanding and respectful of others."
Quoting Nelson Mandela — "No one is born hating another person because of the color of his skin or his background or his religion" — Smith said that many of the world's most vexing problems, and the ideas that underpin them, are human made.
"While there is something tragic about that, it is also somewhat hopeful," he said. "Because it means that we have the capacity to change the world."
With their academic careers at Brown now launched and first classes scheduled for Wednesday, 2,729 new students will begin their study with Smith's optimism as inspiration.