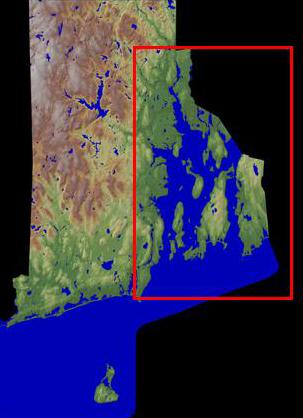 PROVIDENCE, R.I. [Brown University] — Brown University researchers will play key roles in a statewide research consortium, established by a new $19 million grant from the National Science Foundation to monitor and ultimately predict environmental change in Narragansett Bay.
The Rhode Island Consortium for Coastal Ecology, Assessment, Innovation and Modeling, will bring together research teams from around the Ocean State to study the impacts of climate variability on coastal ecosystems, create innovative technologies for detecting those changes, and build computer models to predict and plan for changes in coastal ecology.
Geoff Bothun, a professor of chemical engineering at the University of Rhode Island, is the grant's principal investigator. Jeffrey Morgan, a professor of medicine and engineering at Brown, will serve as one of the grant's co-principal investigators.
"Narragansett Bay is an environmental treasure that plays a critical role in the economy of the Ocean State," Morgan said. "It's also a natural laboratory that can help us understand how human activities, climate change and other factors drive environmental change. This grant will help us to monitor the bay in unprecedented detail and give us the tools to predict environmental change in the future."
Morgan's work on the grant will pertain to the development of new types of sensors to detect key environmental indicators.
"We want to be able to make more observations, more often and with greater specificity," Morgan said. "These sensors will be looking at physical attributes of the bay — things like temperature, salinity and nutrients — as well as markers of biological change like algal blooms and microorganism populations."
Baylor Fox-Kemper, an associate professor in Brown's Department of Earth, Environmental and Planetary Sciences, will lend his expertise to the computer modeling side of the project.  
"There's a wealth of historical data that captures how the bay has responded to changes in human activity and a changing climate through time," Fox-Kemper said. "The idea is use that data to build a model of the bay that accurately recreates its past, which we can then use to make predictions."
The ultimate aim, Fox-Kemper says, is a model that can predict local-scale events like bacteria counts that result in beach closings, as well as larger scale changes in sea level, tidal patterns, temperature and salinity. The researchers plan to create a data center that will provide access to the observations and model data for scientists as well as government agencies, policymakers and citizen scientists.
The leaders of the research expect it to have broad impact, especially in a state that relies so heavily on its coastal resources.
"Research translation and commercialization is also a big emphasis for this grant," Bothun said. "We'll be forming an academic-industry partnership to learn about the challenges facing the marine and defense industries, for instance, and share with them some of our discoveries and technologies. This will also be a way to connect students with potential employment opportunities."
Morgan says he expects the impact to go well beyond the borders of the Ocean State.
"We think the collaborative approach we're developing here in Rhode Island will be a model for the study of coastal resources elsewhere in the U.S. and around the world," he said. "Equally important, the undergraduates and graduate students we will engage in cutting-edge research that will further strengthen Rhode Island's pipeline of investigators and innovators."
Funding for the project comes from the National Science Foundation's Established Program to Stimulate Competitive Research (EPSCoR) program, which aims to strengthen states' research competitiveness and fund workforce development initiatives.
In addition to the NSF funding, the state of Rhode Island, through Commerce Rhode Island, has committed an additional $3.8 million toward the initiative that will be used to provide collaborative grants and support workforce development.