PROVIDENCE, R.I. [Brown University] — To celebrate the groundbreaking for a new Innovation Center on former Interstate 195 land in the heart of Providence's Jewelry District, Brown University President Christina Paxson joined Rhode Island Governor Gina Raimondo, the state's entire congressional delegation and a packed lineup of government and business leaders on Monday, Sept. 25.
Brown's School of Professional Studies (SPS) — in a move that will allow it to expand its executive-level master's programs focused on business, technology leadership, health care and more — will serve as an anchor tenant in the building, being developed by Wexford Science & Technology. SPS will join fellow tenants Johnson & Johnson and the Cambridge Innovation Center.
"This is an example of the real benefits of public-private partnerships. We can leverage the talent that we have at Brown in new, different and very compelling ways," Paxson said at the event. "Data science, engineering, biomedical research, human-centered robotics, brain science — we can do our work better and have even more of an impact on the world if we do so in collaboration with people in the private sector."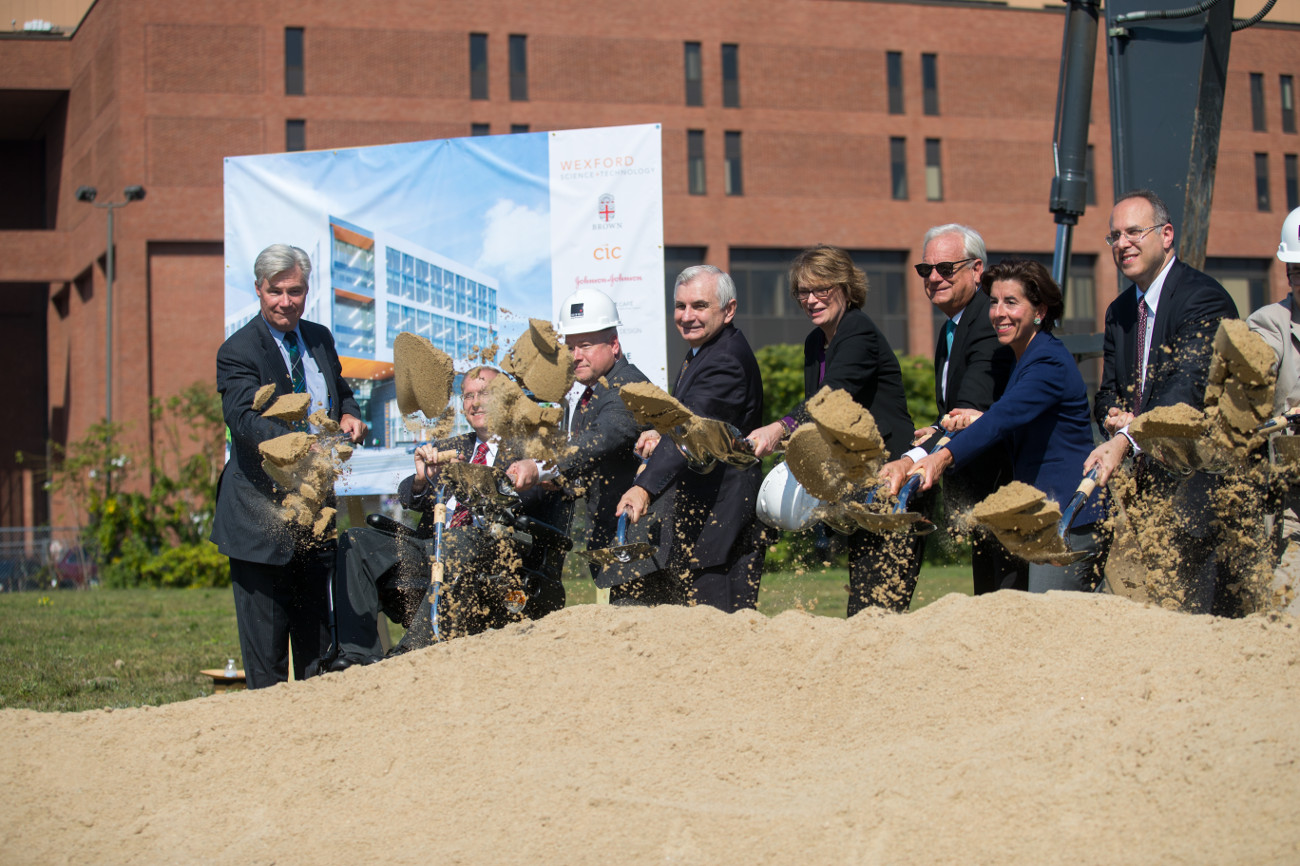 After signing a letter of intent last December when the I-195 Redevelopment District Commission authorized incentives from the state's I-195 Redevelopment Fund to support the $158 million project, Brown finalized this month a 15-year lease for 50,000 square feet of space. Projected to open in early 2019, the 191,000-foot Innovation Center represents phase one of a multi-part Wexford project envisioned for the Jewelry District.
At the groundbreaking event on Monday, Raimondo pointed to Brown's essential partnership in a project that she said will create jobs, drive economic growth and make Rhode Island a hub for scientific and technological innovation. The synergies among Brown, the Cambridge Innovation Center (CIC) — an incubator and co-working facility that assists entrepreneurs in launching new products and companies — and the multinational pharmaceutical and consumer packaging goods manufacturer Johnson & Johnson make for intriguing possibilities, she noted.
"We've seen in many places what a top-tier university can do when they work in partnership with industry," Raimondo said. "That's what is driving the economy of the future. That's what's driving Boston's economy and other economies, and that's what needs to continue to drive this economy. A few key projects like this one will be catalytic in moving the state forward to the 21st-century economy."
Brown's anchor tenancy in the Innovation Center continues the University's commitment to collaborative growth and economic development in the Jewelry District, where the University has invested more than $225 million over the past decade. The groundbreaking took place on an empty parcel next to the University's Warren Alpert Medical School and just blocks from the soon-to-open South Street Landing. That project — a redeveloped power station that includes 136,500 square feet of Brown space, a 750-space parking garage and a future 266-bed housing complex — will welcome more than 400 Brown staff members who are set to move in over the coming weeks.
Brown's School of Professional Studies, currently located at 200 Dyer St. adjacent to the site of the future Innovation Center, offers an array of world-class programs for mid-career professionals — including an executive MBA and programs in technology, cybersecurity and healthcare​ — that enroll accomplished professionals from around the globe who travel to Providence for one- and two-week residency experiences during their studies. In addition to creating an expanded student presence in the Jewelry District, a new home will allow for additional academic programs, significant enrollment growth in existing programs, and the potential for collaboration between CIC startups and Brown student, faculty and alumni entrepreneurs, SPS Dean Karen Sibley said.
"This Innovation Center will help us to serve our students — who come to Brown from across the country and around the world — with ever more innovative educational programming," Sibley said. "Our tenancy here gives us the opportunity for synergistic collaborations with companies like CIC and Johnson & Johnson that ultimately will enable more business and technology leaders in Rhode Island to create innovative solutions to real-time industry challenges."
Brown's total investment in the project is expected to exceed $35 million between lease payments, capital improvements, furniture, fixtures and equipment.
Monday's groundbreaking concluded with a ceremonial shoveling of dirt to officially launch the project.
"I love groundbreakings," Paxson said during her remarks. "I like ribbon cuttings even more. So let's get the shovels in the ground, and let's get building."