PROVIDENCE, R.I. [Brown University] — After a successful run of nearly a century supplying electrical power across the Providence area, the South Street Power Plant shut down in 1995. For two decades, the hulking brick and stone Eddy Street building sat abandoned — and it looked the part. Windows were broken. Standing water covered the floors. Graffiti stained the walls.
"Wet, dark and scary, quite frankly," said John Luipold, Brown University's assistant vice president for real estate. "It was really an unpleasant place to walk around."
Even so, the station had potential. As Brown completed the nearby Warren Alpert Medical School building in 2011, conversations about continued expansion into the Jewelry District were underway. The century-old power station would be essential to the neighborhood's long-term vitality, University leaders knew. Soon, a full-fledged partnership to redevelop the building was underway with a roster of public and private partners too long to list. Brown became the anchor tenant in the project being principally developed by CV Properties and Wexford Science & Technology.
Welcome to South Street Landing — Video by Stephen Crocker
Some six years later, after a $220 million redevelopment project, Brown is moving into a completely reimagined South Street Landing. On Friday, Oct. 27, more than 400 University staff members from 11 administrative departments will begin to vacate offices across the city and move into built-from-scratch offices. The project benefits the University and its employees, Brown President Christina Paxson says, and the city and state as well.
"The Jewelry District is a key element of Brown's ambitious academic plan," Paxson said. "We see South Street Landing as a vital hub of administrative activity that allows the University to maintain College Hill as an intimate, walkable space for the academic life of students and faculty. At the same time, it fulfills our ongoing mission to help catalyze economic growth in the Jewelry District as the neighborhood continues to transform into a thriving academic and entrepreneurial ecosystem."
Brown has leased 136,000 square feet of the 265,000-square-foot South Street Landing. Relocating administrative offices to the building advances the University's academic mission by freeing space on College Hill for undergraduate-focused academic pursuits, and it strengthens connections between the administrative units that serve as the University's backbone. The 11 offices, ranging from Human Resources and Finance to Communications and Advancement, will occupy four of the building's six floors.
Though staff from many of the offices already work closely in their day-to-day operations, they are scattered across different buildings. Housing these essential offices in the same space will make collaboration and communication more nimble and productive, said Barbara Chernow, Brown's executive vice president for finance and administration. So will the space itself, which is designed as an open, flexible work environment with a large variety of working configurations and meeting spaces.
"Having staff from these departments working in the same building allows us to build a stronger sense of community within these administrative functions," Chernow said. "It will increase the time we spend talking together, the ease with which we can reach out to other departments and the opportunity for face-to-face meetings — all of which improves communication and opportunities for broader input and innovative thinking."
The spaces on College Hill that formerly housed the 11 administrative offices will provide much-needed additional room for academic departments and student support, Chernow adds. The Department of American Studies, as just one example, currently has offices spread across campus but will now be housed together in one building, enabling closer interactions between faculty members and with students.
Energizing the Jewelry District
Brown's role in sparking the South Street Landing project reflects the University's goal to catalyze economic growth in the Jewelry District, Providence and Rhode Island. Brown has invested more than $200 million in the neighborhood, including the state-of-the-art Warren Alpert Medical School building, the School of Professional Studies and the Laboratories for Molecular Medicine.
Moving forward, the University will be an anchor tenant, along with Cambridge Innovation Center and Johnson & Johnson, in a new Innovation Center being developed by Wexford Science & Technology on former I-195 land. And the 400 staff members who are relocating to South Street Landing will join more than 1,100 Brown faculty, students and staff who already work, teach and conduct research in the Jewelry District.
Future development increases the number of people in the neighborhood each day, which in turn spawns more innovative academic and entrepreneurial collaboration, more businesses and more jobs, said Russell Carey, Brown's executive vice president for planning and policy.
"The proximity of Brown's Warren Alpert Medical School to another medical institution South Street Landing is an immediate example of this partnership's benefit," Carey said. He pointed to the Rhode Island Nursing Education Center, a joint Rhode Island College and University of Rhode Island complex that opened its doors in South Street Landing in September.
"Having this program directly across from the Warren Alpert Medical School and near our teaching hospitals is great for medical education, and in turn is great for patients who live in Providence and the surrounding communities," he said.
Next door to South Street Landing, a 750-space parking garage is up and running. The next phase of the project includes a 270-bed graduate and medical student housing complex called River House, targeted for May 2019 completion. It is being developed by GMH Capital Partners in partnership with Wexford.
The launch of this mixed-use development is the result of an intensive partnership that is indicative of the willingness of both Brown and Rhode Island to invest in economic development and in the people who live here, Carey said.
In addition to the three higher education institutions housed in South Street Landing, critical partners in the project included the developers, as well as local, state and federal government, and utility company National Grid. The project also relied on federal historic tax credits, which entailed working closely with the National Park Service.
"There are many other ways we could have achieved the same expansion goals," Carey said, "and this was not necessarily the easiest. It was actually very complicated to turn an old power station into something that could meet our needs. But it was important for Brown to remain in the heart of the city, an area that the city and state have identified as a high priority for economic development and where we've already made a huge investment."
Powering the future with an eye to the past
The South Street Landing building itself dates to the early 1900s, when the South Street Power Plant was built as a coal-fired electric generator to power the growing manufacturing industry in Providence. Eventually decommissioned in the 1990s, the massive structure sat vacant for more two decades. Though the interior fell into major disrepair with gaping holes where boilers once sat, the exterior structure remained largely intact.
Brown originally announced its interest in the South Street Landing redevelopment project in June 2013, and the developers broke ground in December 2015.
The renovation of the building, designed by TK&A Architects, has transformed the interior into a soaring, modern open space while preserving some of the plant's signature historical features, such as its interior brick walls and the large concrete dynamo block, which held the original power turbines. The space is impressive, Carey says.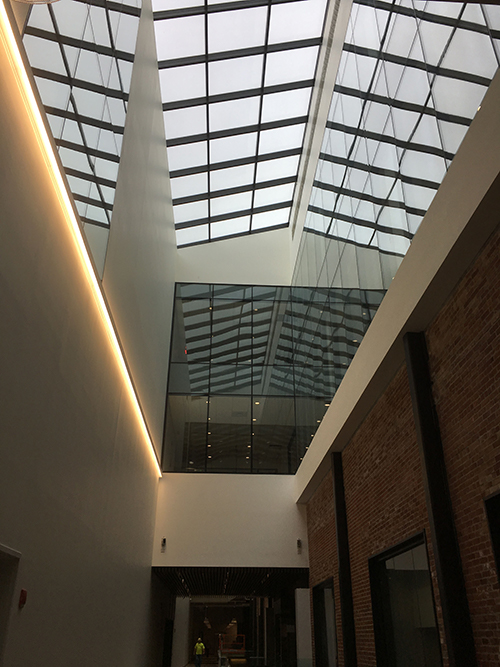 "Acknowledging that moving is hard, on the other side of that move is absolutely fantastic space," he said.
Designed to foster collaboration, the building includes multiple meeting and breakout spaces, from "huddle" rooms where small groups of three or four can confer to flexible conference areas that can accommodate large gatherings and catered events. Anchoring the building is an expansive café space, framed by massive windows that look over the Providence River.
The large-scale renovation sends a message to the world that Providence values its historic spaces and finds creative ways to adapt them for modern uses, says Brent Runyon, executive director of the Providence Preservation Society. The public-private partnerships that enabled South Street Landing's redevelopment will serve as an important model for future development of historic sites in Rhode Island, he adds.
"This is the best and possibly the only way that historic preservation projects will be successful in preserving the largest and hardest-to-use buildings — like South Street Landing, the Cranston Street Armory and the 'Superman Building' downtown," Runyon said. "All of these will require this kind of innovative thinking and partnership, and we hope this project will lead to future successes."
South Street Landing's newest occupants will move in to the new building in three phases (Oct. 27, Nov. 10 and Dec. 1), continuing the expansion of what Paxson calls "two tightly linked and complementary campuses" — one in historic College Hill and one in the blossoming Jewelry District, just a mile away and linked by a soon-to-finish footbridge over the Providence River.
"South Street Landing is such a beautiful building with so many great open spaces," Paxson said. "This is going to be an amazing gathering space, a convening space. We've taken this historic building, a former power plant that was derelict for a long time, and now we're turning it into a powerhouse for academic and economic growth."