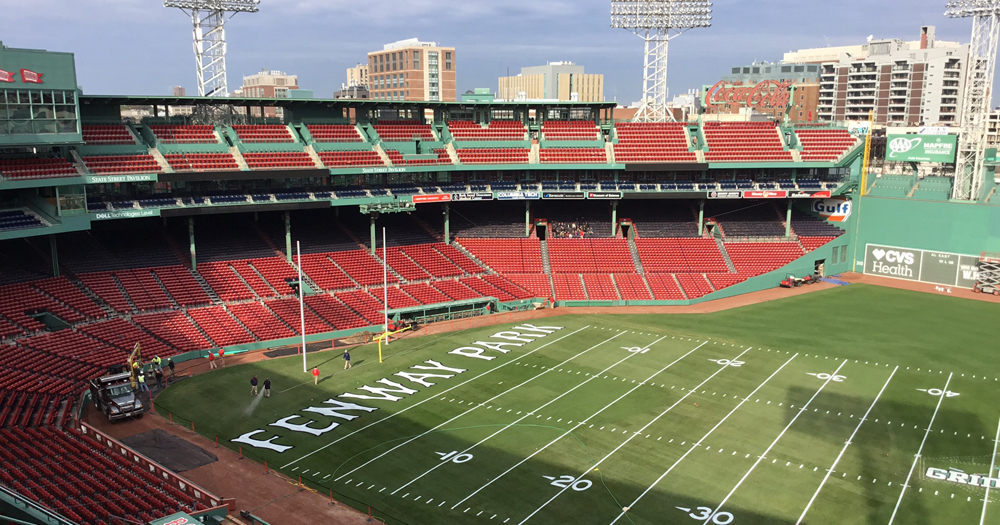 PROVIDENCE, R.I. [Brown University] — Red Sox fan or not, there's no arguing that Boston's storied Fenway Park is one of baseball's treasures. But it is a baseball stadium — right?
Not always, it turns out. On Friday evening, Nov. 10, Brown and Dartmouth will face off under the lights at Fenway. But this isn't some off-season exhibition for the baseball squads — the battle will be on the football field as the Bears and Big Green clash in an Ivy League matchup.
"This is a date that the players have had marked on their calendars for a long time," said Phil Estes, Brown's longtime football coach. "And this time of year, it's made our cold and rainy practices a little easier because the Fenway game anticipation has helped us look beyond the weather. It's going to be an incredibly fun and special event for these players — and for me — to be part of."
Technically the Bears' last home game of the season, the game will launch this year's Fenway Gridiron Series, which temporarily transforms America's Most Beloved Ballpark into a football field. It also builds on a long tradition of the football at Fenway, which dates to its opening in 1912.
Whether you're headed to the game (see info on tickets below) or plan to watch on television (it will air nationally on NBC Sports Network), here's a little bit more about the story behind the game.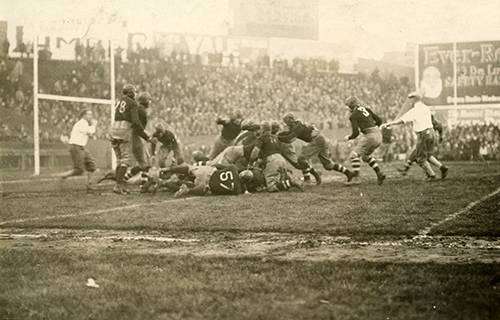 Longtime rivals
This is not the first time in their 94 previous meetings since 1894 that the Brown and Dartmouth football teams have battled at Fenway. The schools faced off on the field nearly a century ago, in 1922 and 1923, as part of an intense, decades-old rivalry that had come to captivate the entire Brown community, said Peter Mackie, Class of 1959 graduate and sports archivist at Brown's John Hay Library. In the 1920s, the rivalry had become so fierce that the teams often played each other in baseball stadiums, since the football fields of the time could not seat the large crowds that the games drew.
"The week leading up to the 1922 Fenway game energized the Brown campus," Mackie writes in the program for this year's game. "The cheer and song leaders led a mass rally in Sayles Hall. The Brown Jug humor magazine prepared a special sports issue. The Herald covered the daily routine of both teams in depth."
The 1922 game at Fenway brought some 30,000 people to the stadium. Though Brown ultimately fell to Dartmouth both that year and the next, the second game was a close one. Brown recovered a Dartmouth fumble just before the final whistle, but couldn't score before time expired. Final score: Dartmouth 16, Brown 14.
Back to the future
Much has changed in the nearly 100 years that have passed since the last Fenway clash. Football has — arguably — replaced baseball as the country's sports obsession. Today's hard plastic helmets have replaced lightly padded leather ones. And at Brown, the real bear who acted as the team's mascot at the 1922 and 1923 Fenway games — affectionately called Bruno II after the much-mourned passing of Bruno I the previous spring — has been replaced by a student in Bruno costume.
While the game has playoff implications, most of them are for Dartmouth. The Big Green are 6-2 (3-2 in the Ivy League) while the Bears will bring a 2-6 overall record to the contest.
Alumni spotlight
Award-winning sports journalist Chris Berman of ESPN fame, a Class of 1977 graduate, will serve as Brown's honorary captain. As a student at Brown, Berman concentrated in history, and his first broadcasting position was as sports director for WBRU radio, where he was a frequent commentator for Brown basketball, football, ice hockey and baseball games. Since graduating, Berman has become one of America's most well-known sportscasters during his four decades at ESPN. 
"It doesn't get any better than Friday night football under the lights at Fenway Park, and I'm thrilled to see Brown take the field," Berman said. "Whether you're a Brown University alum or a football fan, this is going to be a can't-miss game featuring the best the Ivy League has to offer at one of the most iconic venues in sports."
Berman, who has been known to cue "Ever True to Brown," the University's fight song, on ESPN airwaves from time to time, has had the chance to highlight fellow Brown alumni over the years. Two former Bears are currently on NFL rosters: Class of 2010 graduate James Develin, an engineering concentrator and defensive end at Brown, is in his fifth season as a fullback with the New England Patriots. Class of 2007 graduate Zak DeOssie, a two-time Super Bowl champion, is the second-longest-tenured player with the New York Giants. 
Passing, kicking and… hurling?
Turning a baseball field into a football field is no easy feat. The three-week process to transform Fenway included removing the pitcher's mound, adding field goal posts, planting sod and repainting the entire field.
The revamped field won't just be used for the Gridiron Series, however. On Sunday, Nov. 19, the day after the final game of college football series, the gridiron will convert into a hurling pitch when four of the most famous hurling clubs from Ireland battle in a three-match, one-day championship. The traditional Gaelic sport — which combines elements of field hockey, rugby, baseball and soccer — is (just like football) often called the "fastest game on turf."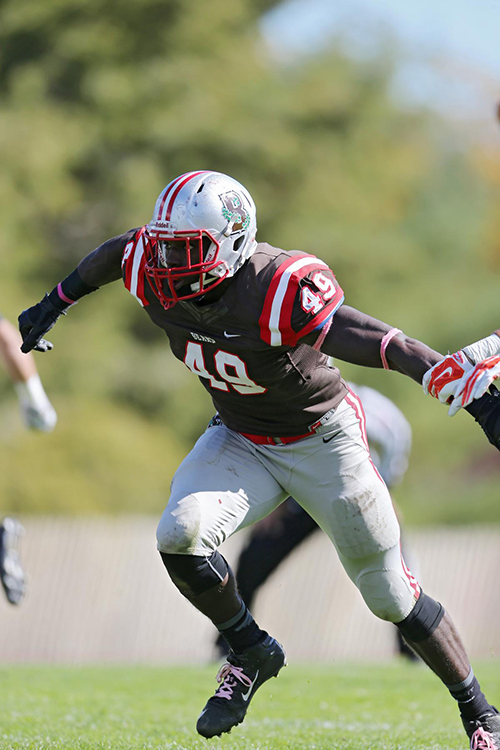 Honoring those who have served, played and studied
With the Fenway game falling on Veterans Day weekend, U.S. military veterans and active-duty personnel will be honored in a ceremony between the first and second quarters.
Before the game, Brown football's 25 graduating seniors and their parents will be celebrated. In keeping with Brown tradition, every senior player who has been with the football program for four years will be listed as a starter for this final home game, despite the distance from Brown Stadium in Providence.
Among those seniors is Richard Jarvis, a native of Watertown, Mass., biology concentrator at Brown and All-Ivy defensive end for the Bears. Jarvis is a semifinalist for the National Football Foundation and College Hall of Fame's 2017 William V. Campbell Trophy, which recognizes an individual as the absolute best football scholar-athlete in the nation.
Haven't bought your tickets yet?
Some might say the Brown and Dartmouth rivalry has cooled since the Roaring 20s, but this year's game will be big by today's standards — with nearly 15,000 tickets sold and sales still climbing. Students and fans will journey from College Hill to Fenway in a cavalcade of busses, and the Brown Club of Boston will host a pre-game tailgate at Game On! on Lansdowne Street.
There's still time. Buy tickets here. In addition to the Bears vs. Big Green, games in the Fenway Gridiron Series include University of Maine vs. University of Massachusetts on Nov. 11 and Boston College vs. University of Connecticut on Nov. 18.