PROVIDENCE, R.I. [Brown University] — In the Samoan language, "olaga" means life — which makes it a perfect acronym for a unique new research laboratory opened by Brown University and Yale University scientists at the Pacific island nation's Ministry of Health on Friday, Nov. 10.
At the Obesity, Lifestyle and Genetic Adaptations (OLaGA) lab, researchers led by Stephen McGarvey, a professor of epidemiology and anthropology at the Brown University School of Public Health, and Nicola Hawley, assistant professor of chronic disease epidemiology at Yale University School of Public Health, will conduct three studies at three distinct stages of life —birth, childhood and adulthood — to understand and address the nation's unusually high rates of obesity. Obesity in Samoa has increased markedly in recent decades, McGarvey's research has shown, because of a confluence of changes in diet and physical activity.
Samoa's prime minister, Tuilaepa Lupesoliai Neioti Aiono Sailele Malielegaoi, formally opened the lab at a Nov. 10 launch ceremony. According to remarks provided by McGarvey, the prime minister said the lab's work will benefit the country in many ways.
"Non-communicable diseases (NCDs) stemming from obesity — diabetes, cardiovascular disease, kidney disease and cancer — are not only a threat and a cost to individual health, but to Samoa's long-term economic and social development," the prime minister said. "This collaboration between our ministries and two outstanding universities in the U.S.A. allows Samoa to be at the forefront of the primary research needed to drive our NCD prevention and treatment agenda."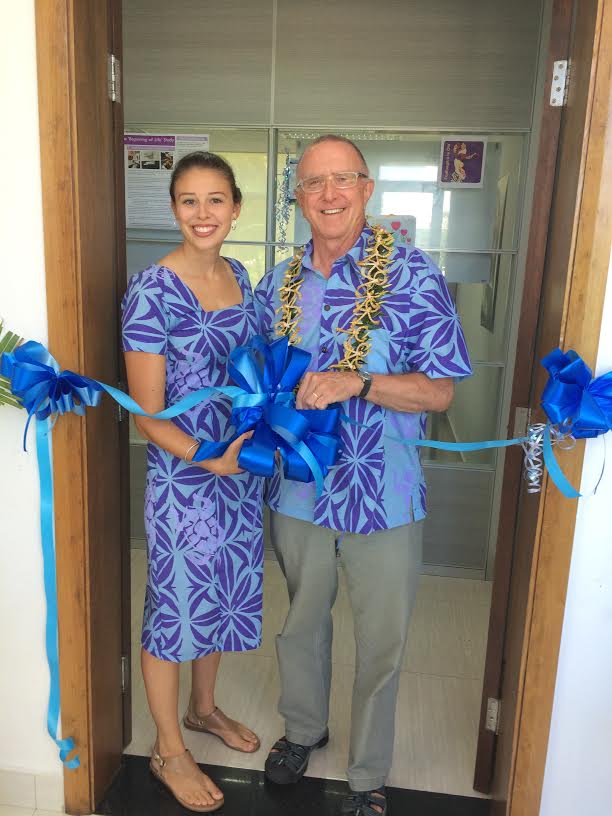 He noted that the lab includes the first dual-energy X-ray absorptiometry (DXA) scanner in the Pacific islands. The instrument can take precise measurements of body composition, including fat, lean mass and bone. McGarvey said the scanner, funded by the U.S. National Institutes of Health, will play a role in all three studies.
In the upcoming "Soifua Manuia," or "Good Health" study, the team will work with adults to assess body composition, glucose tolerance and metabolism, track physical activity and conduct interviews to assess the combination of lifestyle and biological factors that influence their weight and health. The team is particularly interested in better understanding the role of a rare genetic variant they discovered last year that appears to contribute to a higher risk of obesity but a lower risk of diabetes.
In the "Ola Tuputupua'e," or "Growing Up" study with young children and the "Foafoaga o le Ola," or "Beginning of Life" study with newborns, the team will learn how NCDs begin to emerge.
"We do not yet know how this gene influences basic biological mechanisms and thus how it influences overweight and diabetes," McGarvey said. "The new research taking place in this laboratory should provide greater biological understanding of how this gene affects NCDs. We are also taking the opportunity to use some of the research equipment for studies of children and infants so we can try to understand how early in life health indicators change that might help partly predict later NCD risk."
When the research is complete, the equipment, including the scanner, will be donated to the Ministry of Health. As part of the project, the team will train local health workers to use it.