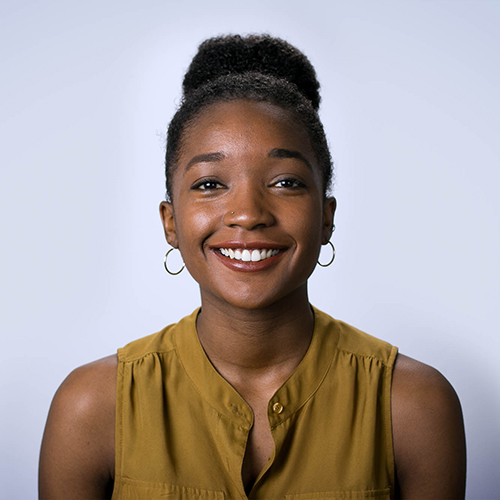 PROVIDENCE, R.I. [Brown University] — Aasha Jackson, a Class of 2015 graduate from Brown University, has been awarded a prestigious Marshall Scholarship, which covers all expenses for two years of graduate study at any university in the United Kingdom.
"This is a once-in-a-lifetime opportunity to merge my distinct academic interests with no financial burden," said Jackson, who concentrated in development studies at Brown.
While on campus, Jackson served as senior editor for the Brown Human Rights Report, a student-run online publication, and cofounded the University's chapter of She's the First, a national nonprofit that supports girls who will be the first in their families to graduate high school.
Following her sophomore year, she studied abroad in Yaoundé, Cameroon; there, she designed a global independent study project focused on reproductive health and development.
As part of her fieldwork in Yaoundé, Jackson conducted interviews with women who lived within a one-kilometer range of a centrally located family planning clinic but still faced significant barriers accessing family planning services and health care. This primary research inspired Jackson to further examine higher-level political barriers to family planning access in her senior thesis and, ultimately, her interest in a career aimed at reducing inequities in health care.
In her current role as a policy associate in the Office of Population and Reproductive Health at the United States Agency for International Development (USAID), Jackson continues to work on issues related to reproductive health, providing provide support to USAID family planning programs.
She plans to use her Marshall Scholarship to pursue a master's degree in public policy at the University of Cambridge and a master's degree in reproductive and sexual health research at the London School of Hygiene and Tropical Medicine. Ultimately, she hopes to use these two degrees to design and implement quality, rights-based sexual and reproductive health programming and policy.
"While the focus of these two master's programs differ, I recognize and plan to focus on intersections between the two," Jackson said. "I believe that effective policy is one of the primary ways to reduce adverse health outcomes caused by economic, social and racial inequality. As a Marshall scholar, I'll study both public policy and public health, forming the foundation for a career focused on reducing these systematic health inequities."
Linda Dunleavy, the University's associate dean of the college for fellowships, said that the Marshall will position Jackson to improve the lives of women and other underserved populations around the world.
"Aasha brings a genuine concern for and curiosity about other cultures and people as well as incisive intelligence and policy-making talent to her international work on public heath, especially reproductive justice," Dunleavy said. "Her studies in the United Kingdom as a Marshall scholar will help her on that journey. Engaging and compassionate, Aasha will contribute volumes to the Marshall cohort and the communities she'll be a part of in London and in Cambridge. We couldn't be more proud of Aasha."
Jackson joins 48 other Brown students and graduates who have received Marshall Scholarships since the program's inception in 1954.