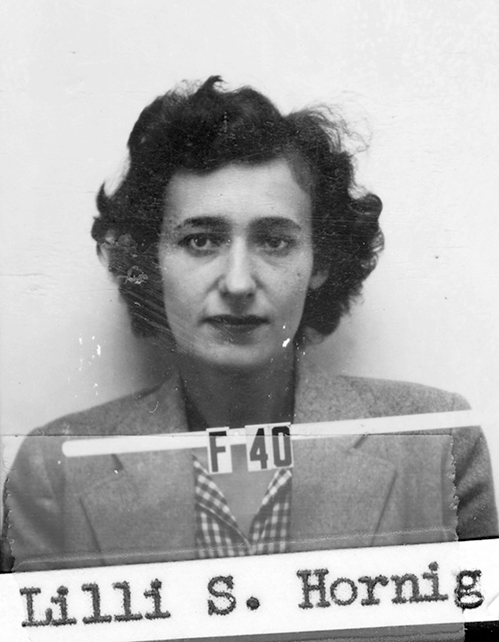 PROVIDENCE, R.I. [Brown University] — Lilli Hornig, an acclaimed chemist who worked on the Manhattan project, a steadfast advocate for women in academia and a revered member of the Brown University community, died on Friday, Nov. 17. She was 96 years old.
Hornig first came to Brown in 1946 as an instructor and researcher in the Department of Chemistry before departing in 1953 to become chair of the chemistry department at Trinity College in Washington, D.C. In 1970, she returned to Brown when her husband, Donald Hornig, became the University's 14th president.
Lilli Hornig was born in Czechoslovakia in 1923. Her family moved to Berlin in 1929, where they lived for several years before fleeing to the U.S. in 1933 as the Nazis came to power and Jewish families were threatened by the specter of concentration camps. Her father was a chemist by trade and her mother a physician.
"I was introduced to science early on," she said in a 2011 interview for a Voices of the Manhattan Project oral histories collection. "I always assumed... that I'd either be a chemist or a physician. I was kind of squeamish at the time, so I went for chemistry. I was pretty determined on that."
After earning a master's degree from Harvard, Hornig began her professional career in 1944 when she and Donald Hornig took jobs at the Los Alamos National Laboratory, working in the development of the atomic bomb as part of the Manhattan Project. She worked first in basic plutonium chemistry and later on mechanisms for detonating the bomb's plutonium core. After witnessing the Trinity test of the bomb in July 1945, Hornig joined many of her fellow scientists in signing a petition, which would ultimately go unheeded, urging the U.S. government to demonstrate the weapon publicly before using it on a populated area.
The Hornigs came to Brown in 1946 shortly after the project ended, and Lilli Hornig worked in the Department of Chemistry while she completed her Ph.D. at Harvard.
"The department was very nice and offered me lab space so I could do my experimental work," she said in the 2011 interview. She also taught one of the department's large introductory chemistry courses.
When she and her husband returned to Brown in 1970, Hornig turned her attention to advocating for women in the sciences. Years earlier, when she started graduate school, Hornig got an early glimpse at how unwelcoming the scientific fields could be for young women.
"One of the first things I learned was that there wasn't a ladies room in the [chemistry] building," she said. "I had to go another building to find a ladies room, and I had to get a key for it. That sort of gave me a message."
In 1972, Hornig became the founding director of Higher Education Resource Services (HERS), which served both institutions and individuals in helping to elevate women to leadership positions in academia. The organization, which was initially housed at Brown, still thrives today, with leadership institutes at Bryn Mawr (Hornig's undergraduate alma mater), the University of Denver and Wellesley College.
Hornig would later serve as the first director of the Committee on the Education and Employment of Women in Science and Engineering at the National Academy of Sciences, where she led the drafting of a report in 1979 titled "Climbing the Academic Ladder: Doctoral Women Scientists in Academe." She also edited a volume titled "Equal Rites, Unequal Outcomes: Women in American Research Universities."
The Hornigs remained in Rhode Island after retirement. They were married for 70 years until Donald Hornig's death in 2013. Lilli Hornig is survived by three children, nine grandchildren and 13 great-grandchildren.
One of the couple's children, Joanna Hornig Fox, says that the family's home in Little Compton, R.I., in the 1950s and thereafter was very much an extension of the Brown campus, with friends and colleagues from the chemistry department and beyond playing a prominent role in the family's life: "It wasn't about one person or another," she recalls. "It was about community."