PROVIDENCE, R.I. [Brown University] — In less than three years, a gleaming state-of-the-art Engineering Research Center has risen on Brook Street on Brown's campus in Providence. Across the University, 23 faculty members in newly endowed chairs are achieving breakthrough discoveries, influencing policy and cultivating understanding of peoples and cultures. Students and faculty are testing new ideas and making an impact through entrepreneurship; athletics facilities are getting a facelift; and Brown is competing for the brightest students with new investments in financial aid. 
This is the success of the BrownTogether comprehensive campaign, the most ambitious fundraising effort in Brown's history. With $1.64 billion raised, Brown begins the new year having reached a pivotal milestone by surpassing the midpoint of the campaign's $3-billion goal. As the University builds on this momentum to fulfill a bold vision, a campaign end date now has been set — the year 2022.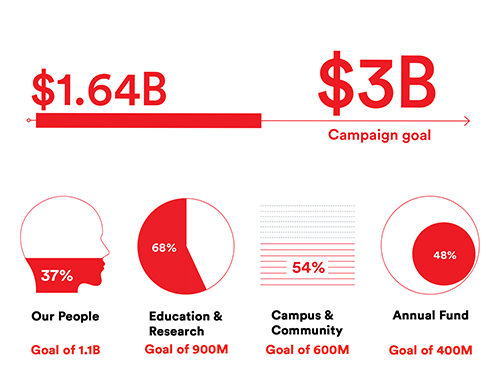 "The investments that our generous community members continue to make in the future of Brown have been nothing short of transformational," Brown President Christina Paxson said. "With the support of our donors and friends, we are strengthening access and affordability for new generations of Brown students, catalyzing revolutionary new approaches to research and scholarship, and expanding Brown's impact across the globe."
The campaign has had a major impact on nearly every corner of campus. Major gifts are supporting financial aid for low- and moderate-income students, innovative educational programs in areas such as entrepreneurship, faculty positions across the academic disciplines, research on children's health, collaboration in the humanities, breakthroughs in brain science and more.
More than 50,000 individual donors have contributed to BrownTogether, which launched publicly in 2015 after a two-year quiet phase. Of the total dollars raised to date:
$400 million has been raised toward the campaign's $1.1 billion Investing in People goal. This includes support for endowed chairs to advance faculty teaching and research; graduate and medical student fellowships; and diversity and inclusion initiatives. This also includes the $30 million raised for the $120 million The Brown Promise initiative to remove loans from Brown's undergraduate financial aid awards, which is part of a $500 million overall fundraising goal for undergraduate financial aid.
 
$609 million has been raised toward the campaign's $900 million Education and Research goal. This includes faculty and student research opportunities; summer internships around the globe and engaged learning opportunities in local communities; and continued growth of entrepreneurship and innovation programs.
 
$323 million has been raised toward the campaign's $600 million Campus and Community goal. This includes support for new and renovated buildings; instructional and research technology; improved libraries, laboratories and research infrastructure; and student support and other campus life priorities.
 
$193 million has been raised toward the campaign's $400 million Brown Annual Fund goal. These unrestricted funds ensure that Brown provides strong support for financial aid, teaching and scholarship, and has the ability to jumpstart initiatives in emerging areas of education and discovery.
 
$116 million in recent gifts has been pledged to Brown but are yet to be designated. These funds come from generous donors who have signed commitments to support Brown's strategic priorities and continue to plan where the gift will be directed.
'Unprecedented levels of philanthropy'
Samuel Mencoff, chancellor of the Corporation of Brown University and a 1978 anthropology graduate, has been inspired by the generosity, energy and commitment of Brown alumni, parents and friends, he says. The push to expand upon Brown's academic excellence, educational innovation and impact beyond campus has motivated unprecedented levels of philanthropy and volunteer engagement.
"As a result, our students and faculty are better positioned now than ever before in the University's history to innovate, effect change and pursue leadership," Mencoff said. "And these benefits will extend far beyond this campaign to the succeeding generations who will pass through the Van Wickle Gates."
Class of 1990 graduate Theresia Gouw, a BrownTogether campaign co-chair and the Corporation's treasurer, calls surpassing the midpoint a decisive moment for Brown.
"Now we need to go to the next level, and keeping a focus on financial aid through initiatives like The Brown Promise will be so important," Gouw said. She referenced Brown's move to eliminate loans from University-packaged undergraduate financial aid awards. The Brown Promise initiative has a $120 million fundraising goal as part of BrownTogether's overall $500 million goal for undergraduate financial aid.
"If students don't have to worry about loan debt, they will be free to choose and pursue their dreams," Gouw said. "That's an amazing and wonderful thing. I can relate, since I simply could not have come to Brown without financial aid. I feel like someone paid it forward so I could be at Brown, and I want to do the same for future generations."
Gouw's area of study at Brown — engineering — is among the many academic areas being transformed by campaign gifts. With a total of $137 million raised in support of Brown's School of Engineering, the University opened the doors in October to an 80,000-square-foot Engineering Research Center. The center includes 20 laboratory modules designed to support collaborative research groups, cutting-edge cleanrooms for nanotechnology and bioengineering research, and teaching labs for undergraduate instruction.
"We have not been able to grow in certain areas of research because our existing facilities were just maxed out," said Sorensen Family Dean of Engineering Larry Larson. "Now, we have the space and infrastructure to grow research in ways we simply couldn't do before. This building is going to totally revolutionize graduate education, amplify our ability to innovate and expand the impact of our research and teaching."
Even more critical than facilities to groundbreaking discovery is talent and brainpower. To date, Brown has raised funds for and established 51 endowed faculty chairs, bringing new scholars to campus in the arts and humanities and the social, physical and life sciences. Twenty-three of those positions are already filled.
Class of 1972 alumna and Brown parent Joan Wernig Sorensen — a campaign co-chair, Corporation member and longtime benefactor of the School of Engineering and other academic priorities — says investments in teaching and research are instrumental in sustaining a world-class faculty of leading scholars who are inspirational teachers.
"During this first phase of BrownTogether, we've been successful in establishing new professorships that have impacted our ability to recruit top faculty in engineering, public health and other academic areas," Sorensen said. "It has been incredible to see our community come together to make commitments that will further strengthen Brown's ability to bring the brightest minds and very best scholars to the University."
In addition to endowed faculty chairs, the campaign is enhancing Brown's ability to bring exceptionally talented students to campus regardless of financial need. To date, 159 fully-funded scholarships have been established during the BrownTogether campaign, including 65 endowed scholarships. With $11.3 million, a new Presidential Scholars Program is attracting high-achieving students from economically and demographically diverse groups. And graduate students are benefiting from $38 million in new support for fellowships and more.
A campus-wide impact
Among the many new initiatives enabled by BrownTogether is one that embodies Brown's ethos of bridging the academic disciplines — the launch of the Jonathan M. Nelson Center for Entrepreneurship. The center was established with a $25 million gift from the center's namesake, a 1977 Brown alumnus, and brings together innovative thinkers in the sciences, humanities and social sciences. While entrepreneurship has long been embedded in the University's culture, the new center's mission is to make it an essential part of the Brown experience.
Veteran entrepreneur, educator and Brown alumnus Danny Warshay, who directs the center, says that campaign's investments in faculty, programming and facilities — including a dedicated new home set to open next year on Thayer Street — have been instrumental in getting the center off the ground. Entrepreneurship, he says, is not simply a narrow set of skills to apply in the business world, but something that is informing scholarship at Brown in new and innovative ways.  
"This is a set of tools and approaches that can develop interdisciplinary solutions to challenges in anything from health care and medicine to environmental issues, public policy, technology and more," Warshay said. "We are pushing past traditional boundaries, expanding the footprint of entrepreneurship and empowering outcomes that ultimately make a significant positive impact in the world."
The growth of Brown's Watson Institute for International and Public Affairs is another example of the transformative impact of BrownTogether. Long respected as a nexus for social sciences research and policy, the institute has emerged as what Paxson calls a "proof of principal that Brown could rapidly create an interdisciplinary hub of first-class research and education that has an impact on the world." 
After a $50 million gift from a consortium of donors that includes Stephen Robert, Alice and Thomas Tisch, and the Thomas J. and Olive C. Watson Jr. Foundation, an expansion at Watson has encompassed both physical spaces and ambitious moves to create a more robust, inclusive and integrative community of scholars addressing global policy challenges.
The institute has hired new faculty, integrated the Taubman Center for American Politics and Policy, become home to three undergraduate concentrations, reinvented the master's in public affairs program, and reinvigorated its regional studies programs, among other accomplishments. This summer, the University broke ground on a new 20,000-square-foot building to support that increased activity. Watson Director Edward Steinfeld says the building symbolizes the connections among students and faculty that inspire high-impact scholarship.
"There's a belief at the Watson Institute and across the University that to solve the world's great problems, you have to have a multidimensional, multidisciplinary and multidirectional kind of learning that brings different voices together to have interactions," Steinfeld said. "Our most important, valuable asset are our students, but buildings that are designed right can further unlock the potential of everybody in this community."
A few blocks to the west of the Watson expansion, yet another project is underway — the renovation of Wilson Hall, a long-standing illustration of Brown's student-centered approach. With a $24 million gift from the Richard A. and Susan P. Friedman Family Foundation, the project will preserve the historic exterior of the 1891 building but renovate the interior from the ground up, transforming one of Brown's most heavily trafficked undergraduate buildings into a state-of-the-art facility for teaching and learning in the heart of College Hill.
The University will rename the building Friedman Hall upon completion.
"If you visit Wilson Hall during the exchange of classes, so many people are pouring in and out that it can be difficult to even get into the building," said Dean of the College Maud Mandel. "Couple that heavy use over more than a century with its location on the Main Green, and it's easy to understand why Wilson has a symbolic significance to the undergraduate experience at Brown. This project will do much more than just refresh the old classrooms — this will transform the type of instruction that can take place in the building."
Other gifts are investing in innovative education and research elsewhere across the University.
A $27 million gift from the Warren Alpert Foundation is funding efforts aimed at not only catalyzing biomedical discoveries, but ensuring that those advances produce tangible health benefits through new modes of diagnosis, treatment and prevention. A $12.5 million gift established the Hassenfeld Child Health Innovation Institute to accelerate progress on the urgent health needs of children. Funding for research at the Brown Institute for Brain Science is inspiring new developments in neuroscience.
"Brown has continued to build its reputation as a world leader in brain science and biomedical research," said Class of 1980 graduate Alison Ressler, vice chancellor of the Corporation. "The BrownTogether campaign gives us an excellent opportunity to take our leadership to an even higher level, with increased support for our students and faculty who are uncovering the mysteries of brain function that could lead to groundbreaking discovery in the treatment and prevention of epilepsy, depression and neurological disease."
These are just a handful of hundreds of major gifts making an impact at Brown.
With campaign support, a new program in collaborative humanities is devising novel ways to promote critical thinking and public discourse on pressing questions about the human experience. The Brown Arts Initiative is building on the University's aspiration to be the primary destination for students who want to fully integrate the arts into a complete liberal arts education. And a newly launched Data Science Initiative in unearthing new methods for using "big data" to solve big problems.
Strength in numbers
While major investments in academic programs, endowed professorships and new facilities are critical to Brown's future, just as instrumental are current-use gifts to the Brown Annual Fund that can be immediately deployed to priorities like financial aid and faculty support, as well as to new strategic initiatives.
Tens of thousands of donors who contribute annual gifts from $1 to $1 million have raised $193 million for the Brown Annual Fund. With these gifts, the University is channeling support to priorities including financial aid, internship experiences, undergraduate research and teaching awards, career preparation, summer earnings waivers and more. Donors contributed $37.9 million to the Annual Fund in Fiscal Year 2017, a record high for Brown.
"We will build on this momentum to drive continued growth, with a goal to surpass $50 million in annual giving by the end of the campaign in 2022," said Class of 1984 graduate Paula McNamara, a Brown Annual Fund co-chair. "Gifts at all levels are being put to immediate use and making a tremendous impact, from support for research that is driving discovery relating to neurodegenerative and other diseases, to scholarships that are making the dream of attending Brown a reality for exceptional students from all economic backgrounds."
This year, Brown Annual Fund gifts can be used to support The Brown Promise, which will eliminate loans from the financial aid awards the University packages for all undergraduate students.
For Brown's Division I athletics, the second largest collegiate program in the nation, the campaign has raised nearly $87 million to date. Projects are transforming facilities, including the Olney-Margolies Athletic Center, baseball and softball fields, and the Marston Boathouse, and supporting the student-athlete experience in specific programs through endowed coaching chairs.
Continuing the momentum
As she looks ahead toward the campaign's second half, Paxson says the generosity of Brown's donors is not only impacting campus in transformational ways, but building on the University's ability to solve problems and make a positive impact across the globe.
"Ultimately, the success of BrownTogether will not be defined solely by the investments the campaign brings to our campus," Paxson said. "We will fulfill the promise of this campaign when our community succeeds in turning these investments into new knowledge and new discoveries that benefit society and communities well beyond Brown."