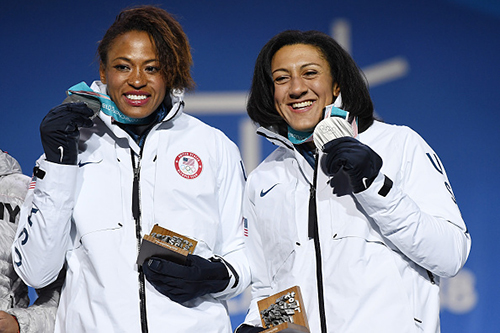 PROVIDENCE, R.I. [Brown University] — Four years ago, Brown graduate Lauren Gibbs left a lucrative career in sales to become a bobsledder. On Wednesday, that big risk netted her Olympic silver.
Gibbs, who earned her bachelor's degree in 2006, is the first Brown alumna to medal at the Winter Olympics since Becky Kellar, a Class of 1997 graduate, captured gold with Canada's women's hockey team in 2010.
Together with her teammate, Elana Meyers Taylor, Gibbs finished just 0.07 seconds behind German duo and gold medal winners Mariama Jamanka and Lisa Buckwitz — the closest margin between first and second place ever recorded in women's Olympic bobsledding.
It's safe to say Gibbs never expected to make it to the Olympics, and certainly not for a winter sport. She only discovered bobsledding in the summer of 2014, when another Olympic athlete spotted Gibbs' explosive strength in action at a Denver CrossFit gym and suggested she try it out.
She initially thought the idea was "crazy," she told the Denver Post. But just a few months later, she was hooked.
"At the end of this life, I just want to have a really cool story," Gibbs said. "The more random things you try, the cooler your story gets. And this is about as cool as a story gets."
Class of 2006 alumna Lauren Gibbs took over Brown's Instagram during the Winter Olympics, prior to winning silver.
Gibbs' life is an illustration that plans were made to change. The Los Angeles native was recruited by Brown to run track, but she found she favored volleyball instead and changed her athletic focus. By her senior year, she'd become team captain and was ranked among Brown's best players of all time.
Now, once again, ditching the rule book — and her day job — has proven rewarding for Gibbs.
"I was doing what I was supposed to do," she said of her former corporate sales job. "I was making money and buying lots of things. But I was bored out of my mind. I was like, 'I didn't work this hard to feel this way.' So I left a six-figure job to push a bobsled."
Gibbs is the ninth Winter Olympics medalist to graduate from Brown and the second bobsledder to capture a medal. The first Brown bobsled athlete to medal was Class of 1955 graduate Charles Butler, who captured bronze at the 1956 Olympics.