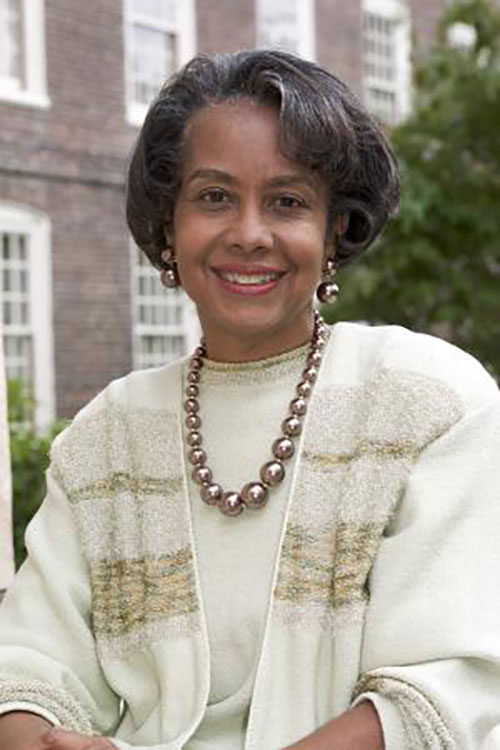 PROVIDENCE, R.I. [Brown University] — When Beverly Ledbetter agreed to become Brown's first general counsel in 1978, she expected to stick around for six or eight years. She also expected to immerse herself in the scholarly life of the University, attending lectures, reading and writing, living the life of an intellectual.
On both counts, her expectations proved to be mistaken.
After 40 years at Brown — not the six or eight she planned — Ledbetter remains Brown's chief legal officer. And while the demands of her position don't leave much time for immersion in Brown's classrooms and laboratories, ensuring that students can have precisely those opportunities is what propels Ledbetter, even after four decades of service.
"Preserving the ability for students and faculty to experience the intellectual depth and breadth of the institution," she said. "I hope that's the legacy I leave."
This summer, Ledbetter will leave that legacy and more as she retires from her role as Brown's lead attorney.
"Whether advising on the complexities of evolving federal regulations or representing the University in a major legal action, Beverly is a brilliant legal mind and a fierce advocate for the best interests of Brown," said University President Christina Paxson. "She's also a treasured and trusted colleague whose impact on Brown's progress is immeasurable. Without her expert and reliable counsel over four decades, Brown would not be the University it is today."
In the coming weeks, Paxson will launch a national search for Ledbetter's successor.
A love for the law
A Howard University alumna with a bachelor's in chemistry and a Class of 1973 graduate of the University of Colorado Law School, Ledbetter spent her early legal career at the University of Oklahoma, working as legal counsel and teaching part time. After an appointment to a U.S. Department of Labor advisory board introduced her to two Ivy League presidents, she soon found herself being recruited by Brown.
In 1978, she ventured east to become the University's first general counsel.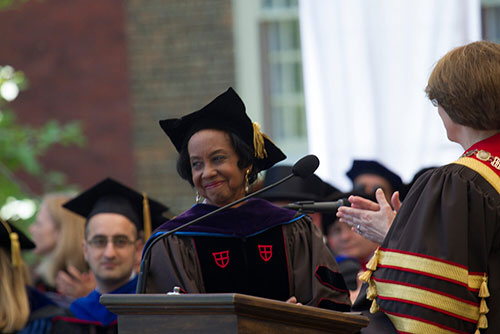 In leading a team of attorneys who provide legal counsel, representation and oversight on the wide range of legal matters that can affect a major research university, Ledbetter has been instrumental in helping Brown navigate a spectrum of issues and initiatives.
In the early 1990s, she spearheaded Brown's efforts in United States v. Brown University, a high-profile anti-trust case that included all Ivy League schools and was ultimately settled in 1993. In the early 2000s, she guided the University's legal work as graduate students organized a petition to unionize.
For Ledbetter, less weighty issues have commanded a dedicated approach, too.
In the early 2010s, she led a complex legal effort to recover a Civil War-era silver Tiffany sword that belonged to a Union army colonel and had been reported stolen from Brown's collections in 1977. Upon the U.S. District Court decision that ordered the sword's return, she summarized the case with her trademark candor. Asked about Brown's legal theory, she replied:
"At its heart, the University's case is quite simple. We own it. It was stolen. And we want it back."
The 2017-18 academic year has brought a similar pursuit, as Ledbetter has led efforts to recover stolen documents from Class of 1983 graduate John F. Kennedy Jr.'s student records. A preliminary injunction halted the sale of the documents, and Brown's efforts to have them returned remains in progress.
She's also made clear the negative impact of the federal travel ban on higher education, advocated for the preservation of Deferred Action for Childhood Arrivals status and helped Brown assess changes to the U.S. Department of Education's guidance on Title IX regulations.
To successfully manage such a wide diversity of legal issues, Ledbetter says key ingredients include a broad knowledge base, a willingness to prepare for the unexpected and a healthy dose of self-confidence.
"You wake up and ask yourself: What are all the things that could happen in the life of a university?" Ledbetter said. "You have to be secure in believing that you're up to the task of facing whatever the day might bring."
The work of the Office of the Vice President and General Counsel is not all about major issues, she noted.
"We contribute to a body of understanding at Brown of federal regulations and compliance, and we work to help the University move forward with the least restraint on its own principles and values," she said.
When new attorneys join her team, she works to instill a sense of balance between successfully representing the people with whom they will work on campus, yet in a way that serves Brown's long-term stability.
"You look for a solution that accommodates the offices and colleagues that you serve in the short run, but that preserves the University's interests over the long run," Ledbetter said. "It's very easy to find short-term solutions — but doing what is best for Brown for the decades to come is a responsibility we take very seriously."
Brown and beyond
After four decades in the position, Ledbetter says she'll advise her successor to appreciate the nuances of serving as counsel in higher education — and to keep zealousness for victory at all costs in check for the greater good of the institution.
"A lawyer has a natural desire to prevail," she said. "To be successful here, you need to temper your desire to prevail with the University's need to maintain cooperative and harmonious relationships with students, alumni, faculty, staff and the public. This is not government or the corporate world — a university is a unique entity that requires a significant amount of cooperation, collaboration and critical thinking."
Throughout her tenure, Ledbetter has dedicated herself to bringing a bit of Brown to communities beyond the College Hill campus. She served as a Providence Housing Court judge. She is a past president of the National Association of College and University Attorneys. And she has served in leadership positions for organizations including the Girl Scouts of Rhode Island, the Thurgood Marshall Law Society, the Urban League, the Providence Housing Authority, the NCAA Committee on Infractions, Alpha Kappa Alpha sorority and The Links, Inc., to name just a few.
She is also active with Day One, Rhode Island's sexual assault and trauma center, and helped to launch the Black Philanthropy Fund at the Rhode Island Foundation.
Recently, Ledbetter was named to the Higher Education Committee of 50 — a group of industry leaders convened by the National Association of Student Financial Aid Administrators to educate members of Congress on new solutions to improve college access and affordability.
On campus, Ledbetter says that Brown has transformed exponentially over the course of her tenure. Yet its place in the hearts and minds of students remains the same.
"If you look at objective measures of progress, Brown is a totally different place — new buildings, new academic initiatives, new programs," she said. "Yet this is still a place where people experience intellectual and moral growth. It's a place that values students. And as much as Brown continues to grow in research, it still has in its heart that it's a place for learning."
In many ways, Ledbetter's story is similar. Many of the values that guided her work at the University of Oklahoma — loyalty, commitment, service — are as strong today as they were then. Yet she'll be the first to admit that she has changed, too.
"How did I manage to stay so long?" Ledbetter asked. "Adaptability. With new leadership comes new initiatives, new ideas and new operating mechanisms. You can't survive without both an ability and a willingness to adapt. "Brown today is very different from the Brown I came to in 1978. Both have a special place in my heart."