PROVIDENCE, R.I. [Brown University] — At least five cameras, phones and iPads were trained on Cia Panicker as she stood clutching the red envelope that contained her destiny.
"This is so much pressure!" she said with a nervous laugh as her family and friends stood by quietly, ready to hit record.
At precisely noon on Friday, March 16, Panicker broke the seal, took a deep breath and unfolded a letter inside. Then, she laughed and screamed gleefully, "I'm going to Brown! Again!"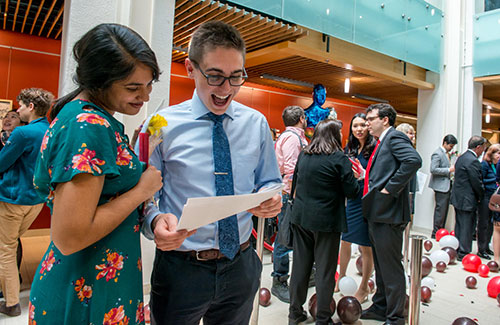 Panicker was just one of 118 fourth-year medical students who gathered late on Friday morning in the lobby of Brown's Warren Alpert Medical School. Buzzing with both excitement and a bit of trepidation, they sipped champagne in their finery alongside classmates, significant others and family members. And at exactly noon, along with thousands of other medical students across the country, they opened envelopes that would forever impact their futures.

For med students set to graduate this spring, Match Day is the culmination of four busy, stressful years of rotations and classes — not to mention a grueling nine-month application and interview process. It's the day they learn where they're headed for their medical residencies, which could last anywhere from three to seven years.
Panicker and 11 other Brown students found out they would stay in Rhode Island after graduation, learning and practicing at hospitals affiliated with the Alpert Medical School. More than half of the Class of 2018 would stay in the Northeast in Boston, New York and Philadelphia, among other cities. Others would move west for residencies at prestigious hospitals in Chicago, San Francisco, Houston and elsewhere. All 118 had reason to be proud: They were part of Brown's largest ever matched medical class.
Among those who found out they'd stay in Providence was Matt Pouw, who planned to specialize in interventional radiology. After a transitional year at Newton-Wellesley Hospital in Massachusetts, he'll spend up to six years training at Rhode Island Hospital.
"I think I'm an anomaly, but I applied to more than 100 residencies," he confessed.
His field is a competitive one, and it's relatively new — so there wasn't much data from past classes of admitted students to guide him in the application process. He decided he'd leave nothing to chance. And it paid off.
Just before the clock struck noon, as a montage of student-made videos played to the crowd, Danielle Sancho said she felt "a little excited and a little nervous." The New York native applied to 30 residency programs for pediatrics, and she'd marked a handful of Northeast hospitals as her top choices in hopes she could stay close to family. When she got the envelope, it read "St. Christopher's Hospital, Drexel University College of Medicine" — and she was overjoyed.
"It took a lot of work and dedication to get here," she said. What kept her in the game? "The desire to help children and make an impact."
A wish to do good is what Associate Dean for Medical Education Allan Tunkel thinks sets Brown medical students apart.
"They are a group of students who have decided to go into medicine for the right reasons," he said. "They want to provide care to patients; they want to make discoveries; they care about taking care of vulnerable populations and doing something good for humanity. Many of them are really going to make an impact on the lives of others."
Tunkel, who endured the same application process about 35 years ago, said Match Day hasn't always been the the soiree it is today.
"They just handed me an envelope and there was really no celebration after it," he remembered. "But I think it's appropriate to celebrate — they've worked very hard for almost four years, and this really is the culmination of that process."
Among the hard workers celebrating was Megan Gorman, who will specialize in obstetrics and gynecology. Like her classmates, Gorman applied to dozens of residency programs, went on countless interviews all over the country, marked a few Northeast teaching hospitals as her top choices, and crossed her fingers as she left her fate in the digital hands of the National Resident Matching Program's mathematical algorithm.
Gorman fanned herself with her red envelope, a huge grin on her face. It had been a long week: In the last three days, she'd found time to learn how to use video editing software and create the montage everyone had just watched.
"I'm feeling great," Gorman said after a net of red, white and brown balloons dropped from the ceiling. "I'm going to Stony Brook!"
To view the full 2018 Match List, visit the Alpert Medical School's website. National match statistics are available here.