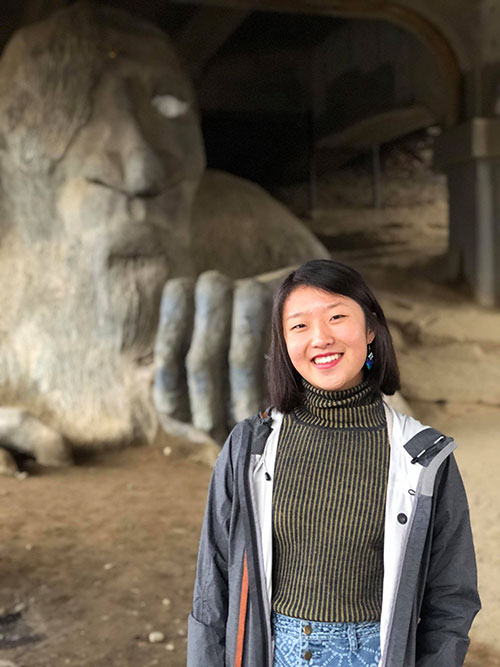 PROVIDENCE, R.I. [Brown University] — Brown University junior Dorothy Jiang has been named one of 59 Harry S. Truman Scholarship Foundation Scholars from across the United States for 2018. 
Recipients of the highly competitive award are chosen based on academic ability and dedication to public service. Each receives a $30,000 scholarship toward graduate school and the opportunity to participate in professional development programming to help prepare them for careers in public service leadership.
Jiang, who designed her own independent concentration at Brown in intersectional mental health, hopes to use the scholarship to pursue a dual master's degree in public policy and social work. 
"Dorothy's leadership, service and mentorship, especially around mental health advocacy and support, has had a strong positive influence on Brown's campus as well as the larger community in Rhode Island," said Linda Dunleavy, associate dean of the College for fellowships. "Dorothy believes that the power of listening is at the foundation of effective policy and social change. This fundamental principle was at the heart of her Truman application, and it will guide her work and future as a change agent."
At Brown, Jiang has served as a peer mental health advocate, a first-year academic advisor, an independent concentration coordinator, a counselor for students who have experienced sexual assault, and an advisor in Brown's Swearer Center. She has also worked extensively with Project LETS (Let's Erase the Stigma), a mental health advocacy organization founded at Brown that uses a peer-based model to support people with mental illnesses. Jiang is one of two political action coordinators for the Project LETS chapter at Brown and represents the organization on campus.
Jiang designed her independent concentration to focus on mental health and how it affects people of varying identities, combining coursework in a wide variety of fields, including psychology, history, anthropology, Africana studies and public health.
Off-campus, as one of 16 Mount Vernon Leadership Fellows, Jiang spent last summer in Washington D.C., developing leadership skills in public policy and meeting with national figures in politics, policy and law. For the fellowship's capstone project, Jiang developed a plan for implementing suicide intervention legislation in Rhode Island. When she returned to Brown, Jiang continued to independently pursue this policy initiative, conducting further research and meeting with stakeholders in local nonprofits, hospitals, universities and government.
Jiang says she will use the resources the Truman Foundation provides, both the scholarship and the community network of Truman scholars, to uplift marginalized communities and combat systemic injustices. 
"In all that I do, I hope to stand for something worthwhile and hold myself accountable to the communities I am a part of and want to serve," Jiang said. "This public service award is incredible validation to receive, and I feel encouraged to learn more, listen more and act more."
Congress created the Harry S. Truman Scholarship Foundation in 1975 as a memorial to President Harry S. Truman. The Foundation has a mission to select and support the next generation of public service leaders. The Truman award has become one of the most prestigious national scholarships in the nation.
Annually, candidates for the Truman Scholarship go through a rigorous, multi-stage selection process. This year, there were 756 candidates for the award nominated by 311 colleges and universities, a record number of institutions. The 194 finalists for the award were interviewed in March and early April at one of 16 regional selection panels. Jiang and the other 58 new Truman Scholars will receive their awards in a ceremony at the Harry S. Truman Presidential Library and Museum on Sunday, May 27, 2018.