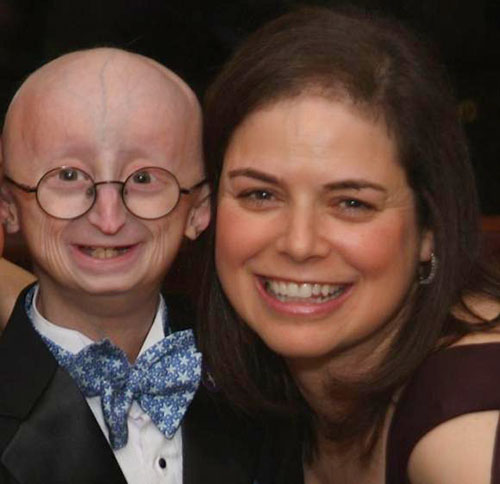 PROVIDENCE, R.I. [Brown University] — A study published today in the Journal of the American Medical Association suggests that an experimental drug therapy can extend the lives of children with progeria, a rare genetic disorder that causes premature aging and death.
The research showed that children with progeria who were treated with lonafarnib, a drug originally developed to treat cancer, were more likely to survive over the course the study compared with children with progeria who did not receive the drug. The study is preliminary, but the researchers say the results suggest a promising avenue for treating a condition for which there are currently no approved therapies.
"This study provides supporting evidence that we can begin to put the brakes on the rapid aging process for children with progeria," said Dr. Leslie Gordon, lead author and a professor (research) of pediatrics at the Warren Alpert Medical School of Brown University and Hasbro Children's Hospital. "These results provide new promise and optimism to the progeria community."
Progeria (known formally as Hutchinson-Gilford Progeria Syndrome) is caused by a mutation in a gene whose protein product helps maintain normal structure and function in the cellular nucleus.   It's thought that the disease-causing protein progerin causes instability in nuclei throughout the body and leads to a rapid aging process. Children with progeria appear advanced in age and experience age-related conditions like hair loss, joint pain and cardiovascular disease. Children with the condition live an average of 14.5 years and die due to rapid progression of atherosclerosis.
The study took place at Boston Children's Hospital, Brown University and Hasbro children's Hospital.  Researchers followed 27 children with progeria who had taken twice-daily doses of lonafarnib in a clinical trial at Boston Children's Hospital. The study group was compared to a group of 27 children of similar age who had progeria but were not part of the trial and did not receive the drug. The study showed a significantly lower mortality rate in the group receiving lonafarnib treatment. After two years, mortality in the treatment group was 3.7 percent, compared to 33.3 percent in the untreated group. 
It's not clear from the study exactly what the drug is doing that may extend children's lives. But because most children with progeria die of heart disease and strokes, "the lower mortality rate may have been attributable to cardiovascular and possibly cerebrovascular benefit," the researchers wrote.
Dr. Francis Collins, director of the National Institutes of Health, led the lab that first identified the mutation that causes progeria.
"My lab did some of the original research on cellular and mouse models that showed potential benefit of this class of drugs for Progeria," said Collins, who was not involved in the new study. "It was encouraging to see those results translated into a clinical trial. Yet demonstrating effectiveness of treatments in this small population of children with this rare fatal disease is a major challenge. Thus, I'm particularly encouraged by these latest findings."
Gordon, the study's lead author, is medical director of The Progeria Research Foundation, which funded the research. She and her husband, Dr. Scott Berns, co-founded the nonprofit organization in 1999 after the couple's son, Sam, was diagnosed. He died in 2014 at age 17.
A 2013 HBO documentary, "Life According to Sam," chronicled his bravery and optimism in the face of the condition, as well as his parents' quest to find new treatments. Read more about Sam and his family in the Brown Alumni Magazine.