PROVIDENCE, R.I. [Brown University] — To ensure that all Americans have ample opportunity for success, the country must push past political gridlock and toxic discourse to achieve comprehensive immigration reform and overhaul the nation's public education system.
That was the advice of Jeb Bush, the former two-term Florida governor and U.S. presidential candidate, who delivered the 97th Stephen Ogden Jr. Memorial Lecture on International Affairs at Brown University on April 25.
"The most powerful thing we can do... to project American values around the world and to create a safe and secure world is for every American to have the chance to rise up and be successful and live a purposeful life regardless of their circumstances," Bush told a capacity crowd at the University's Salomon Center for Teaching.
The son of former President George H.W. Bush and brother of former President George W. Bush, Bush visited Brown just four days after attending the funeral of his mother, former First Lady Barbara Bush. Asked in recent days if his visit to Brown would proceed, he said his mother would "kick my butt if I didn't show up."
Bush told the audience that his father, who was hospitalized for a blood infection six hours after Barbara Bush's funeral, had moved out of intensive care and would likely head home from the hospital on Friday.
"The guy is stronger than an ox..." Bush said. "I'm not objective about this, but I believe he's the greatest man alive and I want him to stay alive for a bit longer."
VIDEO: "Leadership in a Changing World" with Jeb Bush at Brown University.
In his remarks, titled "Leadership in a Changing World," Bush argued that the contributions of immigrants living in the U.S. are essential to the country's sustained economic growth.
More robust border control is one important component in immigration reform, he said. But a comprehensive plan would focus on aiding politically troubled Central American countries to discourage illegal immigration, seeking out individuals who overstay visas and supporting the lawful immigration of those who can make positive contributions to the country.
Bush affirmed his support for those who hold Deferred Action for Childhood Arrivals status and urged the need to create a viable path to citizenship for undocumented individuals in the U.S.
"There is no possible way that we're going to deport 11 million people," Bush said. "There's a reality check at some point that needs to take place. The cost of that, the disruption of family life is so un-American that we need to take a chill pill here and recognize that this is not the kind of thing we need to do."
Yet to make immigration reform work, he said, the country must embrace a shared set of values.
"We are a diverse country for sure," Bush said. "But multiculturalism without shared values leads to chaos and problems. People need to understand our heritage, the Bill of Rights, the Constitution, our history. That's what ties us together."
Incorporating these civic values into the nation's public schools is a key part of the major education reform that Bush argued must also happen in order to create social mobility. The former governor, who has been a vocal proponent of charter schools and school vouchers, said that an education overhaul must also emphasize parent choice, higher standards, school accountability, and college and career readiness.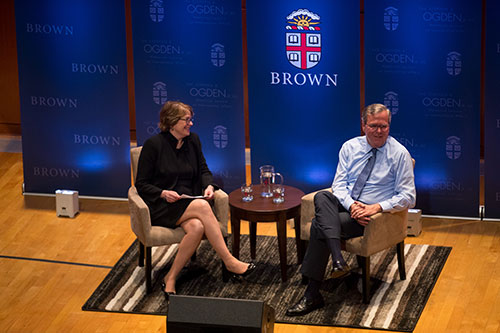 "If you provide information to turn parents into informed consumers, they will make better choices 99 percent of the time than the bureaucracies that people seem to want to defend at all costs," he said. "Empowering parents at both public and private schools creates a more dynamic, vital education system."
Overhaul of both education and immigration policy would go a long way toward getting the U.S. "back on track," Bush said. But to make either reform a reality, he said that first the country's "toxic political environment" would need to be fixed.
To that end, he presented several suggestions — he called them "Jeb's Rules" — which included penalizing "vulgar acts of discourse" among politicians, eschewing political tribalism, encouraging politicians to act out of conviction, and resisting "fake news."
He urged students in the audience to seek news from sources outside one's political perspective.
"I'm a conservative," he said. "I wake up in the morning and I generally read the Wall Street Journal editorial page. It's the one little sanctuary for a conservative still left."
But Bush said he forces himself to read the New York Times, too, for diversity of viewpoint.
"And you should force yourself, if you are a liberal, to read the Wall Street Journal editorial page... What you'll find is that over time, while you may not agree with them, you don't think bad things about them. You don't think their motives are wrong. The simple fact is that a liberal is different than a conservative, but they both still love their country."
Bush returned to the theme of civil discourse throughout his remarks, stating that "you can have lively conversation about ideas, and you can disagree and be principled about it, but you can't have a climate of disparagement." And he made a direct appeal to the mostly student audience.
"You are going to be the ones that ultimately change our culture, and hopefully along the way, you will change this poisonous political environment as well," Bush said. "I hope you rise up and stand on principle that decency and honor and consensus is not a sign of weakness — it's a sign of American strength."
Following his presentation, in a Q&A session moderated by Brown President Christina Paxson, audience members expressed their condolences about his mother and challenged Bush with questions on topics that ranged from Medicare and Medicaid spending and same-sex marriage to high-stakes testing in public schools and whether or not current President Donald Trump is qualified to be president.
To the last, Bush responded that while he believes President Trump "won fair and square," he is "not a big fan of how he behaves in the office."
"But if he succeeds, I for one, not being a fan of his, will still applaud him," Bush added. "And that distinguishes me from a whole bunch of people who basically need therapy every time the guy's name comes up."