PROVIDENCE, R.I. [Brown University] — Picture this: You're sitting at a dinner table, engaged in discussion — on, say, immigration policy, marriage equality or the latest news out of Washington — and across from you sits a person with whom you vehemently disagree.
Do you get up and leave? Or do you stay and find a way to reach across the table?
Lexi Lerner understands why many leave to protect themselves from discomfort — but they have also discovered how powerful it can be to stay. [Note: Lerner's preferred pronouns are they/them/their.]
"My time at Brown has taught me how to build bridges between myself and people I didn't initially see eye to eye with," Lerner said. "Brown is remarkable in how many cross-disciplinary bridges it builds, both in terms of academic disciplines and interpersonal relationships."
In an address at Brown's 250th Commencement ceremony on May 27, Lerner, a senior biology concentrator from Upper Saddle River, New Jersey, will focus on the power of seeking out and listening to a diversity of perspectives and reaching across the table. Lerner's classmate, Africana studies concentrator Naomi Chasek-Macfoy from Brooklyn, New York, will also touch on the importance of listening to new perspectives, including and especially those that have been historically marginalized. Chasek-Macfoy's address will center on the 1968 Black Student Walkout, a significant moment in Brown history.
Most universities invite outside dignitaries to give Commencement addresses, but Brown is unique in reserving that honor for members of the graduating class. Nearly every spring since 1769, University seniors have delivered orations to their peers after the annual procession through the Van Wickle Gates. Together, Lerner and Chasek-Macfoy will carry on the 250-year-old tradition.
"Brown has faith in its students to chart their own intellectual trajectories, create their own intellectual communities and craft their own academic goals," said Samuel Perry, an associate professor of East Asian studies at Brown. "It seems fitting, then, that Brown also trusts students to deliver the last word at Commencement."
While it was common in Brown's early days for every member of the graduating class to speak, sometimes even in Latin or Greek, it is now tradition for a committee of students, faculty and staff — chaired this year by Perry — to select speakers. Perry said he and the rest of the committee read dozens of compelling excerpts and heard several speeches in person before ultimately choosing Lerner and Chasek-Macfoy.
"Both Lexi's and Naomi's speeches are rooted in deeply personal experiences but also speak to a broader experience that will resonate with the rest of the class," said Perry, a 1991 Brown graduate.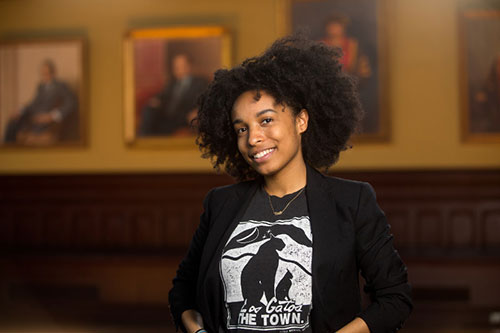 Chasek-Macfoy's speech recalls the events of the 1968 walkout that saw 65 of Brown's 85 African American students risk their academic futures to protest their underrepresentation and lack of academic support. The students' bold actions spurred the University to create a department of Afro-American studies, now called Africana studies, and to dedicate $1.2 million to scholarship funding and recruitment efforts for students of color.
"That walkout is incredibly seminal to the history of Brown. I don't look back on it for nostalgia but rather to show that students took a huge risk to try to move the University forward," they said. [Note: Chasek-Macfoy's preferred pronouns are she/her/hers and they/them/their.]
Chasek-Macfoy, who was raised by a Jewish mother and Sierra Leonean father in one of America's most diverse cities, can't remember a time when she wasn't committed to social justice. In her four years at Brown, she's volunteered at the Sarah Doyle Women's Center, Hillel and Direct Action for Rights and Equality's Behind the Walls Committee, which advocates for systemic changes to the criminal legal system.  
Chasek-Macfoy said she hopes sharing her perspective on a critical piece of 50-year-old University history will illuminate the work that's still to be done at Brown in addition to the progress made to date.
"I want people to know that this happened, absolutely, and to ask them not to forget that history," they said. "But I also want them to take away from my speech a sense of the importance of listening to people who are being told to be quiet."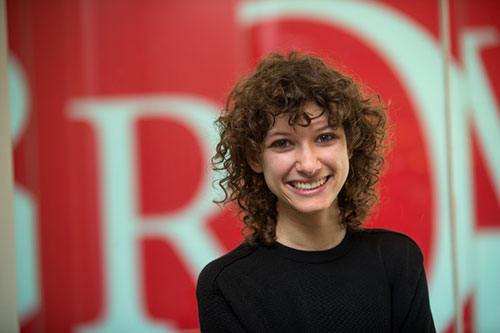 Lerner, too, says they have seen the positive impact of listening to new voices. Through three years of assistant teaching, countless hours spent volunteering with the Brown Animal Rights Coalition and a stint on the inclusivity board of a literary society, their eyes were opened to people and perspectives that changed them for the better.
That's not to mention the classes Lerner took spanning a wide variety of disciplines, from ethnography to bioethics to religious studies. 
"Brown challenged a lot of parts of my childhood," they said. "I realized there were so many stories I hadn't heard growing up. The University opened me up to understanding my place in the world from a more holistic perspective."
While it wasn't always easy, bridging together multiple disciplines and viewpoints helped lend Lerner new insights — and inspired them to write a speech "about the bravery and difficulty of reaching across the table when it's so much easier to denounce or abandon those who don't agree with us."
Both Lerner and Chasek-Macfoy plan to dedicate their professional lives to reaching across the table, if in very different ways. Lerner, who this semester will complete the first half of Brown's eight-year Program in Liberal Medical Education, hopes to eradicate infectious diseases through medicine, research and policy. And Chasek-Macfoy plans to pursue work as a litigation assistant at a social justice organization before heading to law school.
Both speakers said their big dreams and accomplishments would have been unthinkable without the support and inspiration they've received from peers at Brown.
"Everybody has their own Commencement speech they've been writing since they entered Brown," Lerner said. "The true privilege isn't that I get to share my story, but that I got to be here every day for the last four years and hear everyone else's story."