When the infamous, record-breaking blizzard of 1978 walloped Rhode Island, the storm essentially severed access from the College Hill neighborhood to the rest of Providence. Medical transport from Brown to local hospitals — even to the campus clinic — proved challenging when not impossible. Meanwhile, injuries abounded as students slipped and fell negotiating their way through the towering piles of snow that covered campus.
A few months earlier, students at Brown had quietly launched a club dedicated to emergency medical care. The students, all trained in CPR and basic first aid, had started the group to provide quicker, more efficient on-campus emergency response to minor injuries — yet until the blizzard, they had mostly served as backup at football games and a handful of other campus events.
Co-founder Gary Kleinman recalls that Brown administrators didn't quite believe a roaming crew of undergrads, backpacks stuffed with medical supplies, was up to the task of delivering responsible emergency medical care.
The blizzard was a game changer, Kleinman says.
"When it became clear that Brown would be shut down for days and that resources from outside would be scarce, they gave us a portable radio," the Class of 1983 graduate recalled. "'We'll call you when we need you,' they said."
In the days that followed, Kleinman and his fellow club members responded to numerous emergency calls across campus. Among the more memorable was the rescue, via toboggan, of a student who had jumped out of her dorm window, anticipating — incorrectly, it turned out — a soft landing in the snow. Instead, she broke her leg.
Having proven its worth, the club expanded its services in the years ahead, working closely with campus safety, arriving at emergencies on mopeds for a brief period and then in a refurbished mail truck. In 1985, it transitioned into Brown Emergency Medical Services (EMS) a state-licensed, part-time ambulatory emergency service under the umbrella of Health Services.
As Brown students and alumni gather this month to celebrate its 40th anniversary, Brown EMS today is a 24-7 service that provides basic and advanced emergency life support care to the campus community and ambulance transport to Health Services and to local hospitals.
A full-time director manages Brown EMS, and one staff member with advanced life support certification supervises each shift. Though the service is no longer a student organization, undergraduates make up Brown EMS's entire volunteer corps of 70 emergency medical technicians (EMTs), all of whom are certified in basic life support. The corps is managed by two student co-directors.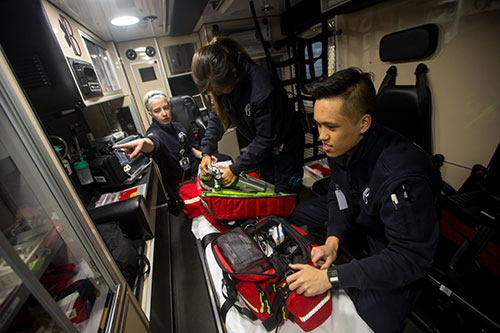 Housed at Health Services, Brown EMS operates one ambulance and one non-transport response vehicle, working in concert with health care providers on campus and the Department of Public Safety, as well as the city's police and fire departments and area hospitals. The group responds to nearly every medical emergency call made on campus —& nearly 1,100 each year, ranging from broken limbs to allergic reactions to mental health incidents and everything in between. Students work between two and four 12-hour shifts each month; the group's space is outfitted with beds for overnight shifts.
It's a significant commitment and an important job, says Brown EMS Director Amy Sanderson. And one that not only provides care to the entire Brown community, but is also an important training experience and leadership opportunity for the students who volunteer, many of whom plan to apply to medical school.
"On a practical level, this is a great clinical training ground, and most medical schools expect clinical experience now," Sanderson said. "But it's also a very rewarding experience. Working autonomously, caring for their peers, being responsible for the ambulance, leading the crew — it's incredibly empowering."
Students agree. Demand for a spot in the student corps far outpaces availability. Last fall, more than 125 students applied for just 30 new spots. Once accepted, each student must earn certification as an EMT, if they don't hold that already, and successfully complete rigorous Brown-specific training as well.
Katie Luchette was accepted as a recruit as a first-year undergraduate in 2014. An aspiring medical student, she hoped to get an up-front view of the practice of medicine. She's also a self-professed "adrenaline junkie" and thought she would like the fast pace of emergency response.
Now a senior and Brown EMS's student co-director, she is certified in advanced life support and is writing her senior thesis on airway management methods during cardiac arrest. Luchette says that having a corps of student volunteers providing emergency care on campus provides a huge benefit to the University's student community.
"College is a time when people are independent and autonomous for the first time, and they don't have ready access to parents when they have concerns about their health and wellness," she said. "There are a lot of situations in which students feel more comfortable receiving care from other students because the person who is coming to help them knows what they are going through since they have experienced it, too. We can really tailor our care to this community."
Luchette now plans to delay applying for medical school so she can get certified as a paramedic and continue the emergency response work she loves (her current dream job: helicopter paramedic in Australia). Wherever she ends up, she says that the life skills she gained being part of Brown EMS will prove invaluable.
"When I came to Brown, I had a lot of book smarts, but I didn't have a lot of common sense," Luchette said. "EMS is all about common sense and quickly figuring out a solution in a given situation. Being part of Brown EMS has made me a much more confident and decisive person."
Luchette also says that she's formed strong bonds with her EMS cohort, having cemented friendships not just through their common adrenaline addiction, but through their shared dedication to service.
"The friendships and relationships you make when you work on a truck together are unlike any other friends you will ever have," she said. "People work overnights until 7 a.m., and then might go straight on to their 9 a.m. lecture. Our volunteers are smart and capable and hungry to learn and to help. That's a spirit that I hope lives on in our corps for years to come."