PROVIDENCE, R.I. [Brown University] — A Brown University legend is preparing to pass the torch.
On Tuesday, May 8, beloved engineering professor and campus icon Barrett Hazeltine taught his last class as the primary professor for Engin 9/90, the legendary management and entrepreneurship courses that have launched countless business leaders over the past four decades. Hazeltine isn't retiring just yet. He will still pitch in occasionally to the teaching of Engin 9/90 and have a few other teaching obligations, but he's turning over primary responsibility for the class to his current co-teacher and former student, Thano Chaltas.
At a reception in Brown's new Engineering Research Center — in the commons area that bears his name — students, alumni, colleagues and admirers gathered to celebrate Hazeltine's legacy after Tuesday's class.
Brown Provost Richard Locke lauded Hazeltine as the embodiment of entrepreneurship at Brown, "underscoring that entrepreneurship is quintessentially interdisciplinary and collaborative, and that innovation is central to promoting positive social change."
Locke said the growth of entrepreneurship education at Brown, which now includes the Jonathan M. Nelson Center for Entrepreneurship as well as undergraduate and graduate programs in Business, Entrepreneurship and Organizations, can largely be traced back to Hazeltine.
"We can credit Barrett for planting the seeds and cultivating the programs that have flourished into what is now a robust entrepreneurship program here at Brown," Locke said. "I taught entrepreneurship for many years, and as student of entrepreneurship, I've come to appreciate the Barrett is the original — a naturally creative and inquisitive academic maverick, who is both inspired and inspiring."
School of Engineering Dean Larry Larson said Hazeltine possesses a special kind of genius. It's not just that he's smart; it's the originality and creativity in his thinking that has made him so brilliant as a teacher and mentor.
"They call those geniuses 'magicians,'" Larson said. "And Barrett is a magician of the highest order."
No celebration in Hazeltine's honor would be complete without thoughts from one of the innumerable entrepreneurs he's inspired. Tom First, who co-founded Nantucket Nectars with fellow Brown Class of 1989 graduate Tom Scott, thanked Hazeltine for his nurturing guidance.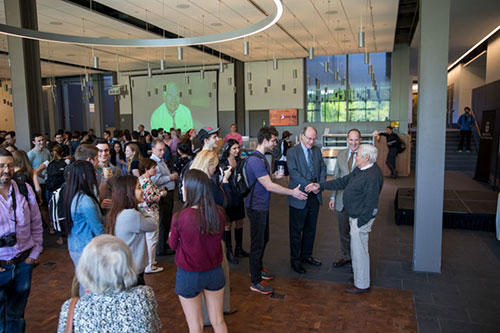 "He's loved his relationship with students for decades and we've loved him back," First said. "Barrett was there for Tom and me at the very beginning, actually before we started the business. It was Barrett who gave us the confidence to believe in ourselves… which is something I think he's given to so many students. He's also celebrated our successes and used them to inspire other innovators and entrepreneurs over so many years."
In nearly 60 years teaching at Brown, Hazeltine has never tired in his efforts to inspire his students. Current Brown junior Samanee Mahbub is among Hazeltine's more recently minted disciples.
"Within the bounds of this campus and beyond, his story will be told by the thousands who love him, adore him and who wouldn't be where they are without him," Mahbub said. "Thank you for everything you've done for us, and for proving that it only takes one person — and a little bit of bending of the rules — to make a difference in this world."
Before posing for pictures with a long line of students and graduates, Hazeltine said he's grateful that the University supported entrepreneurship education even in the early years when, "this wasn't fashionable at all in the academic realm."
"I'm very proud of Brown for caring," he said. "This institution really does respect people who are different and who march to a different drummer."