PROVIDENCE, R.I. [Brown University] — With a $5 million gift from a former varsity swimmer, Brown University will establish a new Excellence in Athletics Fund to support a wide range of priorities within its Division I athletics program.
The gift from Class of 1962 graduate Tom McMullen, a member of the men's swimming team from 1958 to 1962, will support student-athletes across the nation's fourth largest collegiate athletics program.
Brown President Christina Paxson said the flexibility enabled by the gift from McMullen, a generous supporter of the University for many years, brings the potential to benefit student-athletes across many of the program's 38 varsity teams.
"When we were talking about his interests, I could see Tom's love for Brown Athletics coming through and how much being a student-athlete has meant to him," Paxson said. "This gift opens up opportunities that will help our sports program reach for and achieve new levels of excellence."
Brown Athletics Director Jack Hayes said that the fund gives the department the discretion and flexibility to address competiveness in a strategic and systematic way, from recruiting prospective athletes to retaining top coaching talent to creating first-rate facilities and more.
"Tom's gift will provide additional opportunities for teams to travel to different parts of the country and compete against nationally recognized programs," Hayes said. "It will also help us reach areas where we have both strong recruiting potential and a strong alumni base."
The fact that the gift provides the University with the freedom to decide how best to use the funds as needs arise is important to McMullen.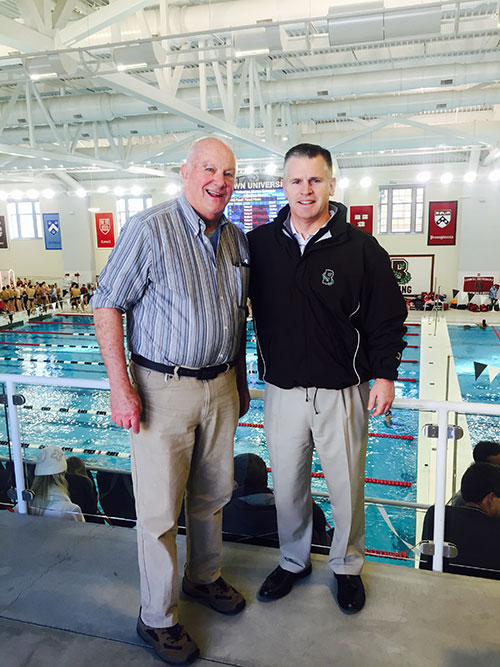 "I told the president and Jack to do anything they want to help us build exceptionally good teams," McMullen said. "Our alumni athletes follow their teams from graduation and into their 70s and 80s. If these teams do well, they might donate more to athletics."
McMullen's ties to Brown Athletics took shape during his time as a varsity swimmer. "We had a good team and we did pretty well," he said. He also met his wife during his time on College Hill, something that, along with the education he received, has "indebted him to Brown."
Post-graduation, McMullen founded and built his successful business, McMullen Properties, starting with "a green pickup truck and $3,000." He stayed connected to the athletics program and gave to the Annual Fund.
Five years ago, he made a gift that allowed the University to hire individual men's and women's swimming coaches — a step up from sharing a single coach. Three years ago, when he sold the Ann Arbor, Michigan-based McMullen Properties, he knew that he wanted to share some of his good fortune. Conversations with Paxson and Hayes solidified his commitment to establishing the Excellence in Athletics Fund.
Benefits from McMullen's most recent gift will accrue across teams, coaches and student-athletes, Hayes said. One example: endowing a strength and conditioning coach position.
"Having an additional staff member will be outstanding as it will help every single student-athlete and coach here at Brown," said Brandon O'Neall, head strength and conditioning coach. "We will be able to be more individualistic in our approach to training and teaching on a daily basis. The more people we have and the more ideas we can provide, the bigger the impact will be in terms of recovery, nutrition and training."
Thanks in part to support from the Excellence in Athletics Fund, Hayes said he is optimistic about the future of Brown Athletics.
"In five years, it would be great to see how this gift has touched many sports and led to improvements," he said. "It could mean moving up in the Ivy League standings or having more post-season tournament opportunities."
McMullen's gift is part of the $3 billion BrownTogether comprehensive campaign, which to date has raised approximately $1.7 billion in support of the University's strategic priorities.