PROVIDENCE, R.I. [Brown University] — Members of the Brown community and special guests gathered on Saturday, May 26, to honor Brown students who have dedicated themselves to serving their country — and a trio who will do so in the years ahead —as members of the U.S. Armed Forces.
The Graduating Veterans Recognition and Commissioning Ceremony paid tribute to 19 veterans who have served in combat and other capacities across the globe, and who tomorrow will receive Brown degrees at the University's 250th Commencement.
The event also marked the commissioning of three new U.S. military officers — Mahmoud Samori and Caleb Walters, who were commissioned as second lieutenants in the Army, and Spencer Goodrich, who was commissioned as a second lieutenant in the Air Force. Goodrich is the first U.S. Air Force officer to graduate from Brown since 1971.
"There will always be a place for veterans and those who aspire to military service at Brown, and they are so often among the very best Brown has to offer," University President Christina Paxson said during the ceremony.
In addressing the crowd — which included U.S. Congress members Jim Langevin and David Cicilline (Class of 1983) as well as students, commissioning officers, family and friends — Paxson spoke of Brown's first efforts, in 1946, to help veterans receive a college education through the Veterans' Extension Division created by President Henry Wriston.
She contrasted that early program, which prohibited veterans from participating in extracurricular activities, with the many efforts made by the University and the Office of Student Veterans and Commissioning Programs to create a supportive experience for the veterans and students embarking on military careers. From the establishment of a "Dialogues on the Experience of War" program on campus and a new veterans' alumni council to hosting the Ivy League Veterans Council, Brown has focused on offering programming of quality and depth, she said.
 "Today we recognize this exceptional group of students," Paxson said, "who not only succeed at Brown but add so much to the learning environment."
New officers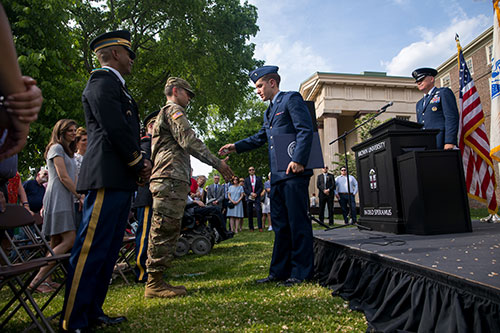 The three new officers commissioned this weekend will take different paths after Sunday's Commencement ceremonies conclude. Goodrich will attend the highly selective Euro-NATO Joint Jet Pilot Training at Sheppard Air Force Base in Texas. The combat pilot training program, Goodrich said, pools top U.S. Air Force student pilots with those of our NATO allies.
"I am humbled to serve as an officer in the world's finest Air Force… and to serve and represent the American people," said Goodrich, who is graduating with a master's degree in public affairs with an emphasis in comparative and global policy.
"I can say that studying public policy here at Brown has been an excellent academic capstone. It was a rewarding challenge to acquire a professional skill set to evaluate and tackle real-world problems, and I look forward to utilizing these skills in my military career and beyond."
Walters, who completed his fourth year in Brown's Program in Liberal Medical Education, will continue studies at Brown at the Warren Alpert Medical School next year. Depending on the medical specialty he chooses, he anticipates that he will have a post-medical school commitment of 12 to 14 years to the U. S. Army Medical Corps.
Samori, whose academic performance earned him a place among the top 10 percent of the more than 5,000 cadets nationwide, is slated to earn his Ph.D. in classics in the fall and will later serve on active duty in the Army infantry.
Graduating veterans
The Class of 2018 includes among the largest group of graduating veterans in recent years, with 15 students earning graduate degrees and four collecting bachelor's degrees, in fields ranging from cybersecurity to economics to education. And veteran and military students at Brown are a growing segment of the student population.
Becky Scheusner, who served in the U.S. Navy for 11 years and will graduate with a bachelor's in urban studies, was the sole entering veteran in the Class of 2014. Last year, a class of eight incoming veterans embarked on Brown careers.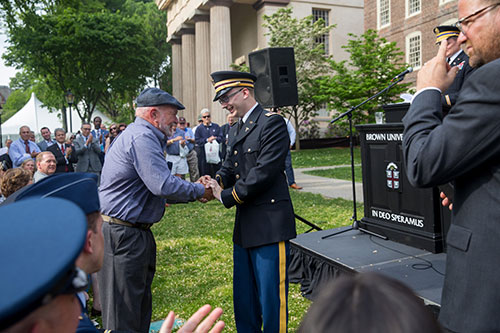 Some of the graduating veterans will stay in Providence, like Angela Cunningham, who served in the Army and the Army National Guard from 2005 to 2012 and deployed in 2007 in support of Operation Iraqi Freedom. At Brown, she earned an executive master's in science, technology and leadership (EMSTL) from the School of Professional Studies.
After graduation, Cunningham said she plans to launch a technology-based startup locally. She is also exploring opportunities in machine learning and robotics, she added.
"I came to Brown for the opportunity to be surrounded by truly accomplished and diverse professors, instructors and classmates," she said. "And also because I was looking for an executive master's that was not just an MBA, but offered something more, specifically for those with science, engineering and technology leadership background and experience. Brown's EMSTL gave me that and much more."
On top of serving their country, Brown's military students and veterans give back to the broader community, many at Saturday's ceremony were quick to point out.
Maurice Decaul, a former U.S. Marine, will earn a master of fine arts in playwriting. In addition to writing plays while at Brown, he taught free weekly playwriting classes to veterans and active-duty personnel at Trinity Repertory Company through the Veterans and Theater Institute (VTI). Decaul was instrumental in leading the program, according to Trinity Rep's community engagement coordinator.
Tristan Hood, a veteran who came to Brown through the Resumed Undergraduate Education program and who will graduate with a bachelor's in economics, has worked to serve others through such initiatives as a fundraiser for the Holly Charette House, a transitional housing program for homeless female veterans.
Along with Scheusner, Cunningham, Decaul and Hood, the group of U.S. military veterans earning Brown degrees in 2018 are: Andrew Campbell, Frederick Carlson, Christopher Casares, Jeffrey Fowlkes, Jeffrey Hall, Phillip Hickson, Timothy Johnston, Jonathan Macomber, Benjamin Maynard, John McCrillis, Catrina Mueller-Leonhard, Michael Perrottet, Jacob Pompey, Justin Ryan, Steven Tedeschi and Adam Wichman.