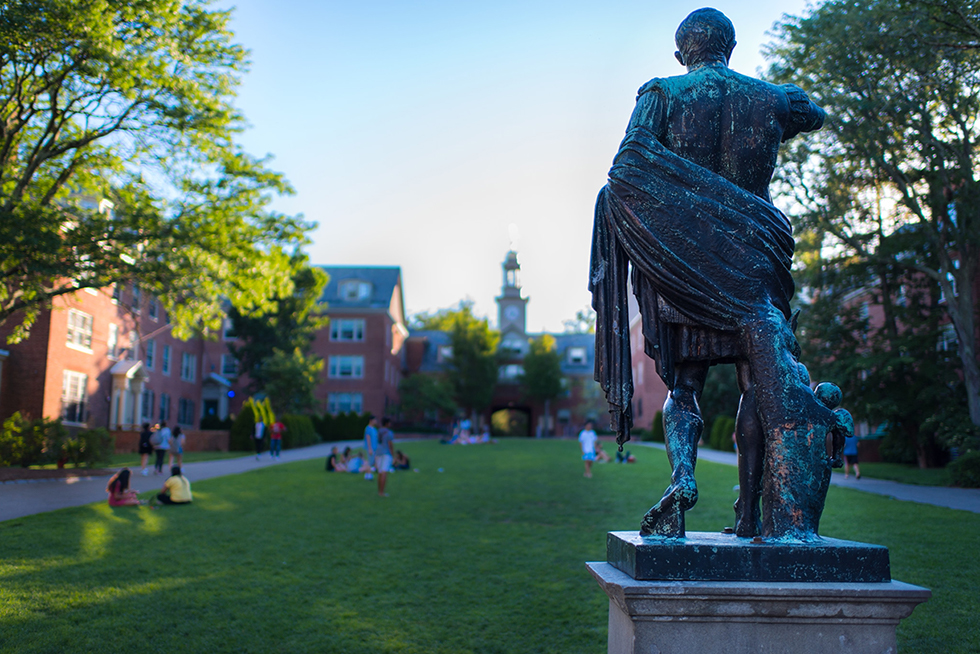 PROVIDENCE, R.I. [Brown University] — Even with many members of the campus community having ventured elsewhere, Brown University still buzzes with activity — academic and otherwise — in the summer months.
From camps and courses for teens to an academic conference on dark matter, from art exhibits to public lectures, there's much happening at Brown from June to August — despite the fact that many Brown students and faculty members are away from College Hill pursuing research projects, fellowships, work experiences, volunteer opportunities and other exciting adventures.
Among the many programs and initiatives that draw visitors are Brown's pre-college programs, the largest in the nation. The University's many offerings, including [email protected] and two dozen pre-baccalaureate college credit courses, bring 5,000 teen students to Providence to study in Brown's classrooms and online. Students hail from 70 countries and every U.S. state and territory, and dozens come from high schools in the Providence Public School District. The vast majority stay in Brown's residence halls, where they balance studies, co-curricular activities and opportunities to meet new people, giving them an early feel for college life.
"We give students a tremendous amount of freedom to set their own schedules, which teaches them valuable skills like time management and maintaining a healthy, balanced life," said Adrienne Marcus, associate dean of pre-college and undergraduate programs at Brown's School of Professional Studies (SPS). "We're trying to mirror the college experience, particularly the experience of the Open Curriculum at Brown, where students have access to a wide variety of courses in many disciplines."
A scan through Brown's vast pre-college catalog finds courses in bacteriology, number theory and music production. In one course, "Live Like It's 3000 B.C.," young students study engineering, history and design to discover how their ancient ancestors forged tools and created ink.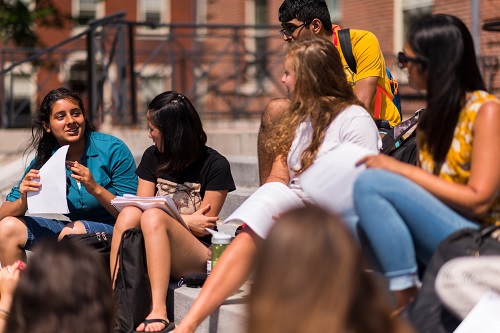 Some students participate in Berklee-Brown Creative Entrepreneurship, an intensive two-week course mounted in partnership with Berklee College of Music's Institute for Creative Entrepreneurship in Boston. Others come to campus for the Leadership Institute, where high schoolers learn how they can make powerful contributions to their communities through courses in global health, conflict resolution and social justice.
"The notion of an interdisciplinary course that helps teach ways to solve big issues is of real interest to young people," said Joi-Danelle Whitehead, associate director of pre-college programs and diversity initiatives at SPS. "The Leadership Institute is this wonderful opportunity for students to enrich their own minds and better their communities at the same time."
In a continuing effort to make Brown's pre-college programs accessible to students from every economic background, SPS this year awarded a record $1.7 million in financial aid, Whitehead said.
As if the pre-college students' youthful energy wasn't enough, thousands more young people will descend on College Hill for sports camps overseen by Brown coaches. Still other high school students will travel to Alaska, the Florida Keys, Atlanta, Costa Rica, Segovia and Rome to study everything from environmental leadership to business through programs organized by SPS.
Hundreds of Brown undergraduate and graduate students will also remain on campus, whether to serve as staff supporting pre-college students and sports camp participants or simply to continue their own studies during summer session.
According to Jim Chansky, assistant dean of summer session and pre-college programs at SPS, a roster of 46 summer session classes, open to current undergraduates and a few select rising high school seniors, packs all the work of a regular semester into half the time. And in addition to the nearly 500 summer session enrollees, more than 200 students will work side by side with faculty in laboratories, classrooms and offices as they conduct original research through the University's Undergraduate Teaching and Research Award (UTRA) program.
Elsewhere on campus, scholars from across the world will convene on College Hill for the North American Society for the Study of Romanticism conference and the Identification of Dark Matter conference, among other events.
Even for individuals not engaged in academic work this summer, there's plenty of activity. Members of the public can pick up fresh, locally grown produce from the Food on the Move farmer's market, held every Friday from 12 p.m. to 4 p.m. outside the School of Public Health. In July, they can also attend a series of lectures hosted by the Classical Association of New England's Summer Institute, most of which focus on imperial power through history, from Athens to the Americas. Visitors can seek refuge from the hot sun at the Haffenreffer Museum of Anthropology, where there are two exhibitions focused on contemporary Native American culture, and at the David Winton Bell Gallery, where local artists' work is on display through July 8. And for visiting prospective students and their families, Brown's campus tours run daily; tours focusing on engineering, sustainability and the physical sciences are also available.
Whether visitors come to Brown for a tour or a lecture, they may encounter a few detours as Brown continues work on construction projects in support of the University's academic priorities. 
Among this summer's undertakings is a renovation of the historic Wilson Hall, a stately fixture on the University's College Green. By the time classes begin in the fall, the 1891 building will be fully accessible, with state-of-the-art, flexible classroom and social spaces. And it will have a new name — Friedman Hall, in recognition of the gift from the Richard A. and Susan P. Friedman Family Foundation that launched the project.
Also scheduled for fall completion is the Watson Institute expansion, an ambitious project designed to accommodate the Institute's growing ranks with additional classrooms, study spots and office spaces, along with a large common area and a café. And above the Brown Bookstore, summer crews will be hard at work on a new home for the Carney Institute for Brain Science, the Annenberg Institute for School Reform, the Center for Computational Molecular Biology, the Data Science Initiative and the University's Department of Education.