PROVIDENCE, R.I. [Brown University] — As an undergraduate at Brown University, Matthew Lo wasn't initially sure where his passion for engineering would take him — that is, until he tore the cartilage in his shoulder while playing baseball.
"I had to get to know the doctors, go to physical therapy and learn how to function a bit differently," he said of the labrum injury he sustained. "At the time, I was in the Brown Design Workshop a lot, and I started to wonder what it would be like to build and design things for the human body."
Ultimately, the experience led Lo to complement his 2018 bachelor's degree from Brown with a master's in biomedical engineering — and then to co-found Koi Prosthetics. A student project-turned-business venture, Koi aims to develop and distribute affordable prosthetic limbs for amputees in third-world countries.
Since June, Lo and three other co-founders — fellow biomedical engineering graduate student Luke Morales; mechanical engineering undergraduate Matthew Borges; and 2018 graduate Claire Sise, who now studies at Columbia University — have been hard at work developing and testing prototypes. (A fifth co-founder, Lo's twin brother Alex, now works as a web developer in Chicago.) They've also developed a business plan and polished their elevator-pitch skills in preparation for meetings with potential distributors.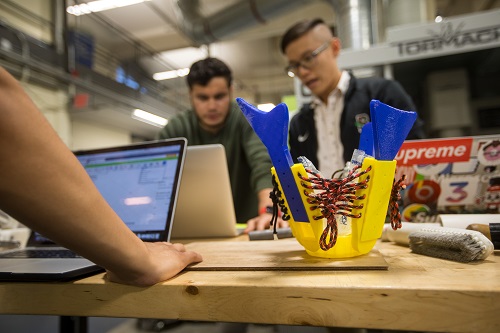 The project owes much of its progress to Brown's Breakthrough Lab, an intensive summer program that supports students' high-impact entrepreneurial ventures. Run by the Jonathan M. Nelson Center for Entrepreneurship at Brown, the initiative equips students with co-working space, expert mentoring and other resources they need to get great ideas off the ground.
"B-Lab has given us all the experience of going through a design process, interviewing people who would use the product, doing user testing and learning how to pitch our idea to an audience with little technical knowledge," Lo said. "No matter what career paths we all pursue, whether it's medicine or orthopedics or something else entirely, those will be invaluable skills."
This year, B-Lab supported 14 student-run ventures of different sizes and scales — from Toreva, a small press committed to introducing diverse African narratives into children's books, to Shelfsmart, a team of two students who use software and technology to help minimize food waste in supermarkets.
"Through B-Lab, students get a chance to not only learn about topics such as business models, financials and customer acquisition but also to apply what they learn," said Jason Harry, a professor of the practice of engineering at Brown and the director of B-Lab. "They are out in the real world, talking to potential customers, creating prototypes and developing networks."
The program culminates on Thursday, Sept. 20, in a Venture Showcase, where teams formally present their business proposals to the public.
"The Venture Showcase is the exciting conclusion of a summer spent exploring, experimenting and advancing ventures," Harry said. "It's a chance for the public to see the creative way in which Brown students tackle global issues head-on."
From idea to execution
The idea to develop prosthetic limbs originally came from Trang Duong, who graduated from Brown in May. For two completely independent reasons — hidden landmines that still do damage and a high rate of motorcycle accidents — the population of amputees is unusually high in Duong's home country of Vietnam. Though not disabled herself, Duong says she can see how difficult it is to live in Vietnam with a missing limb — many buildings there don't have ramps or elevators; for many, reliable medical care is hours away; and prosthetic limbs cost more money than most Vietnamese earn in a year.
As an undergraduate, Duong founded a company called Penta and brought Lo, Morales and others on to design a prosthetic knee for amputees in developing countries. As part of the project, she invited the group to Vietnam so they could see firsthand the everyday challenges disabled Vietnamese face.
"Designing affordable and appropriate medical devices for a developing country is very challenging," Duong said. "It requires on-the-ground work with the population for whom you are designing."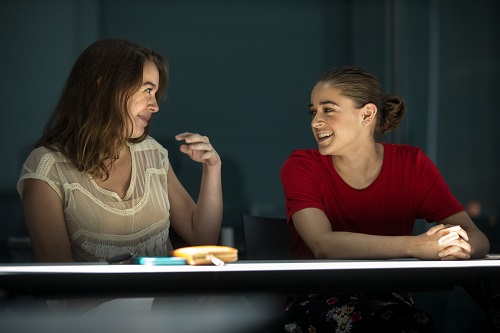 The journey proved a game-changer for Penta's engineers. As the scope of the project expanded, everyone agreed the engineering team would be better off forming a separate partner company — and thus Koi Prosthetics was born. Today, Koi concentrates on developing new devices, while Penta is devoted to repurposing and refitting used American prosthetics.
According to Morales, the group had previously been laser-focused on developing an affordable prosthetic knee, Morales shared, but the trip to Southeast Asia made clear that an affordable socket was equally important. The socket, an integral intermediary between a person's residual limb and prosthetic knee, is typically custom-molded and thus quite expensive, Lo explained.
"The hospital gets a molding of a person's residual limb done, and then they create a one-of-a-kind socket to fit the mold," Lo said. "The process takes as long as a week. In developing countries, getting a socket that fits is not only prohibitively expensive but also time-consuming and logistically difficult, because it requires multiple trips into the city to the nearest hospital."
The group focused on developing a universal socket that would minimize both cost and time spent at a hospital. They're currently creating a prototype that's durable yet malleable — something that can adapt to countless sizes and shapes, can last for many years and can be adjusted by the wearer throughout the day.
"Someone who has a custom prosthetic here in the U.S. usually has to visit the doctor when something feels uncomfortable and needs an adjustment," Lo said. "By making a knee that's mechanical rather than computerized, we've been able to design a socket that can be adjusted without making a trip to the hospital."
On to the Bear's Lair
Earlier this year, when it became clear that Koi could become more than an academic exercise, the four co-founders turned to leaders at the Nelson Center for Entrepreneurship for advice.
"We started to get outside interest, and we knew that as engineers and designers, we already had the skills in our toolbox to develop a prototype," Morales said. "What we lacked were the skills to get that design into the marketplace."
Jason Harry invited the group to be part of B-Lab's 2018 cohort — and over the next few months, the Brown students and alumni got a crash course in venture development. B-Lab's unique curriculum, which invites entrepreneurs and experts to campus, educated them on how to build a product, articulate a mission and ensure long-term success. Halfway through the summer, the group also participated in Bear's Lair, a "Shark Tank"-like exercise in which each venture pitched its ideas to a panel of experts and received valuable constructive criticism.
"B-Lab's mentors helped us develop some foundational business skills, teaching us things like how to survey a large foreign population and how to operate a business with multiple founders," Morales said.
While neither Morales nor Lo is sure what kind of work they'll do in the future, they agree that what they learned through B-Lab will prove applicable regardless.
"How to manage teams, how to divide and conquer, how to design something and bring it to your target population — those are all important skills that can carry into any type of business or industry," Morales said.