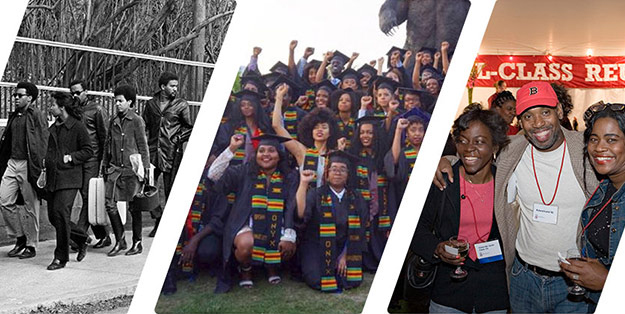 PROVIDENCE, R.I. [Brown University] — In 1968, a year of upheaval in the Civil Rights Movement, 65 black students enrolled at Brown University marched down College Hill to Congdon Street Baptist Church. There they camped for three days, pressing the University to significantly increase the number of black students in each entering class.
This weekend at Brown, 50 years after the 1968 Black Student Walkout, more than 600 alumni of color and family members will converge on campus to commemorate and reflect upon the landmark moment, reconnect and build community, and engage in an important dialogue on the progress made on diversity and inclusion at Brown.
Brown's Black Alumni Reunion begins today, Friday, Sept. 21, and will run through Sunday, Sept. 23. It is the fourth — and largest — reunion of black alumni in Brown history.
"This special Black Alumni Reunion is not only a time to honor defining moments in Brown's history," University President Christina Paxson wrote in a Brown Alumni Magazine preview of the event. "It is also a time to look ahead at how all of us in the Brown family can continue breaking ground on the unfinished business of securing racial equality and social justice — in our communities, nations and the world."
Convened by the Inman Page Black Alumni Council (IPC) with support from the Brown Alumni Association and from the University, the reunion will feature speakers and moderated conversations examining the 1968 Walkout, a historic Brown event that received national attention and catalyzed a move toward a deeper commitment on the part of the University to diversity as a cornerstone of academic excellence.
Workshops and seminars throughout the weekend will address equity and inclusion at Brown today, as well as broader societal challenges that impact people of color.
After an address by President Paxson on Saturday evening, Brown President Emerita Ruth J. Simmons will deliver the weekend's keynote speech. The IPC will also present Simmons with the inaugural Black Legacy Award for her leadership, activism and commitment to social and educational justice. The Saturday evening event will be live-streamed via the Brown website beginning at approximately 8:00 p.m.
Among other highlights is a conversation with 10 participants from the 1968 Walkout; a moderated discussion on Brown's progress toward the goals of its Diversity and Inclusion Action Plan; and events exploring timely topics ranging from health disparities and educational inequity to economic prosperity, political influence and diversity and inclusion in the sciences.