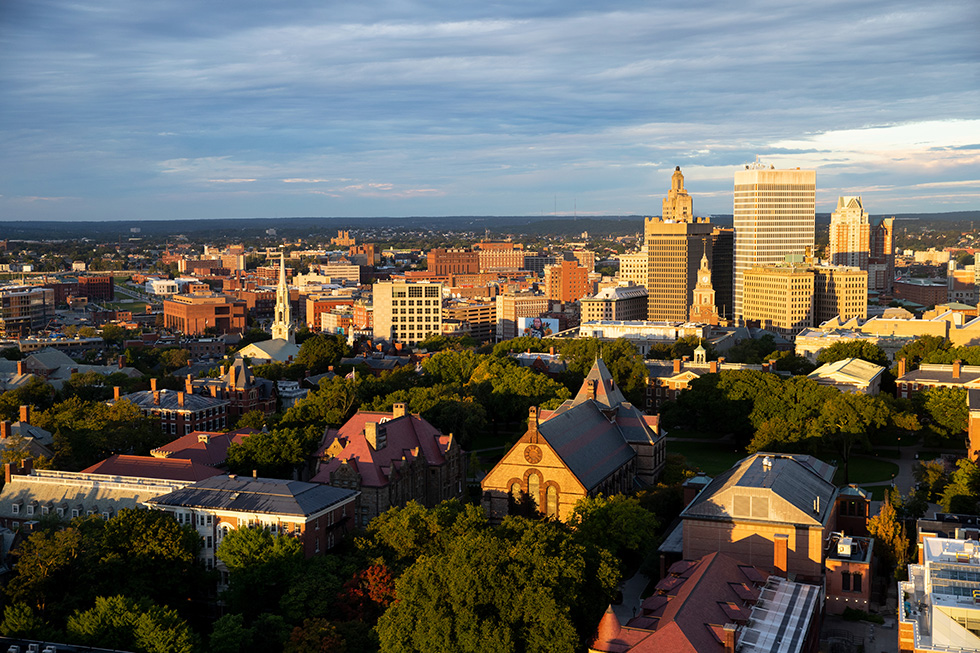 PROVIDENCE, R.I. [Brown University] — On Thursday, Nov. 8, Brown University finalized a memorandum of understanding (MOU) with the student organization Stand Up for Graduate Student Employees (SUGSE) and the American Federation of Teachers (AFT) that establishes dates, times, locations and procedures for an election to determine whether or not eligible graduate students will be represented by a union.
The MOU follows an Oct. 11 notice from SUGSE/AFT of their intent to file a petition to hold an election at the University, an action that has been expected since Brown and SUSGE finalized an agreement in June 2018 that set the terms for a possible union representation election.
Approximately 1,250 doctoral and master's students enrolled in the Graduate School at Brown and engaged in research or teaching positions will be eligible to vote. The election will take place at four locations over four business days from Nov. 14 to 19. The American Arbitration Association (AAA) will manage the election, held by secret ballot.
The MOU includes an amendment to the pre-election agreement that establishes provisions for eligible voters currently studying or conducting research outside the U.S. to cast votes via absentee ballots.
Brown Provost Richard M. Locke said advancing a climate that supports the free exchange of ideas on unionization has been the University's priority since a 2016 National Labor Relations Board (NLRB) decision granted graduate teaching and research assistants at private colleges and universities the right to decide whether or not to unionize.
"Though the University's primary relationship with graduate students is as students, we have been consistent in supporting the right of eligible students to make this critical decision on unionization for themselves," Locke said. "Since the 2016 decision, our values of truth, respect, fairness and free choice have shaped interactions between the University and SUGSE. With an election days away, Brown will do everything possible to ensure that eligible graduate students are well-informed and can discuss and debate unionization issues openly."
Locke said that the pre-election agreement, the MOU and the choice to have the AAA manage the election reflect a commitment at Brown to avoiding the polarization and divisiveness that the potential for graduate student unionization has prompted on some campuses.
The election will be decided by a majority of students who actually vote — not a majority of those eligible to vote. According to NLRB rules, if a simple majority of voters choose to unionize, then all individuals in positions covered by the bargaining unit would be represented by the union.
Andrew G. Campbell, dean of the Graduate School and a professor or medical science, told Brown's graduate students in an Oct. 17 community email that because individual students cannot opt out of union representation, the vote will have implications for everyone.
"I urge you to make an informed decision," Campbell wrote. "Your participation in the election process is vitally important and will ensure that your view is heard and your vote counts. My hope is that the outcome of the vote will reflect the choice and opinion of the entire graduate student community."
If the students vote to unionize, the University and SUGSE/AFT would bargain collectively on a contract that covers "wages, hours and other terms and conditions of employment."
"The decision on whether or not to allow a union to represent graduate students is a consequential one, with potential impact on issues ranging from health benefits to compensation and more," Locke said. "Before any vote is cast, we encourage all students to become fully informed of the issues and of the University's commitment to working with graduate students through a system of shared governance to provide highly competitive stipends, health, dental and parental leave benefits, and other critical support."
As part of its work to ensure that all eligible voters are fully informed on both the election process and on the issues at stake in the unionization decision, Brown created a "Be Informed" website with complete details. Brown will also convene an open forum for all interested graduate students to share information and answer questions before the vote takes place.
Eligible voters are defined specifically in the pre-election agreement as Brown Ph.D. and/or master's students currently enrolled in the Graduate School who are engaged in research or instructional services as teaching assistants, research assistant and/or proctors during the semester in which the election is held — or those who performed such services in the Fall 2017 or Spring 2018 semester.