PROVIDENCE, R.I. [Brown University] — Rhea Stark, a Brown senior, has won a 2019 Rhodes Scholarship. The award, one of the highest academic honors in the nation, provides recipients with all expenses for two or three years of graduate study at the University of Oxford in England. 
Stark will complete the requirements for her degree this December and will graduate in May with a dual concentration in archaeology and the ancient world and Middle East studies. At Oxford, she intends to pursue a master's degree in Islamic art and archaeology.
A Sunday, Nov. 18, announcement from the Rhodes Trust, the organization that awards the scholarships, noted that in Stark's work as an archaeologist and researcher, she "uncovers buried histories by elevating the narratives of everyday people, particularly women and people of color." While at Brown, Stark has also counseled high school students as a certified sexual health educator at the Met School, a network of six small, public high schools located in Providence and Newport, Rhode Island.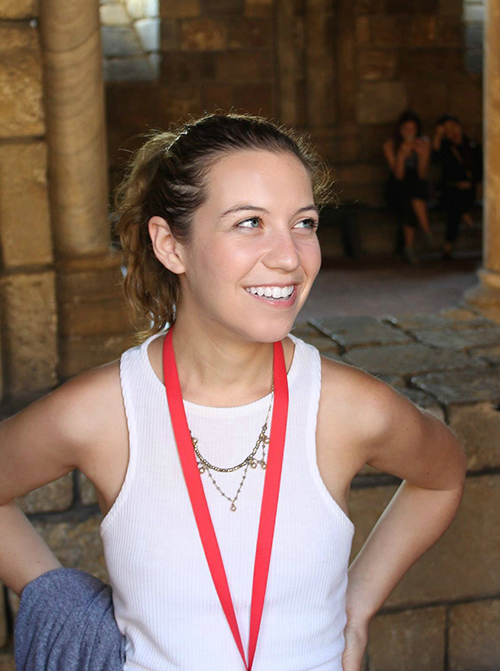 "I am extremely grateful to have attended Brown, which provided me with both the opportunity and support to explore my interests in archaeology, the geopolitics of the Middle East and the art of the Islamicate world," Stark said. "Professors at Brown have consistently urged me to consider the social implications and interdisciplinary possibilities of my studies. Their guidance and engaged scholarship has made me a better student and scholar. It is undoubtedly because of my professors in the archaeology, art history and Middle East studies departments that I will be continuing my study of Islamic art and archaeology and museum decolonization at Oxford next year." 
Rhodes Scholars are chosen based on their academic record, as well as their leadership, personal qualities and demonstrated commitment to the betterment of society. Applicants are first endorsed by their college or university. This year, more than 2,500 students sought their institution's endorsement, with 880 ultimately endorsed by 281 different colleges and universities. Next, selection committees in each of 16 U.S. districts invite the strongest applicants to interview with them. Each district committee makes a final selection of two Rhodes Scholars from the candidates of the states within the district.
"Brown is thrilled that Rhea Stark is among this year's newly selected group of Rhodes scholars," said Linda Dunleavy, associate dean of the College for fellowships, who advises undergraduates and recent graduates applying for graduate scholarships. "Remarkably interdisciplinary in her academic pursuits in archeology and Middle East studies, Rhea is deeply engaged in cultural and social justice issues. Brown's committee was tremendously impressed with the quality of her application and her thoughtfulness and confidence during our practice interviews. We couldn't be more proud of Rhea." 
The 32 Rhodes Scholars chosen from the United States will join an international group of scholars chosen from more than 60 countries around the world. They will begin studies at Oxford in October 2019.
"This year's American Rhodes Scholars — independently elected by 16 committees around the country meeting simultaneously — once again reflect the extraordinary diversity that characterizes the United States," said Elliot F. Gerson, American secretary of the Rhodes Trust, noting that almost half of the winners are immigrants or first-generation Americans and that the 21 women in the 2019 Rhodes class are the greatest number ever elected. 
"They are certain to enrich our future," Gerson said.