PROVIDENCE, R.I. [Brown University] —  Three years ago, when Matlaleng Babatunde took "Introduction to Africana Studies" at Brown, she couldn't help but notice that one particular year kept coming up in lectures and conversation.
"I remember being struck by how often 1968 emerged as a pivotal year of change and uprising," said Babatunde, now a senior completing Africana studies and sociology concentrations. "I was eager to learn more about the historical and sociopolitical factors that created this groundbreaking year of global action."
This semester, Matlaleng is getting a deeper dive into that year of activism through a course titled "1968: A Year in Review." Led by Associate Professor of Africana Studies and History Francoise Hamlin, the class welcomes a series of guest lecturers who touch on the groundbreaking events of that year — everything from changes in the music and whaling industries to radical political shifts among the world's youth.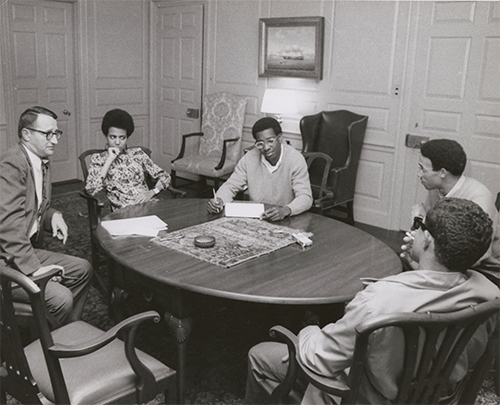 According to Hamlin, the course was created to recognize the anniversary of the 1968 Black Student Walkout at Brown, a defining moment in the University's recent history.
On Dec. 5 of that year — 50 years ago this week — 65 of the 85 black students enrolled at Brown walked out of classes and marched to Congdon Street Baptist Church. There they found shelter as they negotiated with Brown leaders for increased social, academic and financial support for black students.
Four days later, the walkout ended when they obtained the University's agreement to launch an effort to significantly increase the number of black students in each subsequent class, supported by $1.2 million in new scholarship funding for recruitment. The students' actions also spurred the University to create an Afro-American studies program, now the Africana studies department.
"These students worked so hard, and in some cases sacrificed everything, to come to Brown, yet they were brave enough to put it all on the line to demand more inclusiveness," Hamlin said. "They came to an agreement with the University that really did make a difference, that created spaces of nurturing. The walkout changed the face of Brown."
Hamlin's course puts the efforts of those students in historical context, as students explore other major happenings in the year 1968.
"There's something unique about sport," Trimbur said to the class. "It fosters discussion about difficult topics in a way that wasn't available before."
Hamlin said that students enrolled in the course attended talks and performances held as part of September's Black Alumni Reunion and November's 50 Years Since '68 conference, where they learned that Brown student voices were nearly as key as those of Carlos, Smith and other athletes in the national conversation on race.
"We had three alumni who were instrumental in organizing the walkout come to speak to the class ahead of the reunion," Hamlin said. "They talked from the heart about what they did and what Brown looked like then. I think many students saw themselves in the students of 1968 and began to ask themselves, 'What am I willing to give up to fight for what I believe in?'"
Senior Emma Caviness said that attending the reunion, conference and class lectures has offered valuable insight into how past events have helped shape today's world — and that learning about the social movements of 1968 has made her feel "less alone" in her desire to address disparities in privilege on campus and beyond.
VIDEO: 1968 Walkout Reflections at Black Alumni Reunion 2018
First-year students Ife Anyoku and Allison Singleton had both already learned about the 1968 walkout from other professors by the time they attended the Black Alumni Reunion. But hearing about those events multiple times has only increased their interest in the subject.
"I've taken classes from a lot of the professors who have guest lectured this semester, so it's almost like I've learned some of the same lessons twice," Anyoku said. "It's been so valuable, because it helps me connect things. I've learned that no event in history is isolated. Everything happens as a result of something else."

Hamlin says the assignments that she has given students — to create an annotated timeline of that year's events, and to write three op-ed pieces that root today's 1968 anniversary in historical context — demand that students draw connections between past and present, something she believes is key to understanding our world.
"We're looking at a generation of those who cut their teeth on this kind of protest, who thought about the world in a different way, and now we're almost living in the backlash of that moment," Hamlin said. "It shows how history and politics is so cyclical and how we need to know history in order not to repeat the same mistakes."