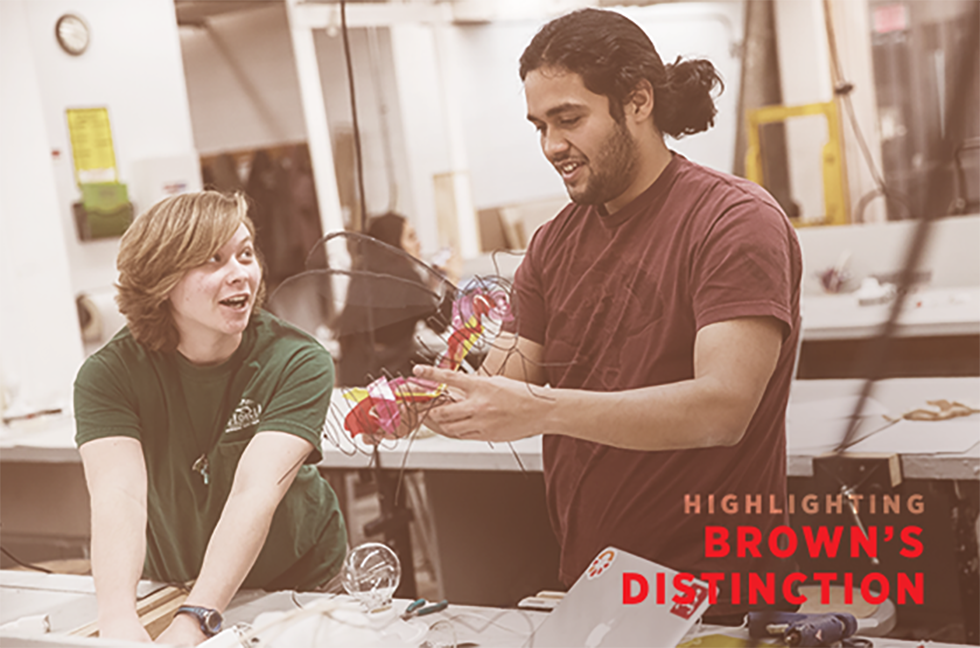 PROVIDENCE, R.I. [Brown University] — In 1969, the Brown faculty approved the University's "new curriculum," now known as the signature Open Curriculum, boldly departing from a prescribed set of core requirements in favor of cultivating intellectual risk-taking.
While Brown undergraduates often find the rigor of building a self-directed course of study highly demanding, the result is a vibrant intellectual environment in which students are fully engaged as they explore courses in any and every discipline, priming them to think creatively and to develop innovative solutions to critical issues.
A half century later, Brown continues to lead the way in educational innovation. Today, students have a hand not only in devising courses of study, but in shaping those courses directly. As Dean of the College Rashid Zia describes, learning at Brown is a uniquely active experience — one in which students routinely lead research projects, design independent studies and contribute to the University's collective scholarly impact.
"Our goal is a high one — that each and every one of our students is engaged, empowered and transformed by their education," Zia says. "What's unique about Brown is that we elevate the role of students in achieving that goal as active participants in framing their own education."
At Brown, as students team with faculty, staff, community partners and each other, classrooms become research and development labs, recording and design studios, and startup headquarters. And while the academic focus may differ from classroom to classroom, a common theme often emerges — the shared desire, among students and faculty, to learn, invent and research while positively impacting society.
"Our students are deeply engaged in every aspect of the University's mission," Zia says. "Students are active participants in creating, sharing and applying knowledge both inside and outside the classroom through research, teaching and engaged scholarship."
From a collaborative course examining why democracies fail to a student-developed virtual reality experience that lives at the intersection of art, history and technology, there are numerous examples that highlight what Brown's innovative approach to undergraduate education can look like in action. Here are a few:
(1) Patenting solutions to real-world challenges
Brown excels at research and teaching that integrate knowledge from diverse fields of study. It is equally committed to deploying scholarship to address complex problems. At the School of Engineering, a capstone course for biomedical engineering concentrators stands at the intersection of those ideals.
The course starts with real-world problems in medicine presented by practicing physicians. It ends with innovative solutions devised by student teams, some of which — recently, for example, a system to aid in the implantation of electrodes used in deep brain stimulation — end up patented and marketed.
"The idea was to reach out to practitioners — people in the field who have firsthand knowledge — and let them give us the problems," said Professor Anubhav Tripathi. "By the end of the semester, we like to see students come up with a proof of concept for a solution and a realistic attempt at a prototype. Students can't just turn in a paper and get a grade. This is about innovation."
In Spring 2018, recent Brown graduate Ileana Pirozzi worked with a team to design an improved aortic filter to capture debris before it exits the heart during cardiac surgery, critical in preventing strokes. The problem-based approach and chance to work side-by-side with a surgeon made for an invaluable experience, she said.
"As a biomedical engineer, it's about bridging the gap between the engineering side and the medical side," she said. "To effectively build that bridge, engineers need to know how to communicate with the doctors. Being able to sit in on surgeries and to look at existing medical devices to understand why they're failing… was something you just can't get in the four walls of a classroom."
(2) Creating a cross-university collaboration
Even in classrooms that appear traditional, exciting approaches to education are flourishing. Recently, Brown collaborated with more than 20 other institutions across the globe to develop a cross-university course on the ways in which democracies can fail.
What began as a lunchtime conversation between Brown faculty members Robert Blair and Jeff Colgan and a colleague at Dartmouth grew to become a course called "Democratic Erosion" — developed, according to the course description, "to help students critically and systematically evaluate the risks to democracy both here and abroad through the lens of theory, history and social science."
The class may take place in a conventional setting — a discussion table covered in laptops and notebooks — but it's far from ordinary. Students first develop a theoretical framework, learning how democracies develop. Then they delve into democratic erosion, or how democratic institutions are undermined. They study Venezuela, Nicaragua, Zambia and Poland as snapshots of how the phenomenon plays out in different parts of the world, Blair said, and later create case studies on democratic erosion in a foreign country.
Blair says the participation of so many institutions brings greater ideological diversity and creates a broad conversation among students, who contribute to a common blog and analyze each other's work. It also fosters camaraderie among the students and faculty who collaborated on the syllabus and assignments.
Erin Brennan-Burke, a Brown undergraduate who completed a case study on Burkina Faso, said she appreciated the open dialogue Blair fostered in class, as it encouraged everyone to take initiative and enrich the discussion with original ideas.
"I'm not sure I'm any more confident about the state of democracy in America having taken the class, but I do feel like I can more critically analyze the state of democracy around the world," she said.
(3) Copilots in musical composition
Whether it's with other universities, other departments or visitors to campus, collaboration plays a key role in every Brown student's education. A recent course in the music department took the collaborative spirit of a traditional musical residency to the next level.
Typically, when professional musicians are in university residency, they teach classes in their specialty fields and work with students in workshops and master classes. When world renowned violinist Tracy Silverman came to Brown, he did that and more.
For one semester, music students had a chance not only to confer with Silverman on their composition process but also to hear the genre-bending violinist perform their works in concert. The course in which he participated, "Timbre in Electroacoustic Music" taught by Eric Nathan, gave budding musicians a glimpse into the life of a professional composer. While many students have opportunities to compose for friends or ensembles, it's uncommon to have the opportunity to engage in prolonged dialogue with a distinguished musician as the composition process unfolds.
"I've seen these works in their infancy, when they just starting, when they were sketches and now when they're all completed," Silverman said of the students' compositions. "Along the way, I was available to play them for the students so they could hear how they sounded, and so they could get feedback from me about playability. They could hear what works and what doesn't and adjust their pieces."
Maita Eyzaguirre said the course, which married a scholarly approach to the concept of timbre — the character of a musical sound — with the creative work of composition, helped ground her thinking and approach.
"It brought to life many different aspects of sound and music that I had thought about before but had never had the chance to explore so thoroughly," she said.
(4) Preserving — and making — history
Often, new insights on current and future challenges to society — climate change and pollution, for example — require a look back in time. Through a course titled "Rhode Island Flora," budding botanists at Brown rove all over the forests and beaches of the Ocean State collecting plants and flowers — then they convene in a lab to preserve, identify and label each species. Their plant samples are added to the University Herbarium, a record of tens of thousands of North American plant species dating back as far as the 1820s.
Collections manager Tim Whitfeld says that in four years of teaching the class, his students have added around 500 samples to the collection. Their contributions are more than just interesting specimens; they're also useful objects for high-impact studies. Two years ago, Whitfield co-authored a study with former student Sofia Rudin that tracked the history of heavy metal pollution in Providence.
"Sofia was working in the Herbarium doing digitizing and she noticed that certain specific localities in and around Providence — for instance, Mashapaug Pond on the West Side — were often mentioned on the specimen label of some early 20th century collections," Whitfeld said. "She had the idea of, 'What if we went back to these locations, collected the same species and did a comparison of lead and various other heavy metals?' We showed that for some elements there wasn't much change, but lead concentration has decreased."
The Herbarium's records have many more stories to tell. Over the course of his four years working in the facility, Brown graduate Lance Gloss discovered shifts in vocabulary through history, spotted trends in the spread of invasive species and tracked the environmental effects of U.S. westward expansion.
"There are really interesting records of colonialism here and of the development of science," Gloss said.
(5) From history to (virtual) reality
At Brown's Granoff Center for the Creative Arts, students have worked with one faculty member to combat another growing problem — declining engagement among young learners.
In light of a 2015 Gallup poll indicating that about 50 percent of high school students report feeling disengaged in class, virtual reality (VR) artist-in-residence Adam Blumenthal set out to design a VR experience that would immerse kids in a piece of revolutionary Rhode Island history. As part of an independent study project titled "Virtual Reality for Education," he and 14 undergraduates collaborated to create a VR simulation of the Gaspee Affair. The 1700s incident, in which colonists burned a British schooner near present-day Pawtuxet Village, was a key event in the runup to the Revolutionary War, according to Blumenthal.
Hannah Seckendorf, a cognitive science concentrator at Brown and project participant, said that VR is often referred to as an empathy machine. "In school, a lot of that lack of engagement is students feeling that the material they're studying isn't relevant, or that it has no importance in daily life," she said. "In VR, it is relevant to you, because it's your environment."
The project was managed, Blumenthal said, as a research and development lab that would both review literature on VR for education and produce a prototype that would work with local students.

"They were great collaborators," he said of the Brown students, who represented more than a dozen concentrations, from computer engineering to visual art. "What I taught them was how an interactive media production works, from concept to almost completion."
An immersive education
Immersion isn't just the domain of VR artists. Often, the immersive educational experiences offered outside of Brown's fall and spring semesters can be among the most innovative. Brown's Wintersession — a four-week mini-term sandwiched between semesters — gives students the opportunity to broaden their skillsets in unique courses that often combine several fields of study. 
Senior Melody Hsu, an applied math concentrator, took a Wintersession course titled "Deep Learning in Brains, Minds and Machines" in January 2018. She said it was an ideal way to get hands-on lessons on new skills that would be directly applicable to any number of careers she might consider after graduation, including machine learning, computer vision, cognitive psychology and neuroscience.
"For me, it was a really good way to build my computer science foundation and explore some really cutting-edge topics in artificial intelligence," she said.
Another Wintersession course, "Illuminated Sculpture," brought together students from a range of disciplines to create three works of art that made innovative use of light. They worked day and night building original creations using hand tools, machines and computer software, all while studying color theory and other art concepts. Instructor Paul Myoda said the brevity of Wintersession made his class, usually a semester long, more immersive and collaborative than usual. 
"An esprit de corps developed among the students very quickly," he said. "I think the students appreciated it because they usually juggle four or five classes. You could tell they were excited about the kind of focus the course allowed."
(6) Crash course in entrepreneurship
While some students take a deep dive into a single subject over winter break, others stay on campus in the summer months to perfect their elevator pitches. Breakthrough Lab, a program of the Jonathan M. Nelson Center for Entrepreneurship, offers students time, money and mentorship to launch their own enterprises.
A synthesis of all that makes a Brown education unique, B-Lab harnesses students' intellectual curiosity and drive by investing in their business ideas — all of which strive to make a positive social impact.
The intensive eight-week accelerator program, in which students work with mentors to develop and market their ideas, exemplifies the University's distinct action-oriented approach to both entrepreneurship and education, says B-Lab director Jason Harry, an associate professor of the practice at the School of Engineering.
"The goal of B-Lab is to develop world-class entrepreneurs and high-quality ventures of all types that can effect scalable solutions to serious problems," Harry said. "But here at Brown, we also think of entrepreneurship as a thought process, a way to think and act in the real world even outside the context of startup companies."
Some successful B-Lab applicants are already deep into their ventures — like the students behind Brevite, a line of adventure-ready camera backpacks, who were already selling their products online but wanted to scale up. Others are just past the idea stage — like recent participants from Che!, a quinoa-based snack food.
No matter where they start, though, each team emerges at the end of the summer with not just a set of essential entrepreneurial tools tailored to their particular venture, but also with a mindset that will prepare them for success regardless of what the future holds for them.
"B-Lab gives students actionable life skills that transcend entrepreneurship and that they will return to again and again," Harry said. "This work is immensely challenging and complex. And that's what the real world is like, too."