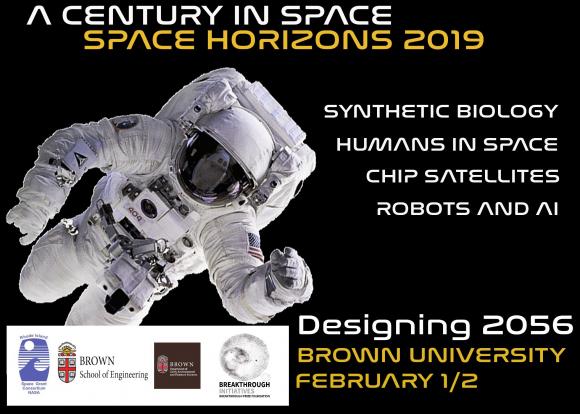 PROVIDENCE, R.I. [Brown University] — Two former NASA astronauts will be at Brown on Saturday, Feb. 2, to talk about their experiences in space and discuss the future of human activities away from our home planet.
Jeffrey Hoffman, whose work in space includes delicate repairs to the Hubble Space Telescope, will discuss the use of space-based resources to support long-term human habitation in space on the Moon and on other planets.
James Newman is a veteran of four space shuttle flights between 1993 and 2002, including the first in-orbit assembly of the International Space Station. He will give a talk titled "Humanity as a multi-planetary species."
The presentations, which are free and open to the public, are part of Space Horizons, an annual conference that gathers space industry professionals, researchers and students to discuss emerging technologies, issues and ideas in space exploration.
"The point of Space Horizons is to explore new technologies which will change how and what we do in space," said Asutosh Swain, one of the student organizers of the event. "We take stock of where we are now, think about what our future mission goals are and [discuss] the important problems that need to be solved to get there."
Astronauts obviously have a unique perspective on these types of issues, Swain says.
"They'll talk about the human aspect of space exploration," he said. "They have the experience of actually being in space, so we want to hear from them what will humans be doing in space in the future."
This is the 11th year for Space Horizons, which is the brainchild of Rick Fleeter, an adjunct associate professor in Brown's School of Engineering and founder of a company that pioneered small satellites. Each year, the conference is centered around a theme. This year's is thinking about what space exploration will be like in 2057, which will mark 100 years after the launch of the world's first artificial satellite.  
Fleeter says he and his Space Horizons colleagues identified four areas that will see a critical evolution over the next few decades: the role of humans in space, robotics and artificial intelligence, the use of tiny microscale satellites, and synthetic biology (the engineering of organisms better adapted to extraterrestrial environments). In addition to the presentations by astronauts Hoffman and Newman, there will be a full slate of talks on Saturday from a range of researchers, industry professionals and NASA personnel that will address each of the focus areas.
Students from Brown and elsewhere are also a key part of the conference, Fleeter and Swain say.
"At Brown we have a lot of students interested in space industry," Swain said. "Having a conference like this helps us build connections, understand where the industry is and where it's headed. That helps us decide the path we want to take."
The fact that the conference is forward-looking makes it especially useful for students, Fleeter says.
"For students thinking about what they want to be studying, they need to realize that technologies people are just starting to talk about are going to be the students' bread and butter when they're 50 years old," he said. "That's kind of a cool thing. If we get that message across on Saturday, that will be super exciting."
Hoffman's presentation will be at 9:30 a.m. on Saturday, Feb. 2, in Room 190 of Brown's Barus and Holley building at 184 Hope St. in Providence; it will be followed by an informal meet-and-greet opportunity. Newman will speak at 11:30 at Hazeltine Commons in the Brown Engineering Research Center at 345 Brook St.
The full schedule is available on the Space Horizons website.