PROVIDENCE, R.I. [Brown University] — After more than six years as president of the World Bank, Jim Yong Kim feels confident that the world's future rests heavily on its collective response to climate change — and particularly the willingness to invest in renewable energy.
"You have to ask yourself, 'What forces in the world are powerful enough to drive complete change in energy and infrastructure?'" Kim said. "Unfortunately, I see no force greater than market forces."
In a Thursday, Feb. 7, conversation at Brown University's Watson Institute for International and Public Affairs, Kim said few leaders across the globe will commit to full investment in renewable energy as long as investment in fossil fuels remains more lucrative. One of the keys to pushing renewable energy forward, he said, is a global tax on carbon dioxide emissions, often called a "carbon price."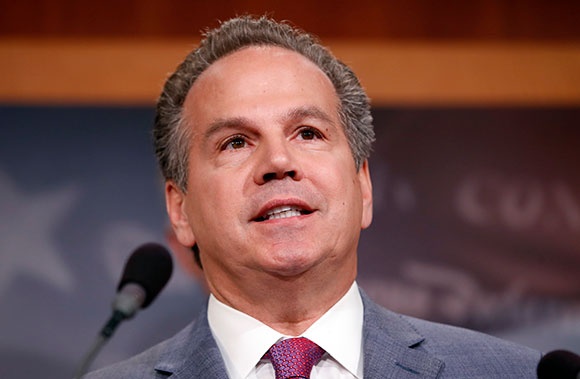 "Investing in solar and wind [energy] instead of coal has to be such a great business proposition that people are running to do it," Kim said. "We won't get that until… leaders feel they need to get a global price on carbon. We have to find ways of aligning market forces such that people are running to make [renewable energy] investments literally out of greed."
The discussion with Kim, moderated by Watson Institute Director Edward Steinfeld and attended by members of the Brown community and the public, was in part a welcome reception. Days before the scheduled event, Kim, a Class of 1982 Brown alumnus, was appointed the institute's newest senior fellow. Steinfeld assured attendees that this event with Kim would be the first of many, noting that he would return to campus at points during the spring semester.
The news of Kim's appointment came on the heels of his resignation as World Bank leader, effective Feb. 1. Kim was up front about his departure, sharing that one factor in his decision was frustration with global leaders' response to climate change. But he noted that his tenure wasn't without accomplishments in that arena: Just one month before his resignation, the financial institution announced it would double its current investments in climate action to $200 billion over the next five years, significantly boosting funds for adaptation and resilience. It was one of Kim's proudest achievements, he said.
"We became much more involved in climate-change-related activities," he said. "We became the largest funder [in the world] in these activities, actually."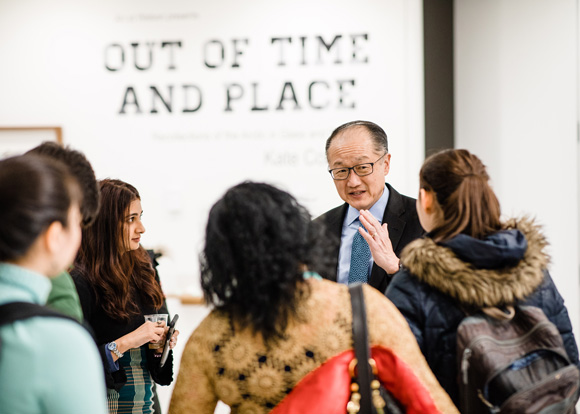 During his time as president, the World Bank also became involved in refugee issues — investing in infrastructure and health care in refugee camps — and in pandemics, he noted. The latter was particularly close to Kim's heart, given his background in public health: Kim earned an M.D. from Harvard Medical School after Brown, and co-founded the nonprofit organization Partners in Health. Later, he served as director of the World Health Organization's HIV/AIDS department.
"It was almost a freak accident that I happened to be an infectious disease doctor as Ebola [virus] exploded in Sierra Leone and Guinea," Kim said of the 2014-2016 outbreak. When a former colleague expressed uncertainty that the virus could be contained, "I said, 'Why isn't anyone responding to this?' And there was no good answer."
In 2014, the World Bank pledged $400 million to stem the spread of the virus, then a few major countries followed suit with aid. Now, the Bank has $450 million in aid set aside in the event that an epidemic reaches a particularly serious stage.
Kim, who earned his bachelor's at Brown in human biology, stressed to students in attendance that a degree in science, technology, engineering or math isn't the only path for someone who hopes to effect global change. He urged students to pursue whatever inspires them most.
"Find something here that gets you excited," he said. "It almost doesn't matter what it is. A lot of people think, 'I have to study a STEM discipline; I have to have a skill.' I've never worked in a place where I've thought, 'We've got too many writers and thinkers.' People who can give a good, thoughtful analysis of a complex social or political problem are valuable."