PROVIDENCE, R.I. [Brown University] — Brown University's Warren Alpert Medical School is among six medical schools to declare support for the goals of TIME'S UP Healthcare, a new affiliate of the TIME'S UP Foundation that will focus on ensuring safe and equitable workplaces for women in the health care industry. 
Launched on March 1, TIME'S UP Healthcare aims to drive new policies and decisions that result in more balanced, diverse and accountable leadership; address workplace discrimination, harassment and abuse; and create equitable and safe work cultures within all facets of the health care industry.
As a founding signatory, Brown's medical school expressed its commitment to those goals as it trains future physician-scientists to become both leading clinical practitioners and researchers on the leading edge of catalyzing biomedical innovations.
"At the Warren Alpert Medical School, we know that improving the climate for women and underrepresented minorities in academic medicine will translate to improvements in patient care, medical education and research," said Dr. Katherine Sharkey, assistant dean for women in medicine and science at Brown, and an associate professor of medicine and psychiatry and human behavior. "We are committed to efforts that address the systemic changes needed to improve the culture and climate for women in medicine, including the important work of TIME'S UP Healthcare."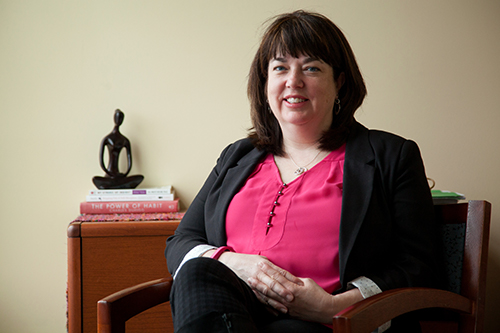 Sharkey said that the medical school's participation as a TIME'S UP Healthcare signatory complements a variety of educational initiatives and research undertakings aimed at tackling gender inequity in medicine. Examples include a range of professional development programs — including leadership training, focused wellness efforts and networking opportunities — intended for women across Brown's health and medicine community by the Office of Women in Medicine and Science.
Separately, the medical school's Department of Medicine is participating in a two-year bias-reduction intervention research program led by the University of Wisconsin–Madison. And the school's affiliated nonprofit practice group, Brown Physicians, Inc.,recently formed a Diversity, Inclusion and Equity Committee to advance efforts across the group's six physician practice foundations. 
Dr. Esther Choo, a founding member of TIME'S UP Healthcare and an adjunct associate professor of emergency medicine at Brown, said that an immediate outpouring of support for the new effort is indicative of a significant thirst for change in the health care industry.
"Women make up 80 percent of health care workers, but only 11 percent of health care CEOs," Choo said. "We are well represented in this workforce, but not in positions of power. TIME'S UP's mission resonates deeply with our industry, and we are honored to join the expansive and diverse TIME'S UP network to collectively transform outdated systems of power in our workforces."
Among TIME'S UP Healthcare's additional founding members is Dr. Resa Lewiss, a Brown Class of 1992 alumna who studied sociology, racial/ethnic studies and pre-medicine as an undergraduate before earning her M.D. from the University of Pennsylvania School of Medicine. Dr. Lewiss is a physician and professor of emergency medicine at Thomas Jefferson University Hospital in Philadelphia and serves on the Brown Medical Alumni Association's board of directors and on the university's Women's Leadership Council executive committee.
Warren Alpert Medical School joins the following signatory organizations in this effort: Drexel University College of Medicine, Mayo Clinic, and University of Wisconsin School of Medicine and Public Health, UW Health and Yale School of Medicine.