PROVIDENCE, R.I. [Brown University] — Growing up a first-generation Vietnamese-American child of Vietnamese refugees, Kevin Nguyen says he interacted with the complexities of the U.S. health care system from a young age. From as early as his middle school years, he assisted his family, particularly his grandparents, with everything from scheduling doctor's appointments to corresponding with insurance companies. 
As an undergraduate at the University of North Carolina at Chapel Hill, "I realized that a lot of the issues that I dealt with while assisting my grandparents could be helped through better delivery systems or different health policies," Nguyen said. 
Now a second-year doctoral student in Brown University's School of Public Health, Nguyen is studying health care access and quality of care with aspirations to influence health care through his research. This year, those aspirations got a significant boost as he was named among the 41 Health Policy Research Scholars selected by theRobert Wood Johnson Foundation for the 2018-19 academic year. 
The national leadership development program recognizes doctoral students from underrepresented groups who bring unique and diverse perspectives to research aimed at building healthier and more equitable communities. The students receive an annual stipend of up to $30,000 for up to four years.
"I think that research in particular has a really important role in informing policymaking," Nguyen said. "In my career, I would like to focus on advancing questions of health equity through research in a way that can influence policymaking and care delivery."
The opportunity to conduct research in partnership with accomplished faculty is a big part of what drew him to Brown, says Nguyen. He works closely with Dr. Amal Trivedi, his adviser and an associate professor health services, policy and practice, who Nguyen said was instrumental in encouraging him to apply for the Robert Wood Johnson fellowship.
"When I came here for interview day, the graduate students really emphasized how much the department focuses on mentorship and development of students as independent researchers," Nguyen said. "That support, coupled with Dr. Trivedi's expertise in quality of care and health disparities research, made Brown feel like a really good fit."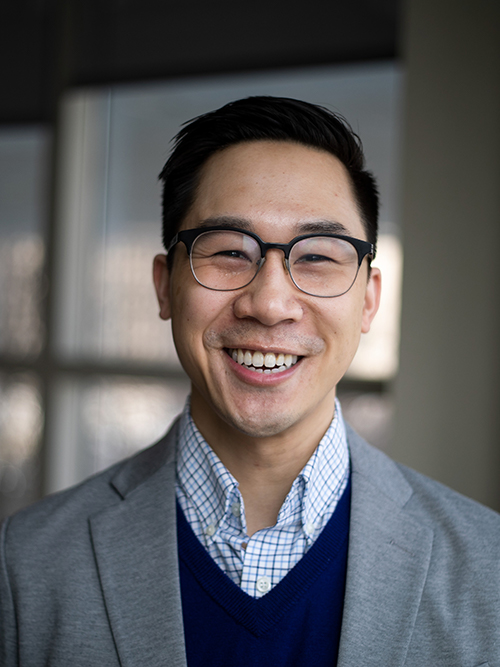 Trivedi has been a supportive adviser and has encouraged Nguyen, and his other graduate students, to pursue the research they are passionate about, Nguyen said. "For my dissertation, I would love to study the policies and care delivery models that can improve the quality of care in our health care safety net, specifically Medicaid policies," he said.
Nguyen's academic path in health policy began at the University of North Carolina at Chapel Hill, where he completed a bachelor's degree in health policy and management. That program helped him to build skills for understanding the health care system and strategies for improving it for patients, he said. 
Nguyen then worked for three years at Research Triangle Institute (RTI) International, a nonprofit research institute that works with clients to inform public policy and practice. He worked on developing and implementing quality measures for post-acute care — after patients are released from the hospital into a nursing facility or their own homes — as part of the Affordable Care Act. 
At RTI International, he was mentored by Shula Bernard, a health services and social policy research expert who encouraged him to pursue a research career. Nguyen said, "She showed me the role that research can play in policymaking and showed me the complexities of research. She believed in me early on, which made a real difference in my career trajectory. And for that I am incredibly grateful."
Nguyen earned a master's degree in health policy and management from Harvard's school of public health and then worked as a project manager for a professor of health economics and policy at Harvard for two years prior to coming to Brown. 
"Being selected by the Robert Wood Johnson Foundation has allowed me to be surrounded by 40 very passionate, kind, talented doctoral researchers with really different perspectives," he said of the honor. "For me, someone who has mainly been in health policy departments for most of my academic career, getting to hear how social work, psychology and ecology fit into this broader definition of what health equity should look like has been so rewarding. I've already learned so much from my cohort."